TD Music Mondays featuring Amanda Movio
---
Rotary Reading Garden - Central Library
---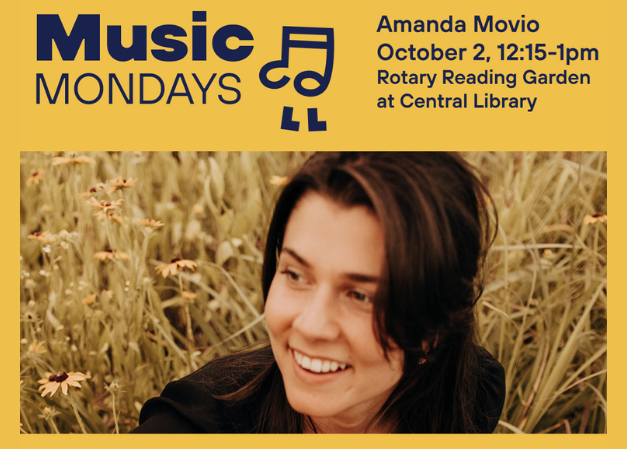 Doors Open:

12:00 PM

Event Date:

Show Time:

12:15 PM

Event Description
TD Music Mondays is continuing on this September and October! London Public Library in partnership with the London Music Office and CBC London are proud to present MUSIC MONDAYS, a series of free outdoor concerts starting June 12 through to October 2 at the Central Library's Rotary Reading Garden.
Mark your calendars each Monday this summer and don't forget to bring your friends and coworkers. In the event of inclement weather, the event moves indoors to the Central Library at 251 Dundas St. in downtown London. Check out our August lineup below!
🌼Monday, September 11 - Connor Morand
🌼Monday, September 18 - Tommy Solo
🌼Monday, September 25 - Eleanor Gebrou
🌼Monday, October 2 - Amanda Movio
Amanda Movio:
26-year-old Amanda Movio bends an old soulful sound into the modern world. Heavily influenced by R&B, Jazz, Hip-Hop, and Soul; she holds a timeless space for her audience with an exclusive tone. Singing and creative writing from her youngest years in London, Ontario, she grew up with an intrinsic knowing that she was meant to sing. Hiding her talent from her friends & family, but paradoxically jumping at any talent show, busking opportunity, or musical solo; she grew her voice in the silence and kept her gift largely under wraps. Amanda knows she is at the beginning of something global. Achieving so much as an Independent in such a short amount of time has her reflecting & continuing to push her limits, "I can't describe this certainty I have but I've always had it. Nothing can stop someone who's recognized their vision - people will laugh, judge, and scoff until it's realized, but I've never been more sure of anything. I'm just grateful that I'm finally allowing others in."
---
Address:

251 Dundas St.
London, ON. N6A 6H9