Music Mondays - June 17th
---
Rotary Reading Garden (London Public Library)
---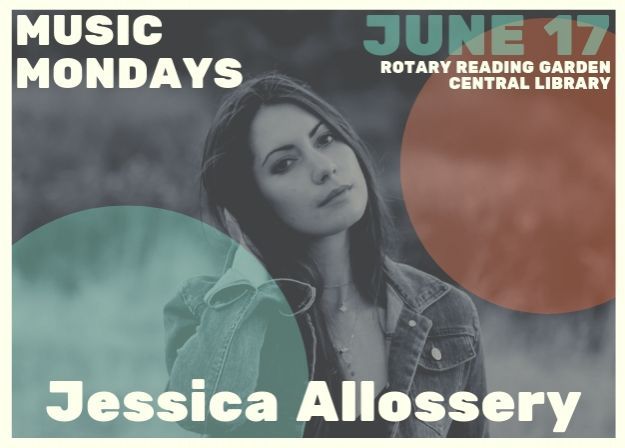 Doors Open:

Event Date:

Show Time:

12:00 PM

Event Description
Music Mondays | June 17th | #2
Music Mondays is a series of free outdoor lunch time concerts taking over Central Library's Rotary Reading Garden, a beautiful downtown oasis. Each show will feature London artists covering an array of musical genres throughout the summer.
Music Mondays is proudly presented by the Wolf Performance Hall in partnership with London Public Library, London Music Office, London Arts Council and Dundas Place.
Jessica Allossery (pronounced a-loss-er-ee) is the new age Joni Mitchell. A travelling songbird in her own right, she combines playful inspirations from Leslie Feist's pop with Ben Harper's simple solo-acoustics to create her own sound.
Although guitar began as a hobby in 2008, Allossery quickly discovered a hidden talent for songwriting and started working towards a music career. Over a decade later, she's garnered over 7 million organic views on YouTube, 68k social followers and nearly 50k monthly listeners on music streaming platforms. Pair those achievements with her innovative ideas and strong willed business sense, she's made a name for herself around the world.
The free-spirited indie songstress resides in London Ontario Canada, but spends most of the year travelling in her vintage camper on tour. 'One song at a time, one audience at a time' is her motto to get into the hearts of her listeners, as she moves forward in pursuing her life's calling.
Escape the mundane & soak up the sun to the sound of talented locals
---
Address:

251 Dundas St.
London, ON. ON.