#MusicTalks: Balance
---
---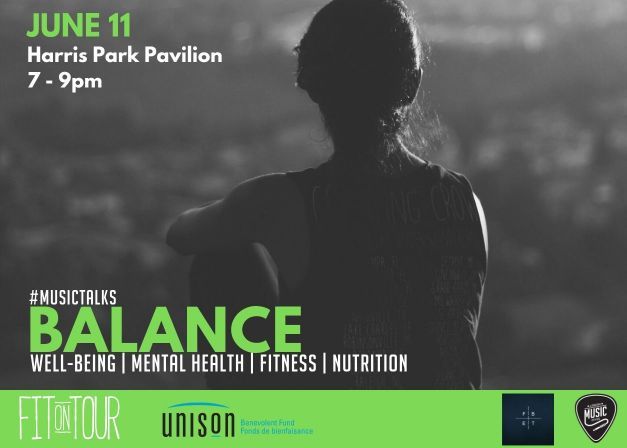 Doors Open:

Event Date:

Show Time:

7:00 PM

Event Description
Stepping away from the excitement and beauty of music is an extensive and intense industry that can be incredibly taxing on an individual. This next installment of #MusicTalks event is a focused on mental health, wellness and physical well-being for those working in the demanding industry. Musicians work can be very isolating at times and is noted as having one of the highest depression rates in the workforce. These issues are then amplified by working long hours and in many cases isolation. Finding ways to cope can be difficult and many music industry professionals. Often times they lack a support network or employee benefits that are readily available through many traditional employeers. Opening the conversation about these issues and how to overcome will be a central theme. The goal of this workshop is to assist in finding a balanced approach to life that enables music sector workers to succeed and find longevity in the business.

The event starts with a discussion that brings together representatives from the UNISON Benevolent Fund, Hummel Wellness, Fit On Tour, Full Body Efficiency Treatment and local musicians. Discussions will cover a wide variety of topics including how to live a balanced life, looking after yourself mentally/physically and preparing yourself for the challenging hours and work you face in the music industry as many of the jobs in the music business work outside the traditional 9 - 5pm.

FIT ON TOUR
Fit On Tour's mission is to educate and equip the live event industry with resources and information to support a balanced lifestyle, on or off the road. At #MusicTalks:Balance, the Fit On Tour team will guide attendees through a one-hour fitness workshop, demonstrating stretches and exercises that can be done anywhere, anytime using only your body weight. The Fit On Tour team believe exercise is key to maintaining a healthy, balanced life - mentally and physically, and that that your surroundings shouldn't limit you. Join in as we guide you through a workout that can be done in a hotel room, on a tour bus, or in your venue.
Unison Benevolent Fund is a non-profit, registered charity that provides counselling and emergency relief services to the Canadian music community. We are here to help professional music makers in times of hardship, illness or economic difficulties.
For many, a career in music is a dream come true; however, the reality is that many members of the Canadian music community do not have access to the services that can make all the difference in a time of need: sick leave, medical benefits, pension plans, and unemployment insurance. Music makers can easily find themselves unprepared to deal with the financial and emotional burdens of an unforeseen emergency or illness. The Unison Benevolent Fund provides a lifeline in these times of crisis, and is there to ensure in the health of our friends, colleagues and collaborators. The Unison Benevolent Fund is an assistance program – created and administered for the music community, by the music community – designed to provide discreet relief to music industry professionals in times of crisis. There are two distinct types of support available through the fund.
FULL BODY EFFICIENCY TREATMENT
Is a London based holistic health service staying true to Dr. Rolf's Method of Structural Integration and keeping up to date with all new scientific research on fascia, connective tissue.
Join Kathryn Hummel on her journey to healing her body and conquering autoimmune & chronic illness, with diaries of my experiences, products & places I've discovered , recipes & tips/tricks to making healthier choices! This new blog has tips on "How To Be Healthy in The Music Business" with featured musicians & guest contributors.
EVENT OVERVIEW
7:00pm - Group Conversation
8:00pm - Stretch | Workout | Yoga
---
Address:

531 Ridout St N
London, ON. ON. N6A 2P8