Soundcheck For Success (JRLMW)
---
London Music Hall (Main Room)
---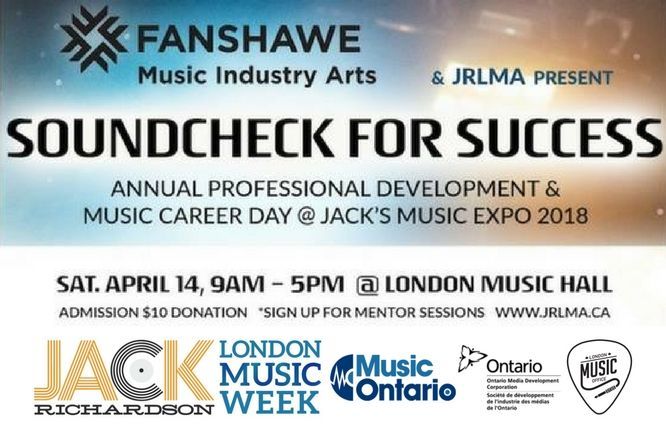 Doors Open:

Event Date:

Show Time:

09:00 AM

Event Description
What makes a good song? Find out at SoundCheck for Success on April 14. Want expert career advice? Sign up on-site for a mentor session with a music industry professional.

Soundcheck – that all-important step to make sure everything is working. The Jack Richardson London Music Awards and Fanshawe College Music Industry Arts offer musicians a full day of steps to make sure their careers are working.

SoundCheck for Success, the annual professional development & music career day provides insights and advice from experts on both sides of the microphone. Artists such as Dave Bidini and Karen Kosowski and industry gurus such as Garth Richardson, Terry McManus and Amy Terrill, executive vice-president of Music Canada, are participating in a day-long expo hosted by radio veteran Greg Simpson.

If you want to hear what the founder of the Songwriters Association of Canada thinks makes a good song, check out Terry McManus talking with publisher Amy Eligh. McManus will also talk about marketing to stand out from the crowd with Beth Cavanagh. Michael McCarty of SOCAN will reveal five startling truths about success in music today.

Check the producers' panel and record cycle panel, which explores the life of a record from inception to touring in the electronic age. A panel on women in music will take a timely look at sexism, sexual harassment and how to make the music community safer for performers and fans.

Dave Bidini, founding member of the Rheostatics, musician, author and filmmaker, will discuss funding projects with Matt Smallwood, principal with Flying Colours, a company that helps new artists get their music to the marketplace. Bidini is the only person nominated for a Gemini, Genie and Juno, as well as CBC's Canada Reads.

New Hall of Fame inductee Graham Lear, best known for his time as drummer for Gino Vanelli, Santana, Paul Anka and REO Speedwagon, will perform with Ed Pranskus (Thundermug) and the Hall of Fame Lizards. Drummers will also want to sit in on the drum clinic led by Danny Miles of July Talk.
---
Address:

185 Queens Ave.
London, ON. ON. N6A 1G7