The Songwriters' Sessions
---
---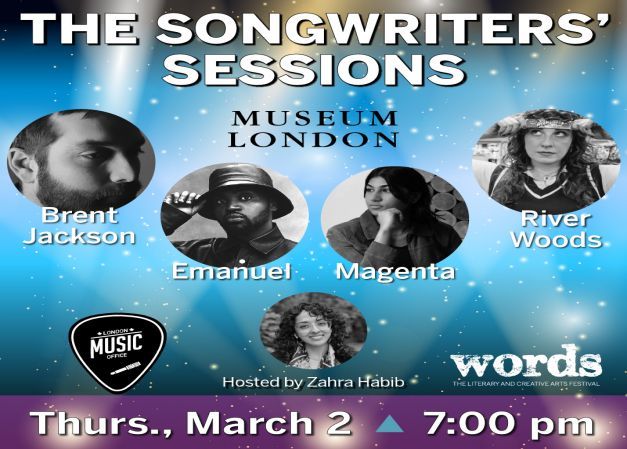 Doors Open:

Event Date:

Show Time:

7:00 PM

Event Description
Words is committed to the advancement of accessibility in the arts, cultural participation within the community, and diversity in our programming.
The London Music Office and the Words Festival are pleased to announce the return of the Songwriters' Sessions at Museum London, featuring performances by Emanuel, Brent Jackson, Magenta, and River Woods. Our evening will be hosted by London-based DJ and community organizer Zahra Habib.
Over the course of the evening, our feature singer-songwriters will speak candidly about the art of songwriting through their personal experience and insight. We will begin with a roundtable discussion with 4 local songwriters who will explore how they transform thoughts, feelings, and ideas into lyrics and music.
The second half of this event will give you access to the inner workings of a song. Our panel of artists will pick up their instruments and perform scaled down renditions of their music, explaining how they wrote their songs and the meaning behind their lyrics.
This event is free and is open to the public with a registration
---
Address:

421 Ridout St N
London, ON. N6A 5H4