Advocacy
Forest City London Music Week 2020
---
---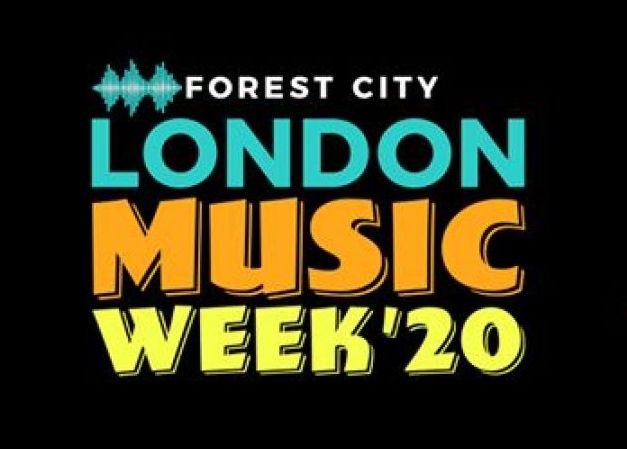 Get ready London, a week of music awakes as Forest City London Music Week returns September 13th through to September 20th bookended by incredible award shows that celebrate London's vast musical talent. The programming will be virtual this year with multiple nights of award celebrations inlcuding:
Sunday September 13th the Jazz, Classical & World Music Gala
Thursday Sept 17th - Forest City London Music Awards Gala (Part 1)
Friday Sept 18th - Forest City London Music Awards Gala (Part 2)
Saturday Sept 19th - Forest City London Music Awards Gala (Part 3)
Sunday Sept 20th - Forest City London Music Awards Gala (Part 4)
Full details about the award shows can be found at www.fclma.ca. Throughout FCLMW, educational sessions will take place with support from the City of London. All events are free to attend and will be presented virtually through FCLMA's Facebook page.
Success in the Canadian Music Industry - Breaking the Glass Ceiling
Date: Sunday, September 13th, 2020 (4:00pm)
Location: Zoom (Register Here)
Host: Trish Kiwanuka "Sum-01" Panelists: Wes Williams. Haviah Mighty
How has the Canadian Music Industry adapted to Hip-Hop culture's popularity? FCLMA award winner Sum-01 chats with Canadian Hip-Hop Royals; Maestro Fresh Wes and Haviah Mighty to get their unique perspectives on the ever-changing Canadian Music Industry. From the 1980's to 2020. Does the Canadian Music Industry support Canadian Hip-Hop artists more or less than other genres? Join in to hear the frank discussion!
Granting Your Way to Success
Date: Monday, September 14th, 2020 (7:00pm - 8:00pm)
Location: Zoom (Register Here)
Host: Sheila Simpson
Panelists: Rebekah Morrison-Wize (London Arts Council), Aisha Wickham (Ontario Creates), Jessica Deljouravesh (Ontario Arts Council), Karina Moldovan (Factor)
Finding ways to generate funds to allow you to deliver on your musical projects has always been challenging and during COVID and in post-COVID times, the challenge has significantly increased. Take this amazing opportunity to hear from professionals on the inside of granting bodies including London Arts Council, Factor, Ontario Creates and Ontario Arts Council Music Program. Find out how to improve your chances and seize the opportunity to pose your questions directly to the people who are most involved in the decision-making process. They have funds that they need to distribute, and you have projects that need to be funded. Learn how to increase your success in making that match.
Make the Media Want You
Date: Wednesday, September 16th, 2020 (7:00pm - 8:00pm)
Location: Zoom (Register Here)
Host: Leigh Robert
Panelists: Eric Alper, Jully Black, Nicole Arbour
Make the Media Want You – The creative landscape of media has changed over the years. Long gone are the days of dropping your tracks off at your local radio station in hopes that it would catch fire, or chasing down a local report to try to get some air-time or ink. Now you need to be a strategic player in the game by using creative pitches of influence and social media traction.
Keynote Address by Ken Calliat with Host Scott Bollert
Date: Thursday, September 17th, 2020 (8:00pm - 9:00pm)
Location: Zoom (Register Here)
He's produced some of the most iconic music in rock history. The Forest City London Music Awards – SoundCheck For Success is proud to have Ken Caillat, co-producer and engineer Fleetwood Mac's Rumours deliver the FCLMW 2020 keynote.
Rumours became one of the fastest-selling LPs of all time, selling 800,000 copies every week at its height. The record's success made Fleetwood Mac a cultural phenomenon. Ken Caillat says when he was recruited to work with the band he had no idea who Fleetwood Mac were. Says Caillat: "They hired me to do Fleetwood Mac, (but) all I had to do was just be myself. I didn't want to hold back. I told them on the third day (of tracking Rumours) that we were going to get a Grammy for this record. They went, "Sure." The rest is history. Caillat co-authored Getting Tusked: The Inside Story of Fleetwood Mac's Most Anticipated Album to mark the 40th anniversary of the album. He previously co-wrote Making Rumours: The Inside Story of the Classic Fleetwood Mac Album. He's worked with The Marshall Tucker Band, Harry Chapin, Warren Zevon, X-Ray Spex, Lionel Richie, Lynyrd Skynyrd, the London Symphony Orchestra and his daughter Colbie Caillat among others. Spend some time with the man behind the production console and hear the inside stories and studio outtakes.
Producer! Producer!
Date: Saturday, September 19th, 2020 (1:00pm - 2:00pm)
Location: Zoom - Register Here
Host: Scott Bollert
Panelists: Haviah Mighty, Darius Szczepaniak, Ken Caillat, Eric Ratz, Jeff Dalziel, Karen Kosowski, Bob Marlette
The music industry is a complex world where genres seem to blend together as artists collaborate and push their experimental boundaries. It's increasingly difficult for artists to create a sound that sets them apart from others, and the producers who record, mix and master the final product behind the scenes play a big role in that creative process. Get the inside scoop from 7 producers who shape and mould award winning tunes.
The Pandemic Producer
Date: Saturday, September 19th, 2020 (3:00pm - 4:00pm)
Location: Zoom (Watch here)
Host: Darius Szczepaniak Panelists: Jeff Dalziel & Leanne Mayer
Covid-19 pandemic has had a drastic affect on society and the music industry specifically. Isolation and social distancing have forced artists to think of new ways to gather, collaborate, record and share their art. "The Pandemic Producer" hosted by Canadian uber producer Darius Szczepaniak is a seminar-style panel that will empower you to achieve your goals in the days of this pandemic.
Indigenous Music is not Niche: A Conversation about Place,
Change, and Transformation with Local Indigenous Artists
Date: Sunday, September 20th, 2020 (1:00pm - 2:00pm)
Location: Zoom (Register Here)
Host: Summer Bressette
Panelists: Gordon Sands, Dawn Redskye, Adam Sturgeon, Robin Henry
In his 2019 JUNO acceptance speech, Jeremy Dutcher, speaking to fellow Indigenous nominees, commented: "All of your work changes this place, and it deserves to be considered outside of this category. Because our music is not niche. Our music is saying something." The "Indigenous Music is Not Niche" production would carry forward this conversation and highlight the diversity and vitality of Indigenous music today. This discussion highlights the diversity of Indigenous music, both contemporary and traditional, and demonstrates the theme: Indigenous Music is Not Niche: A conversation about Place, Change, and Transformation with Local Indigenous Artists.
To learn more about the Forest City London Music Awards and Forest City London Music Week visit their website or follow their Facebook page. Full listings of all events can be found on their pages. All award shows will be streamed from their Facebook page.
---
---