All Articles
FACTOR DEEP DIVE WORKSHOP
---
---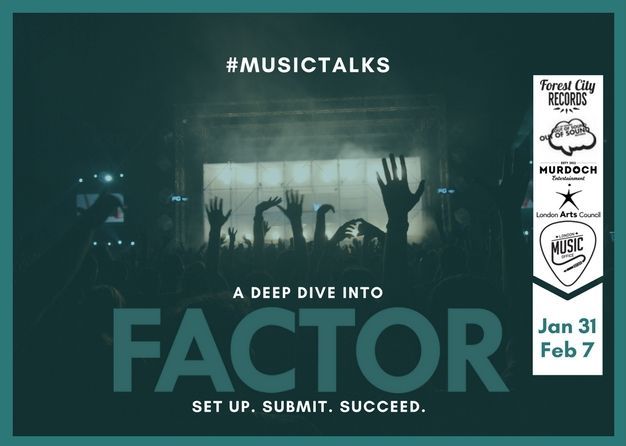 Canada is a great country for many reason and our culture / entertainment is one of the reasons the maple leaf is so wide recognized around the world. Canadian musicians and its music induutry recieve support from many incredible organizations. One in particular we are focusing on is FACTOR. FACTOR helps drive Canada music so the London Music Office is teaming up with local music businesses Forest City Records, Out of Sound Records, Murdoch Music Entertainment, London Arts Council and FACTOR to present an important two part workshop series titled, FACTOR Deep Dive. FACTOR Deep Dive is a two part workshop focused on setting up FACTOR profiles and understanding their granting models.
Wednesday Jan 31st (Part 1)
This workshop brings together successful London area #FACTORFunded artists / organizations to explain their stories and assist you in getting your FACTOR profile set up and rockin'! These veterans will walk you throw the process, beef your profile up and provide you basic tools to excel with your grant application/
Wednesday February 7th (Part 2)
This workshop will have a FACTOR staff member on site walk you through their granting models, take your questions and provide some best practices for a successful grant application.
Sign up for one or both events. You must pre-register for this event ahead of time.
---
---