All Articles
Local London Showcase at London Ribfest
---
---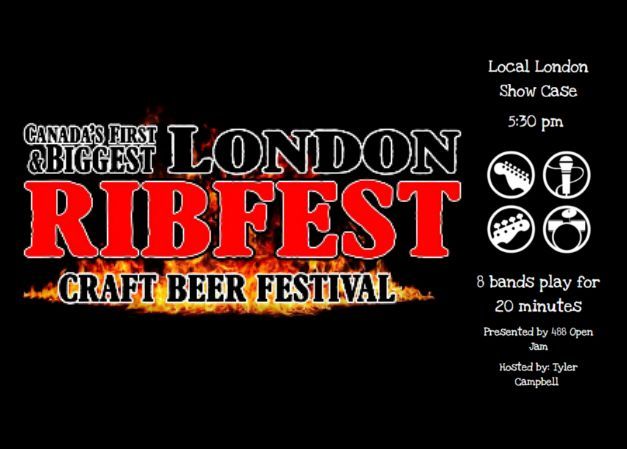 Visitors from all over the province and beyond flock down to London's Victoria park every year to chow down at the annual Ribfest. The festival has somewhat become a rite of passage to many as the perfect way to enjoy the civic holiday weekend. Marking its 33th year running, the festival has evolved to something much more than only about ribs.
"It's a food festival first then a music festival second," says Jeff Bialkowski. "We try to mix it up enough to give London something that they come and see for free, have a good show and mingle with other Londoners. Music is the icing on the cake."
Working with sounds and bookings for Family Show Canada, Bialkowski believes that London is on a sure path to becoming a Music City. With events like the upcoming Junos, the Country Music awards, Rock the park and Sunfest, the spotlight on London, Ontario, is growing internationally and the opportunities for local artists to jump right in are opening.
"London has always had a really great population of musicians," Jeff notes. "You travel around to other cities and you see the calibre of talent that we have here in London, it's quite incredible. I think a lot of people study music, you get this feeling that you really have to be great to get out of London, but if you are here and you are really cutting it, you are probably already world class."
One of such opportunities is the Local London Showcase, where 8 London Bands will grace the stage on the last day of Ribfest. "It gives people a chance to see a band that they might not have seen and also gives the band a chance to play for an audience they might not already have." Bialkowski says that this is one way of giving local musicians some exposure they need to get themselves out there.
Some of the artistes lined up for the Local London Showcase include: My Ragged Company, Chris Casserly, Juice, Combination 2, Politically incorrect, the Basement Blues Band and more.
Although the Ribfest is here and it is about the ribs, it's music scene is evolving and attracting headliners such as Loveless, Defbombs, Godboogie, Mudmen and more, as well as creating opportunities for local musicians to get a good start, create a reputation and do well in their careers.
The Local London Showcase starts at 5:30 pm, August 6th at Ribfest, Victoria Park.
---
---