All Articles
London Music Census: Musicians Findings
---
---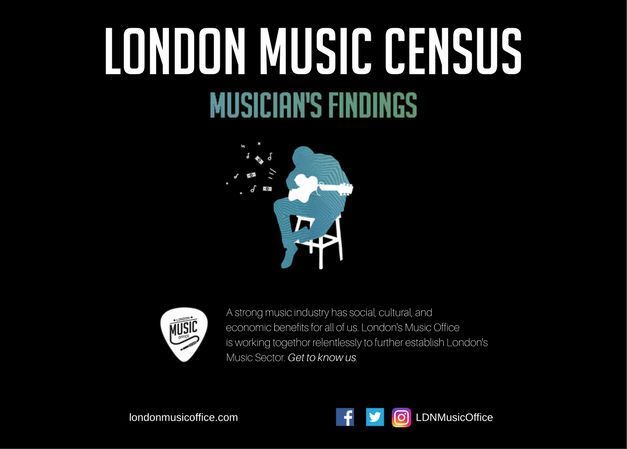 SETTING THE TONE
Performed for the first time ever, the London Music Census Musicians Survey offered a deeper understanding of the iconic musicians and talented writers that contribute to London's growing music scene.
At a high level, the census results show that the majority (45%) of musicians in London are between the ages of 20-34. Most musicians (89.5%) perform popular music genres such as; R&B, Roots, Country, Rock, Pop, Alternative, Jazz, Folk, EDM, Indie, Punk or Metal. Of the surveyed musicians, 83% reported identifying as male. The Forest City's musicians are a young emerging demographic!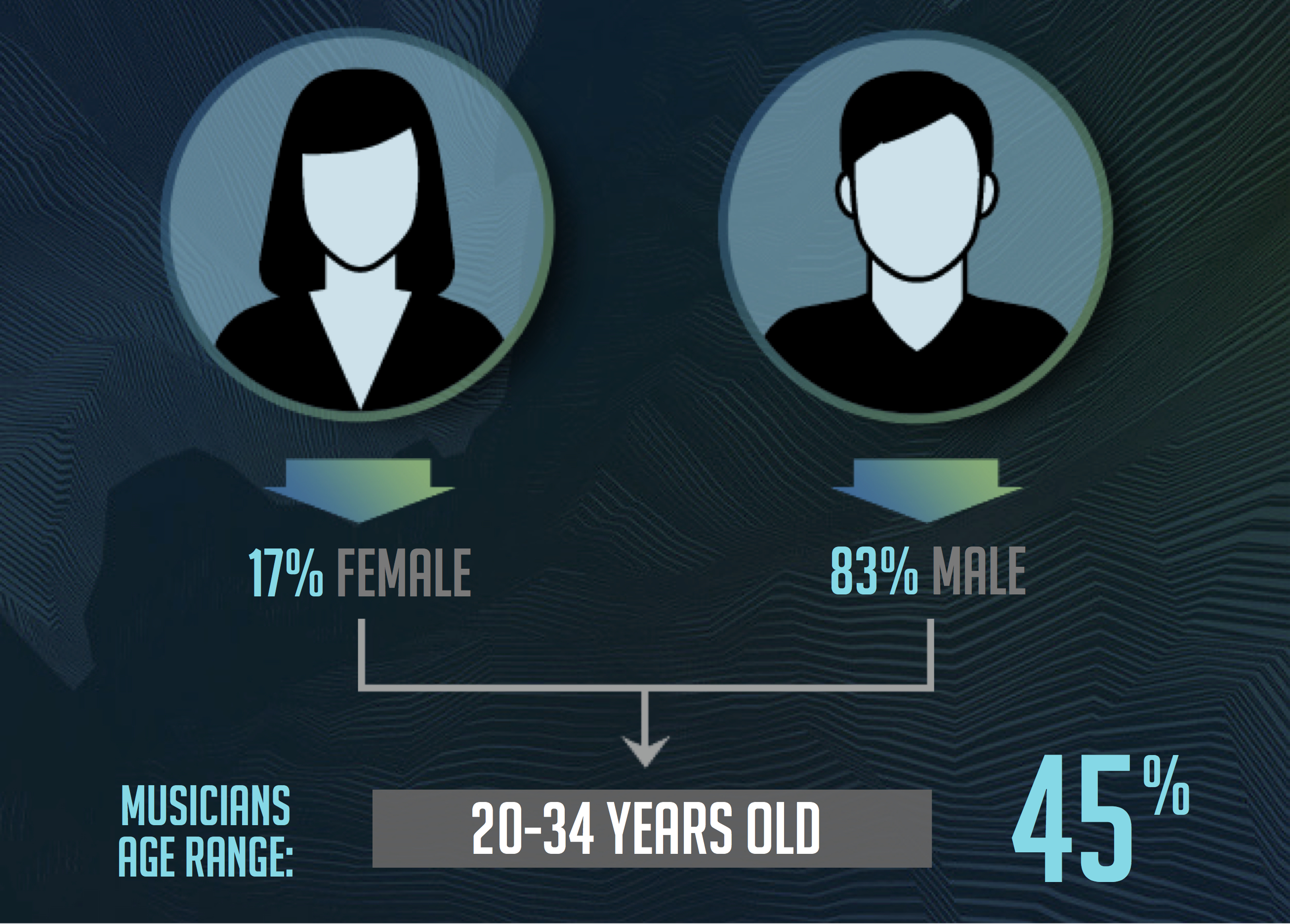 WORK LOAD
When looking at musician work hours, a troubling figure shows that only 21% of musicians surveyed are able to dedicate 30 or more hours of their week to developing their music career. Time constraints, including full-time employment, were indicated as a factor for 42.3 % of musicians working less than 10 hours per week at their craft. Additional rehearsal and development time is required for these artists to excel at their craft to shape a career in the music industry.
WHAT ARE THEY PLAYING
Nearly half (44.7%) of London musicians report playing exclusively original music, with 33.5% spreading their focus across both covers and original compositions. Cover artists account for the smallest group of musicians at 10.7% of respondents indicating they only perform covers. A 'cover' or 'tribute' artist performs other musician's songs. It was unclear what 11% of respondents performed as they identified as playing 'Other' forms of music. 'Other' forms are thought to be traditional folk songs.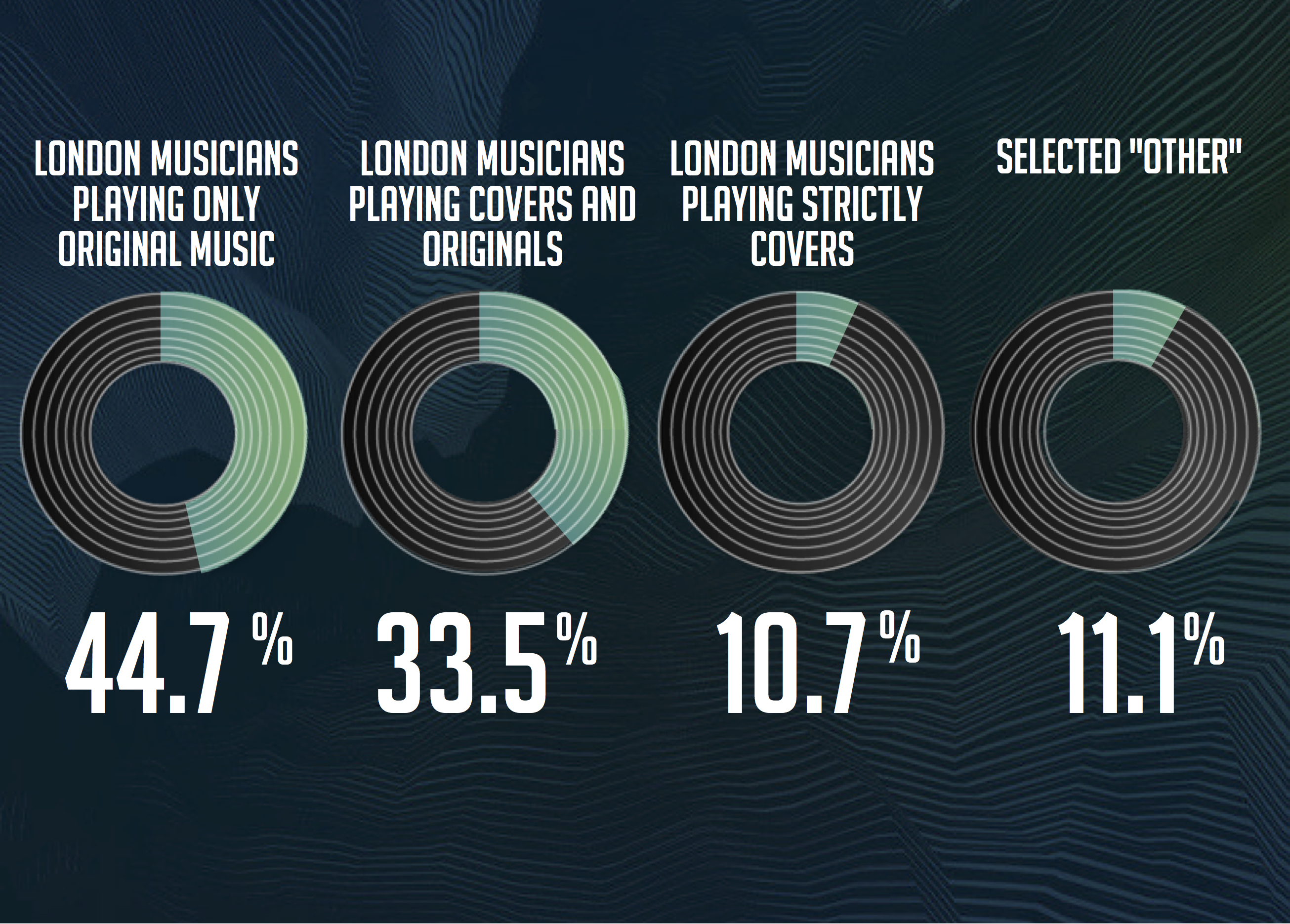 The musicians actively creating original content are at the center of the growing music scene in London. Original artists feed a wider spectrum of support industries including the recording industry, artist development services, record labels, licensing opportunities, merchandising businesses, publicists, media broadcasters and publishers among others. The Canadian recording industry creates and provides highly paid and highly skilled workers. A 2012 Music Canada report stated "…major and independent music companies in Canada estimate their impact on the GDP as $240 million in 2010 with a staggering 81% of the activity taking place in Ontario. This directly generates $37 million dollars in government revenues in Ontario alone."
WHO ARE THEY PLAYING WITH
The census shows us that musicians are performing in a variety of grouping arrangements. It should be noted when completing the census, musicians were able to select multiple options including solo/freelance, duo, band (3-4 members) and ensembles of five members or larger. The band category was significantly the largest with 89.5% of Londoners performing in this arrangement. The second largest category was solo/freelance musicians, representing 25.6% of London musicians.
Performance experience varies with 6% of musical acts reporting that they have been together for less than one year. The majority of artists (over 40%) have been playing together 1-6 years. Further, 21.5% of musical acts have played together for 1-3 years. There is a significant group of artists, 25.6 %, having played together 20 or more years.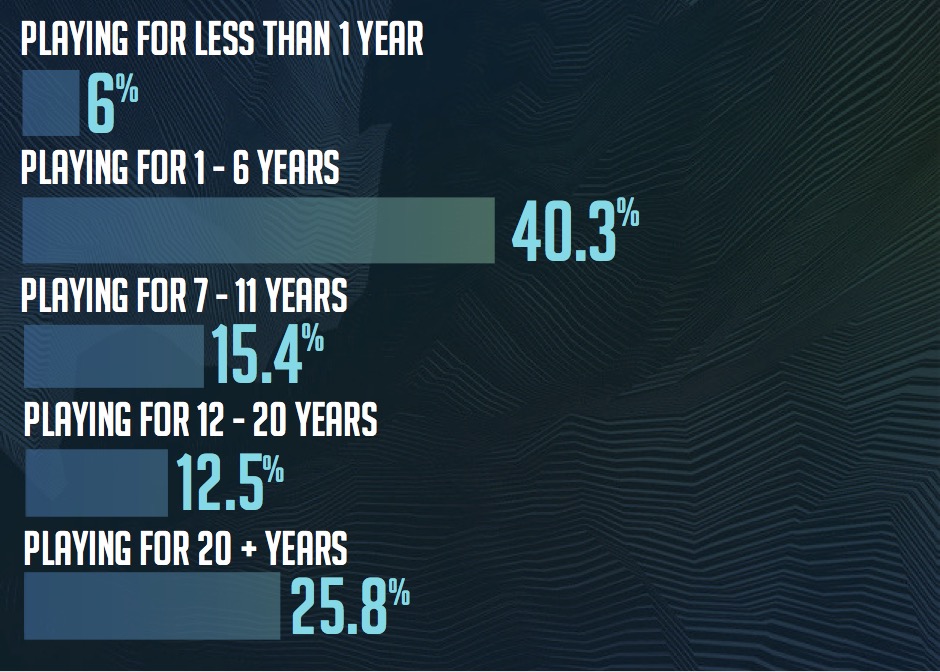 Indicative of a strong atmosphere of independence and entrepreneurism, 78.2% of London's musicians report being self-taught. Further, 30.7% report having post-secondary music training, which further proves London has very knowledgeable and educated musicians.
A LOOK AT GIGS
Taking a look at the number of performances by London musicians, 56.4% reported playing more than 10 shows in 2015, with 16% playing more than 40 shows, and 4.4 % playing more than 80 shows. Where are they performing? 26.44% responded that 75%-99% of their shows were within London, indicating that many musicians are able to find steady gig opportunities within the city itself. Many London musicians also regularly travel outside of London to perform as 16.7% of musicians reported that they only play 1%-24% of their shows locally. Furthermore, 88.9% of bands performed in London in 2015, 73.5% played outside of London but in Ontario, and 21.8% played outside of Ontario. 7.6% of bands actively toured (playing five or more shows in a week outside of London) in 2015.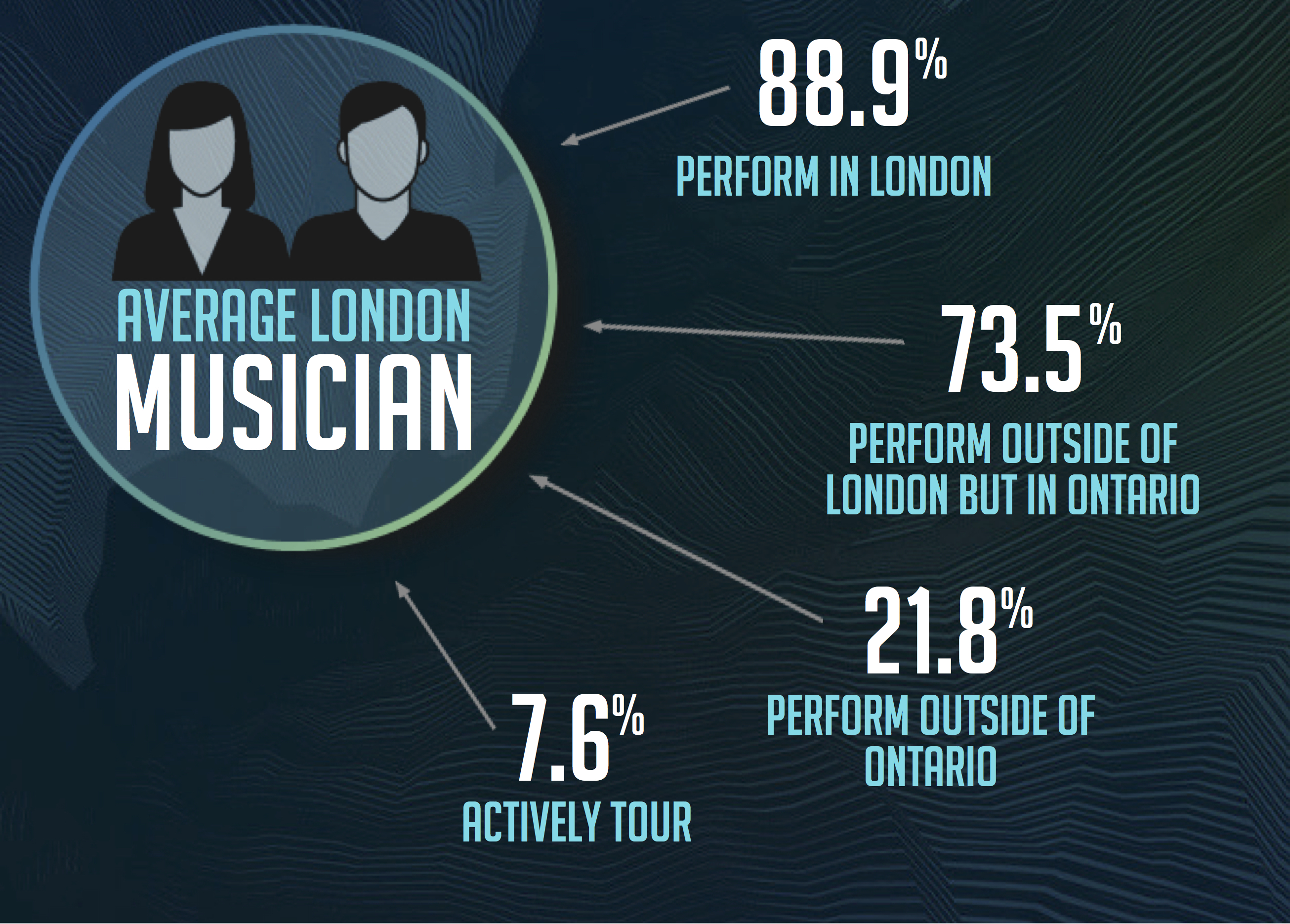 While live performance is a primary revenue source for most artists, songwriters are able to generate additional revenues through their original compositions. Recent data from SOCAN shows, a record-high $310 million in royalties was collected for Canadian songwriters, composers and publishers in 2015. In London, song writers collected $7 million from song writing royalties which was earned by 1,144 music writers and 59 publishers. Well over half (61%) of London artist sell their music across online platforms (iTunes, Bandcamp, etc) and traditional physical formats (CDs & vinyl). Digital sale is the most popular with nearly 46% or artist making their music available online. Physical sales are still very popular with nearly 44% of artists investing in manufactured CD's or vinyl.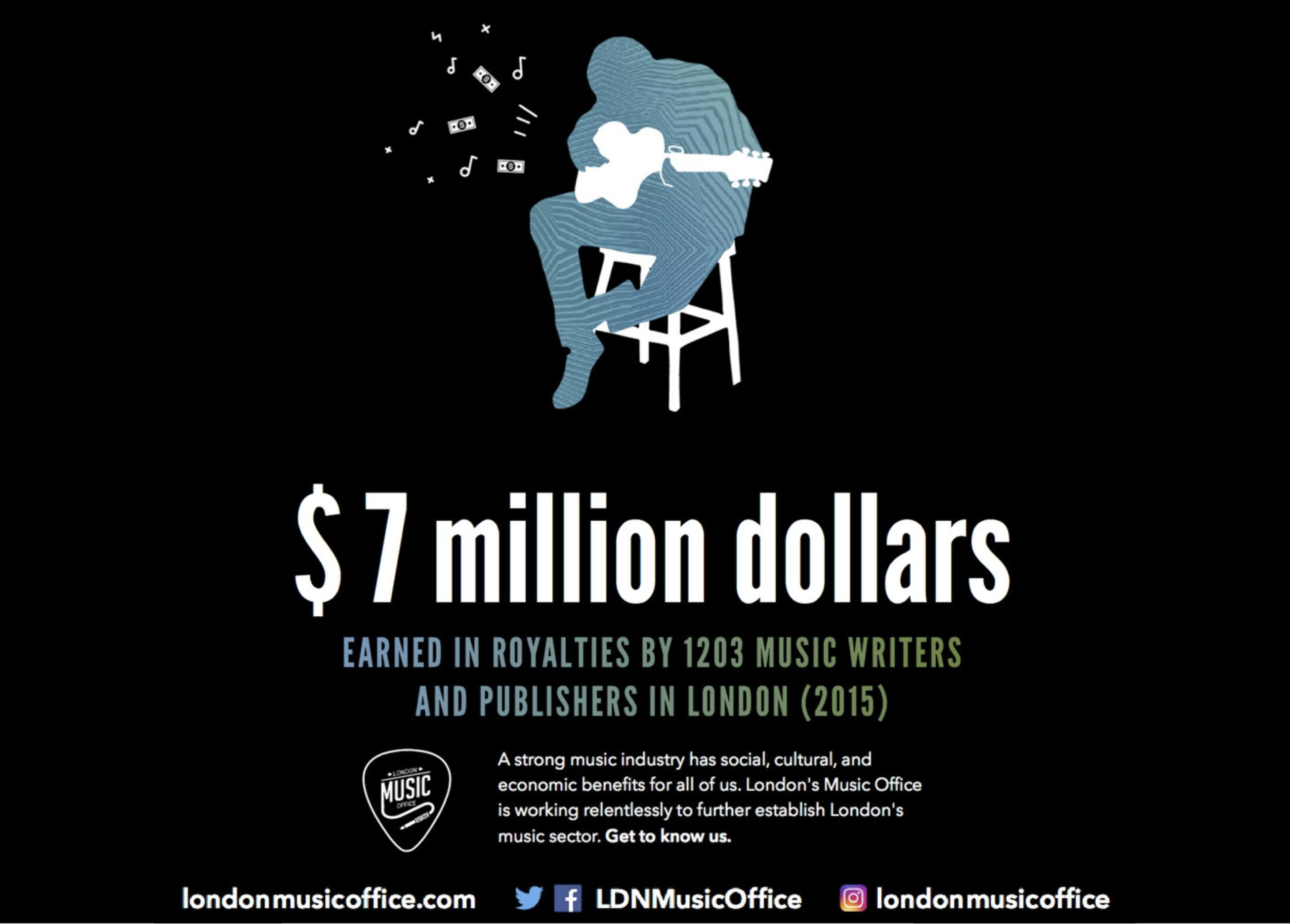 MUSICIANS AND SOCIAL MEDIA
Social media proves to be absolutely necessary for London musicians. Of the popular social media tools, Facebook is most commonly used by musicians with 87% of surveyed musicians actively using Facebook. While Twitter and Instagram continue to be relevant, the second largest platform for London musicians is YouTube with 70.9% of surveyed musicians reporting that they upload their content to YouTube. With over 50 million active reference files, music is a massive aspect of YouTube (https://www.youtube.com/yt/press/statistics.html). Even more impressive, YouTube is said to account for 40% of all music listening.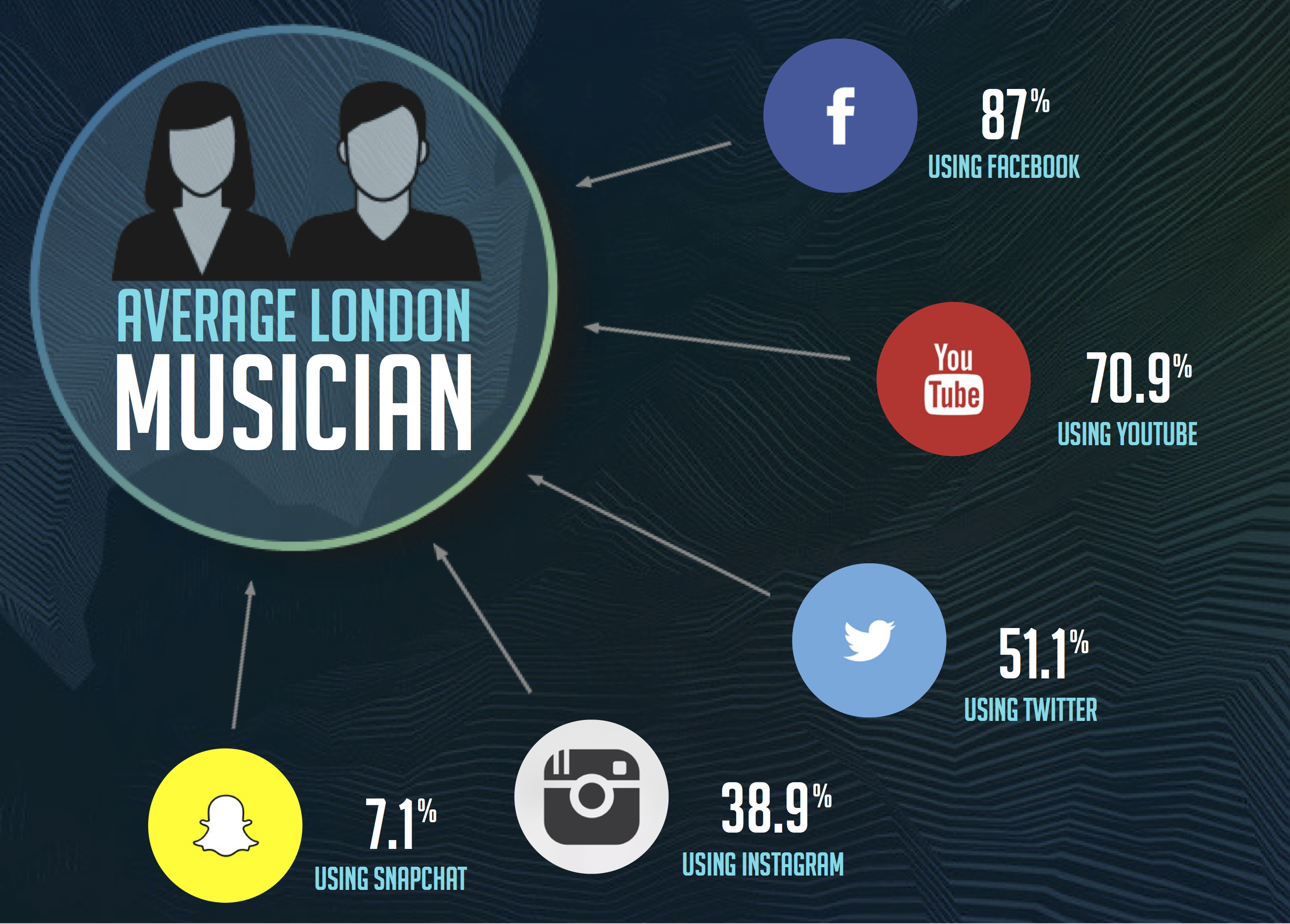 GRANTING
The Census reveals the surprising fact that London musicians are not applying for grants! Only 10.2 % of musical acts surveyed applied for grant funding in 2015. The remaining 90% did not apply for any grants. Awareness of available grant funding does not seem to be the reason for the lack of funding applications as most respondents indicated being aware of existing opportunities but declining to apply due to being weary of the application process and steps needed to secure funding. Some artists consider themselves hobbyists and are simply not looking for financial support.
ADVANTAGES / DISADVANTEGS
Musicians in London have the advantage of living in a city that is urban with a wide variety of bars and venues for live performances but also being based in a city with large residential areas that offer isolated band practice space without the threat of noise complaints (an issue in larger cities such as Toronto). A further advantage for musicians in London is that most musicians (72.6%) report that they have access to free rehearsal space!
A point of frustration for musicians continues to be the current 11 p.m. curfew for outdoor music festivals, with 61.8 % of musicians responding that the curfew should be extended past 11 p.m.
---
---