All Articles
London Music Census: Venue Findings
---
---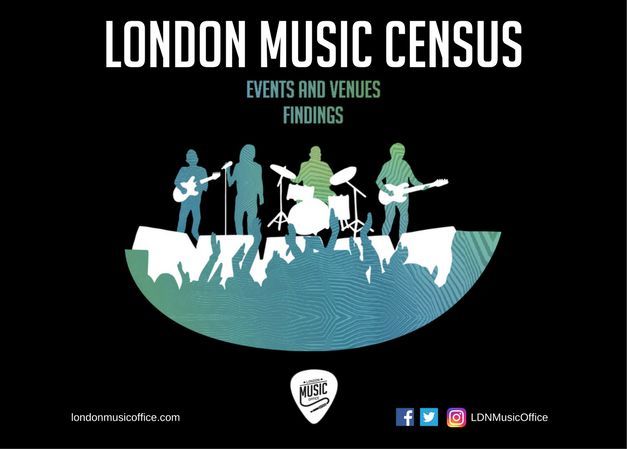 SETTING THE TONE
The Music Venues survey of the census offers a critical understanding of the current state of the live music sector. Live music is a challenging and highly competitive industry. London offers a wide variety of live music spaces which were highlighted within the census. The diversity and range of venues is showcased within the newly released directory. This list of venues is constantly growing.
A recent study of Ontario's live music industry equates 20,000 full-time jobs and $1.2 billion economic impact. These figures were compiled by Music Canada and reported in Live Music Measures Up: an Economic Impact Analysis of Live Music in Ontario in 2015.
Sections of the London Music Census incorporated the parameters established by Music Canada (and used in the Live Music Measures Up study) in an effort to compare results between the London Music Census and Music Canada. Due to resource limitations, the London Music Census was of a smaller scale than the Music Canada study however, the London Music Census is an excellent starting point to measure forward from and has established a precedence for measurement in future years.
VENUES BY NUMBERS
Live music is a challenging industry that is highly competitive. That being said, London offers a wide variety of live music spaces which were highlighted in the census. The diversity and range of venues is showcased within the directory. This list of venues is constantly growing.
Looking at the landscape of music venues in London, less than 20% of venues have been in operation less than six years which shows longevity in the music scene. Over 55% of music venues in London are either bars or restaurants, and 10.2% are concert halls. Between these two categories and "other", London has great opportunities for both local small scale artists and larger touring acts to include London into tour plans.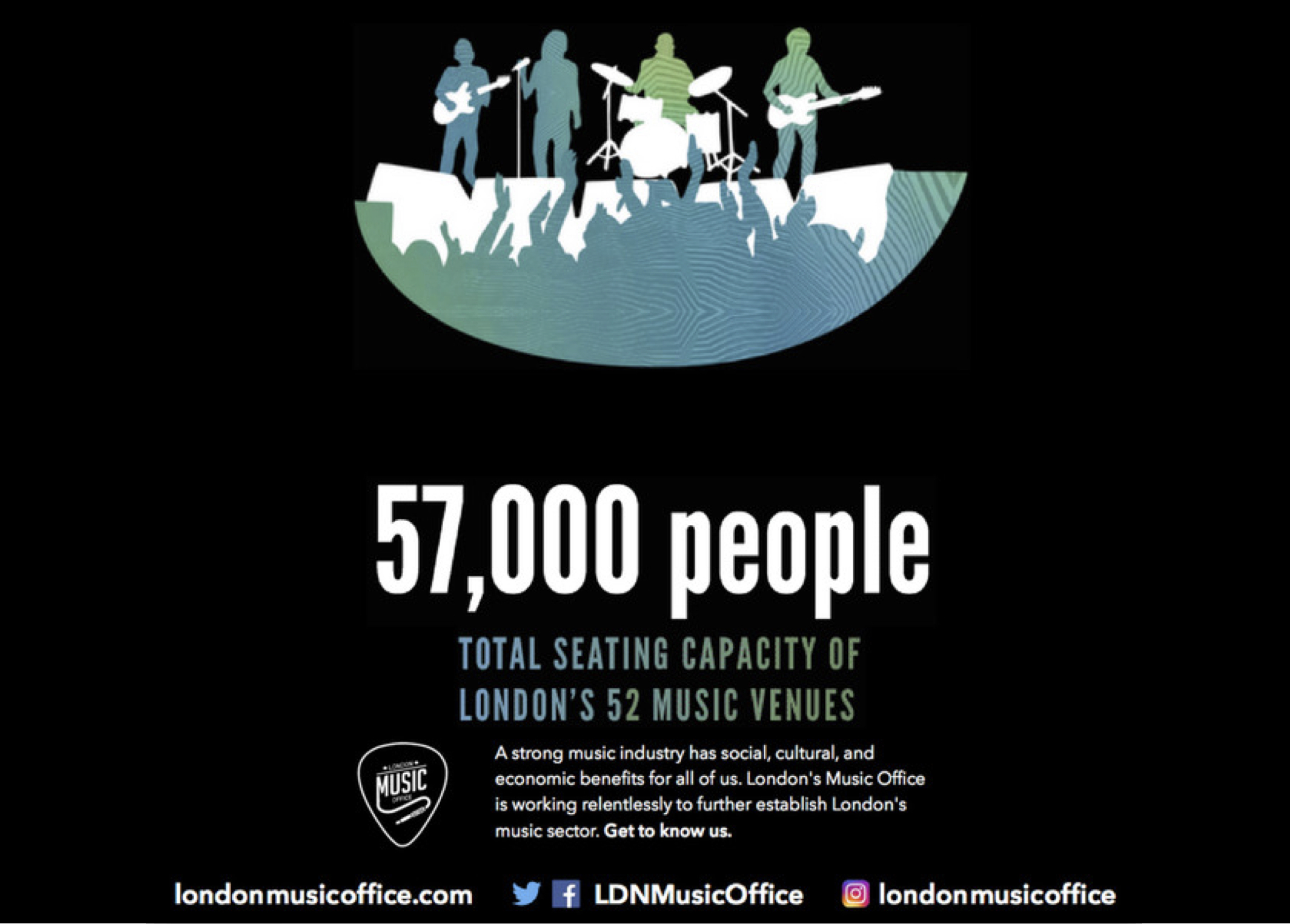 In 2015, 32% of London venues offered free admission, while 36% did maintain door admission costs. This combination of both free and paid admission into events creates a wealth of opportunities for musicians of different clouts. The majority of London venues are registered as corporations with a combined total capacity of over 57,000. London's venues hosted 4,620 live music events throughout 2015. This number increased from the 4,416 shows in 2014. The average number of shows presented by a venue was 90 in 2014. This number improved slightly in 2015 with the average number of shows growing to 92.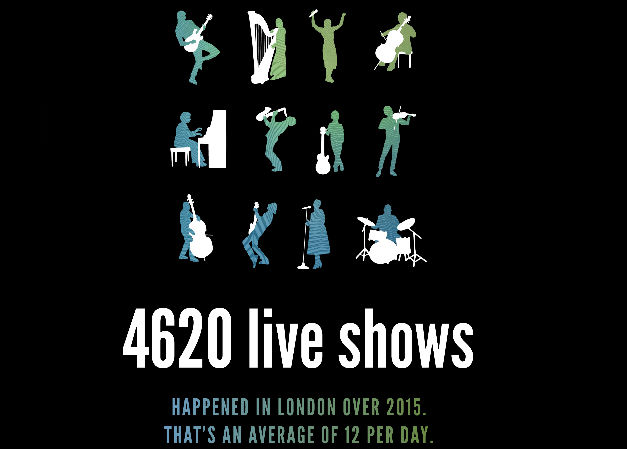 EMPLOYMENT
Venues reported employing a wide range of staff, varying in capacity and hours for the changing roles within the business. The largest number of employees were categorized as part -time employees working 20 hours per week. Full- time employees accounted for 17.9% of all staff working at live music venues in 2015. These venues employee a variety of staff including contract, freelance, interns and trainee program employees.
Venues in London are entrepreneurial and savvy in terms of booking and scheduling acts, with 45% of London venues exclusively booking acts themselves. 41% of London venues employ a combination of third party booking and personal booking, which allows opportunities for booking agents and promoters to rent the room and present.
WHO'S ATTENDING
Engaging youth and young adults is absolutely necessary to usher in future generations of London music fans. 93.9% of venues in London presented "popular music" in some capacity (including Rock, Roots, R&B, Country, Pop, Alternative, Jazz, Pop, Folk, EDM, Indie, Punk, Metal, etc.) which generally has strong youth and young adult appeal. The most popular target demographic for London venues is the 19-25 age range, which 80% of venues cited as their primary or "target demographic". In addition to this, 45.2% of venues in the city hosted "All Ages" events in 2015, which refers to concerts allowing patrons under the legal drinking age of 19.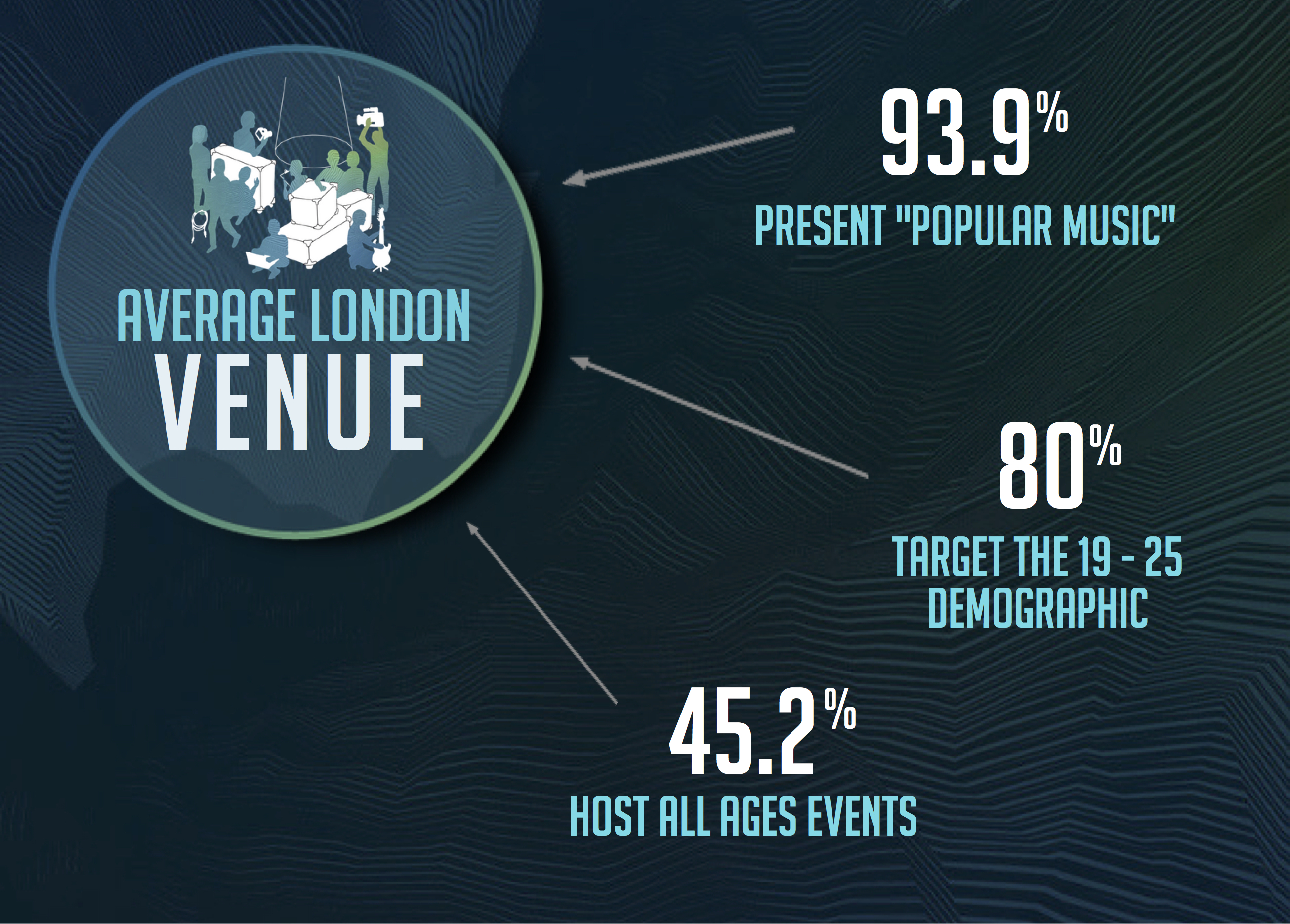 VENUES ON SOCIAL MEDIA
As is common with most businesses, music venues are active users of social media. All the venues surveyed maintain a presence on Facebook, and 90% maintain a presence on Twitter. Instagram & YouTube are useful tools for many venues but don't have the same engagement as Facebook & Twitter. Many of the venues are sharing artist YouTube content to aid with event promotions.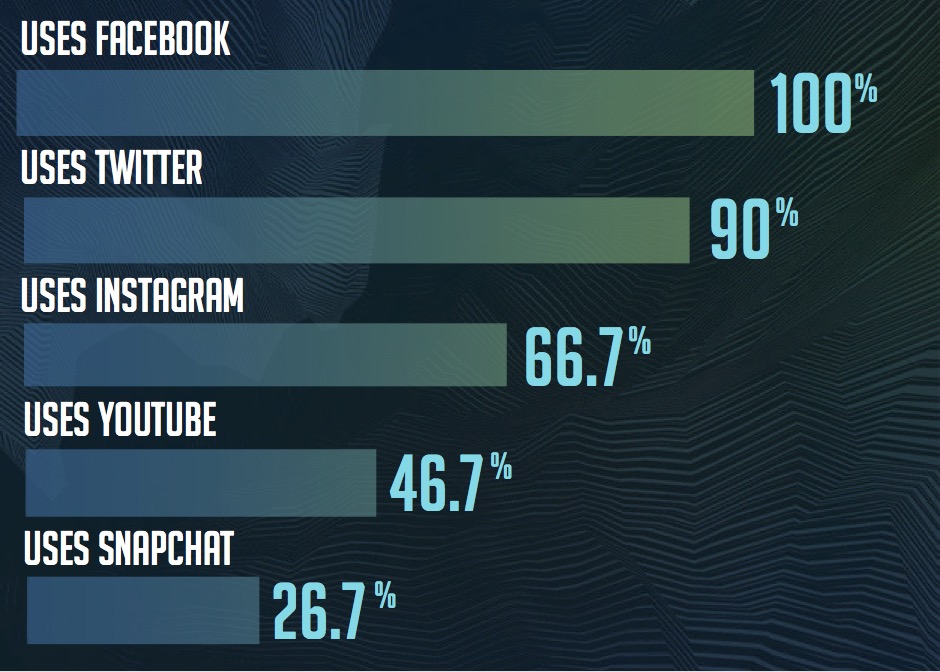 FREQUENCY & COVER
Live music is featured seven days a week across the city but as is common with many other cities, Thursday, Friday, Saturday and Sunday are the peak days for performances. Saturday is the heavy favourite with 93% of venues featuring live music. With multiple nights of programming, it is no surprise that venues have a mixed payment structure for their artists. The most common theme was a flat rate guarantee. Other options included door deals, versus deal, and a percentage of bar sales. It should be noted that no venue reported offering a percentage of bar sales as payment to artists.
THE BUSINESS OF LIVE MUSIC
67% of venues hired artists to either play original music or a combination of originals and covers. Bands (3-5 players) were hired at 88.9% of venues in 2015. Acts that perform original music assist in the development of the local music scene and create engagement with other aspects of the music industry. This in turn creates work for local paid recording services, merchandising, graphic artists, music distribution and many more related services. The original music scene also creates additional revenue streams for the artists performing. Additional support and encouragement to feature original musicians should remain a top priority!
Adaptability has proven to be a key factor in venue sustainability. 86.2% of music venues in London have the ability to scale their room capacity to accommodate varying audience sizes. London's venues are adaptable, have hard-working staff, and are flexible. The same venues can often hold a small intimate folk show one day, and host a packed hard rock concert the next. Many of the concert halls in the city are set up to allow for different capacity scenarios for standing room only, seating, tabled seating, and combinations of the different types.
1/3 of live music venues polled have patios. City by-law does not allow amplified entertainment on commercial patios. Venues cite provincial and municipal laws as barriers to presenting live music in London. AGCO liquor and smoking by-laws combined with the lack of ability to support live performance and even amplified entertainment such as televised sporting matches hinder the music presenter's ability to fully utilize their property and business. Summer months or 'Patio Season' are cited as challenging times for live music presenters as they not only compete with music festivals but compete with non-music venues and their patios. This is a massive missed opportunity for both musicians and music venues.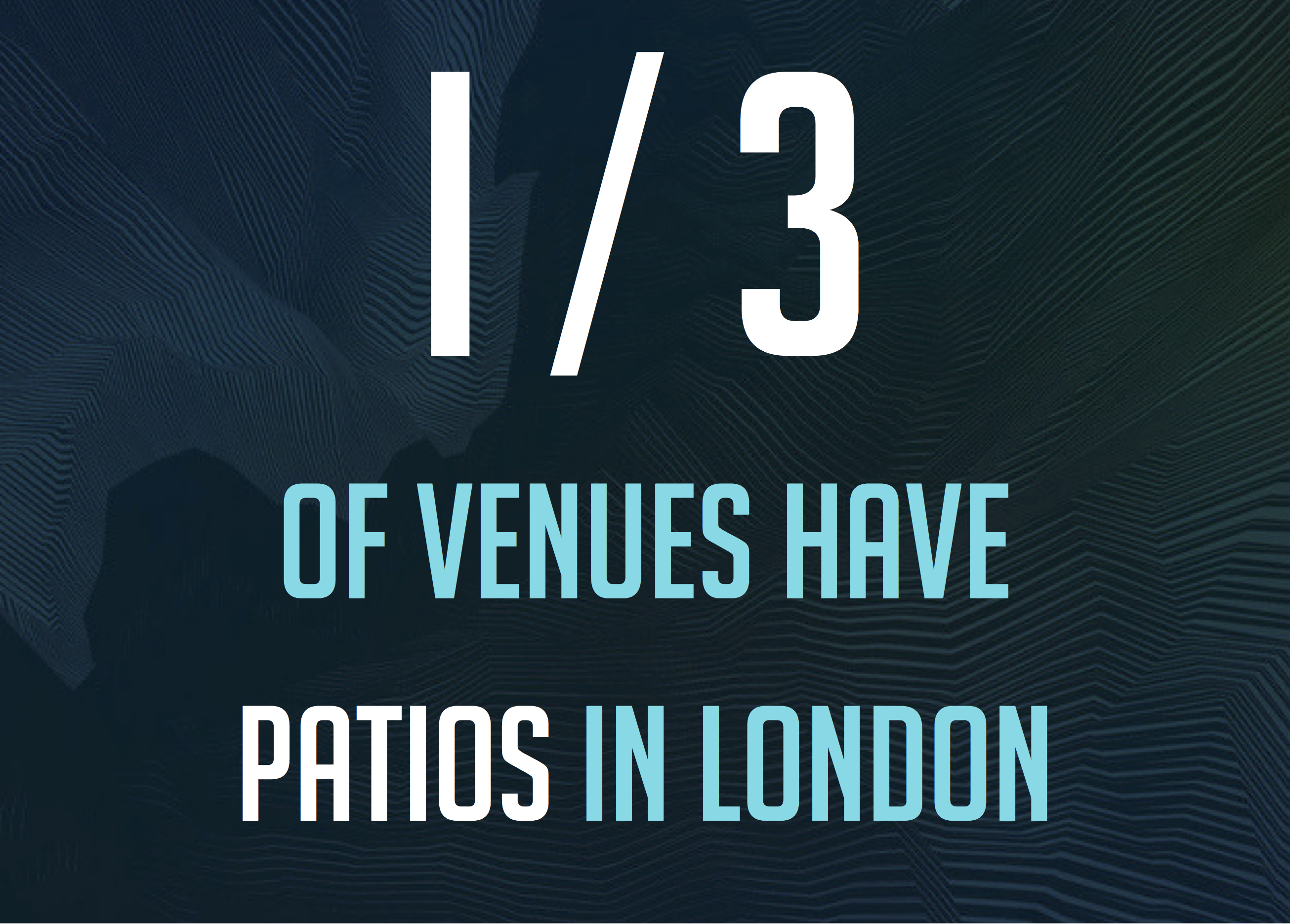 Parking and loading was addressed as a concern for some venues. Weekends in high traffic areas such as the downtown core can be problematic for live music presenters. 62% of venues have dedicated loading zones with 38% looking for a solution. Artist & venues have cited loading zones as a barrier to presenting live music in London. Artists are often ticketed for loading in and out of venues without dedicated loading zones.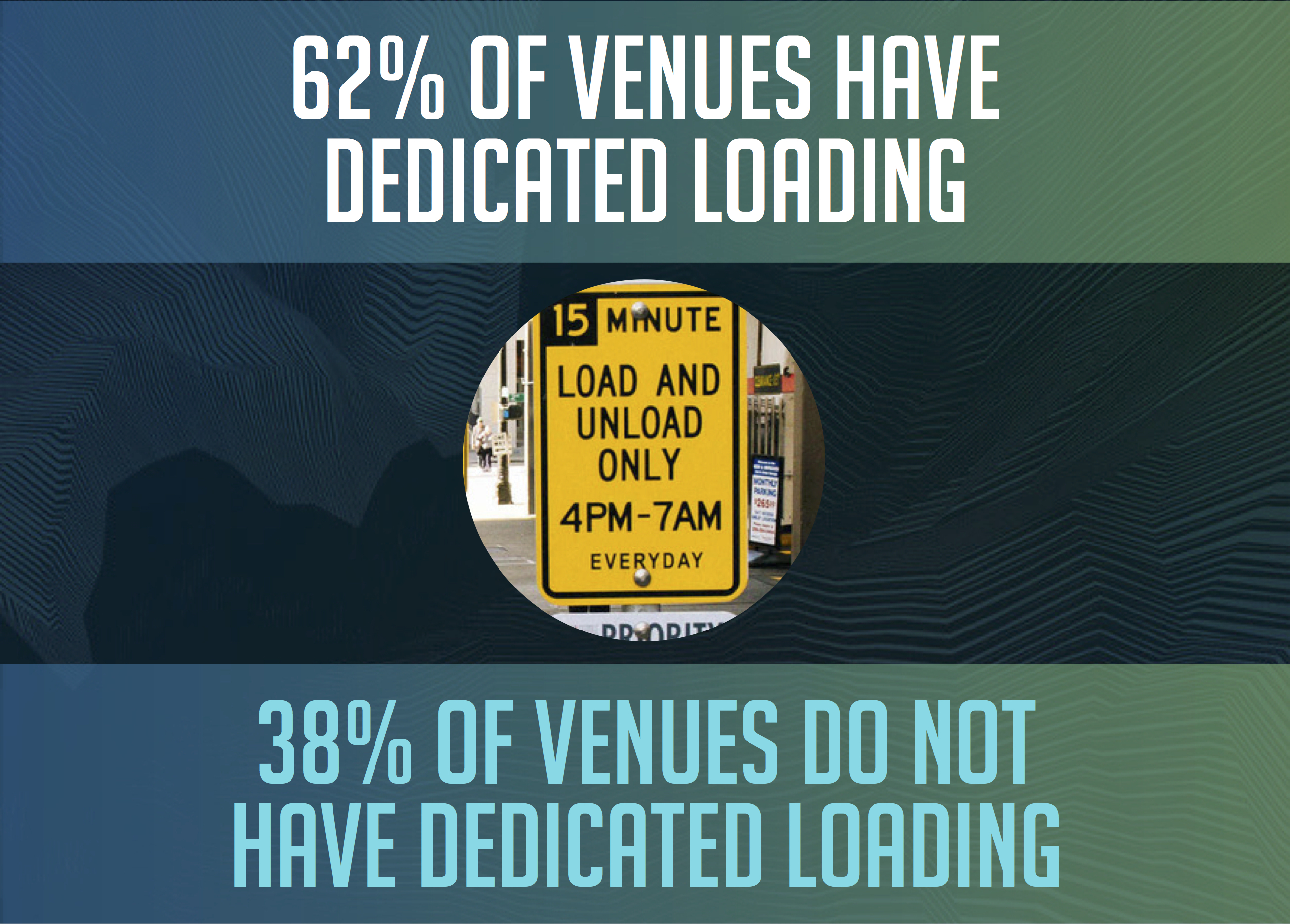 Things get further complicated when looking at dedicated artist parking. 46% of venues have dedicated parking spaces for the musicians they hire, 27% do not have dedicated parking. Another 27% identified having parking 'sometimes'. This depended on the day of the week.
---
---