All Articles
London Music Week and The Sonic Arts Society presents: Spring For Sound 2017
---
---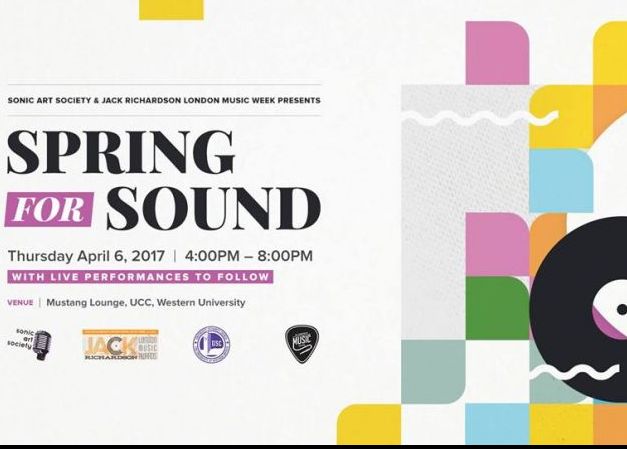 In collaboration with London Music Week and Western University's Sonic Arts Society, this year's London Music Week will play host to the first ever Spring for Sound symposium to be held at Western University's Mustang Lounge on Thursday, April 6th. This event is not just for students and is open to the music community at large.
The event, designed to highlight career opportunities across the music industry, will consist of three major symposium events from 4-8pm, followed by live performances by some of London's best up and coming local artists.
Starting the day off is a keynote presentation from Executive Vice President of Music Canada Amy Terrell, who will be "joining us to discuss Music Canada's 'Music Cities Strategy' and offering insight into how Music Canada plays a role in the development of music scenes across the country. She will also discuss the overall role of Music Canada and careers supported by her work."
Next on the list is a Panel discussion from Jake Gold (The Management Trust), Adam Kreeft (United Talent Agency), Laurie Gelfand (Entertainment Lawyer), and local London manager Tim Fraser (Murdoch Music) talking about the importance of teamwork, networking, and relationship building over the course of your music career. "Music is a team sport. From The Beatles to Justin Bieber and everyone in between, artists need a productive and effective team to help achieve goals they have put forth that lead them to their ultimate success. All musicians have limitations; however, they can strengthen these limits when they team up with accomplished people that have experience in specific areas."
Finally, the last speaking portion of the event will be the Careers in Music panel, featuring C.J Allen (Career Counsellor OIART), Brandon Eedy (London Music Hall), and Matt Sobhy (Prevail Music Inc. & X-Infused) as this year's panelists. "The industry is constantly shape shifting and morphing, and because of this, many industry specific jobs exist. Our Careers in Music panel aims to educate conference attendees about various types of careers within the music industry, and hopefully inspire attendees to further their discover career opportunities."
Registration for attending the event is now open, as well as registration for artists that are wishing to perform to close out the night. This information and much more about this year's Spring for Sound symposium can be found at the London Music Week website.
---
---