All Articles
London's First Music Career Day - Details!
---
---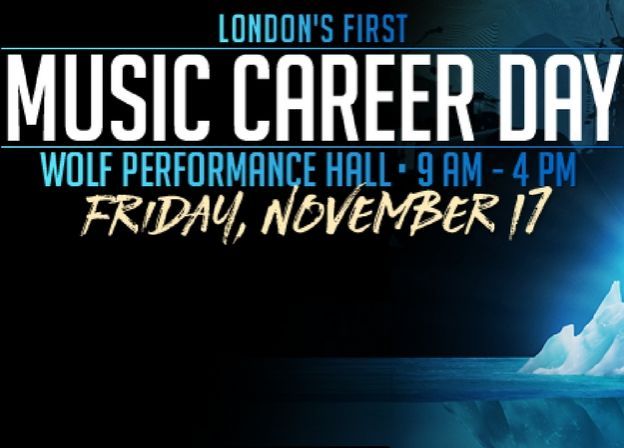 We are only one week away from the London's first Music Career Day, a free event educating Londoners about music opportunities that exist. On Friday, November 17, from 9 a.m. – 4 p.m. at Wolf Performance Hall, attendees can participate in panel discussions, a one-on-one mentor lounge, breakout session discussions, key note presentations, and a few musical performances. Topics include songwriting, production, music synchronization, publishing, royalties, radio tracking, music promotion, venue managing, social media, public relations and industry development and incubation. With live music in Ontario providing over 20,000 jobs to the economy annually, the music industry is seeing growth and developing partnerships with other creative industries. Music Career Day aims to support students and others in the music community by highlighting the opportunities available for them.
Full panel details have now been released! Take a look below.
INDUSTRY OVERVIEW - 9:35 a.m.

Vel Omazik of Canada's Music Incubator and TEMPO (Through Education Music Provides Opportunities) will provide an overview of the music industry ecosystem and the many areas of employment within. Vel will set the tone for the day explaining career opportunities and how many of the positions work together within the music business.
CAREERS IN SONG - 10:00 a.m.
CBC London Songwriter/Producer Artist Manager Musician

Music is powerful & has an ability to connect people to a time, place, or feeling. Like any skill, the craft of the song comes with hard work, dedication & a deep knowledge. Moderated by CBC London's Chris Dela Torre, this panel explores the careers built around the song. Panelists will discuss how their careers are supported & the pieces that make up their work.
MUSIC MARKETERS - 11:05 a.m.
Strut Ent. Dine Alone Records Budweiser Gardens Royalty Records

Marketing encompasses a wide variety of players, paths & personnel. This panel explores marketing careers within the music industry & how there marketing strategies often work together to get the most of a promotional campaign. Panel will be moderated by Brad Gibb, Program Director of Corus Entertainment London.
MUSIC PRODUCTION HUB - 12:45 p.m.
With 875 post-secondary students studying music in the Forest City, it's clear why London, Ontario is a music production hub! Hear from team members at Fanshawe, OIART & Western how their programs are breeding industry leaders right here in London! Panel will be moderated by Roozebeh Showlew of Run Out Records.
ARTIST ACCELERATORS - 1:10 p.m.
MROC ole Publishing RPM Promotion Instinct Ent.

Explore the jobs that strategically place music with artists, in film, television, and radio while collecting royalties and managing artist's catalogues. These jobs are opening new revenue streams in a growing sector. Panel will be moderated by Dan Wylie of FREE 98.1 FM.
FEATURED MUSICIANS
Chad Price Carly Thomas Khardiac

Catch performances from Khardiac at 9:15 a.m., Carly Thomas at 10:45 a.m., and Chad Price at 12:45 p.m.
BREAKOUT SESSIONS & ONE-ON-ONE mentoring will take place beginning at 1:55pm through until 3:20pm.
ONE-ON-ONE Mentoring meetings will be 15minutes in length. As space is limited we ask that you only register to meet one. REGISTER HERE!!!
You don't want to miss this free event. Space is unfortunately limited. Be there Friday, November 17, from 9 a.m. - 3:30 p.m.! Did we mention there are prizes to be won as well? Register to secure your spot at Music Career Day here!