All Articles
Musical Chairs Redefined: A Local Story in Six Parts
---
---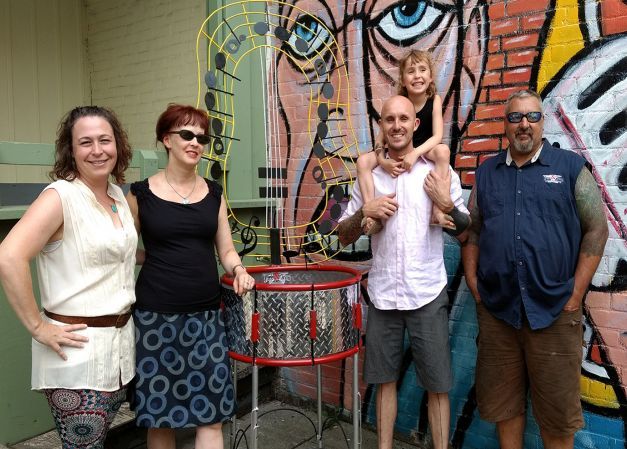 Today, London Music Office is pleased to bring you a spotlight of a different sort. We've had the pleasure of highlighting and spotlighting a few festivals in the community lately, but there are small pockets within London's music scene that house very unique, fringe musical events. Before we go any further, let's step back in time for a moment.
Remember that age-old game we all used to play: Musical Chairs? If you're unfamiliar with the game's premise, it's a game where everyone races to grab a seat when the music stops. There is always one more player than there are seats and the last person standing is eliminated until only two people and one chair remain. The person to sit on the last remaining chair is the winner. Simple enough.
Now, what if you took that concept, tinkered with it a bit, and came up with a format that focuses on inclusion rather than exclusion? What if you found a way to apply it to musicians, rather than individual contestants? What you'd likely get is a totally genuine, nurturing way to help spread awareness for the local music scene to thrive!
Well, this happens to be a story of four individuals, a historic location, and how they all came together to breathe new life into the East London's music scene with their take on Musical Chairs.
Part I: Introducing A New Concept To An Old East Village
One August afternoon, I took a trip to Western Fair to meet with Jen Pastorius, manager at Old East Village Business Improvement Area (further referred to as OEVBIA), to get her insight on Musical Chairs and how it came to be. Her mission, as manager, is to bring presence and commerce to the area and, with her involvement in Musical Chairs, she had quite a story to tell!
It all starts off in St. Regis Tavern, located just east of Adelaide, on Dundas Street - otherwise known as Old East Village. According to local Old East-ender, Henry Eastabrook, it's one of London's two longest operating hotels (alongside Richmond Tavern located in the Downtown core). St. Regis Tavern hasn't been widely known as a musical hotspot, but it's gaining quite an attractive reputation!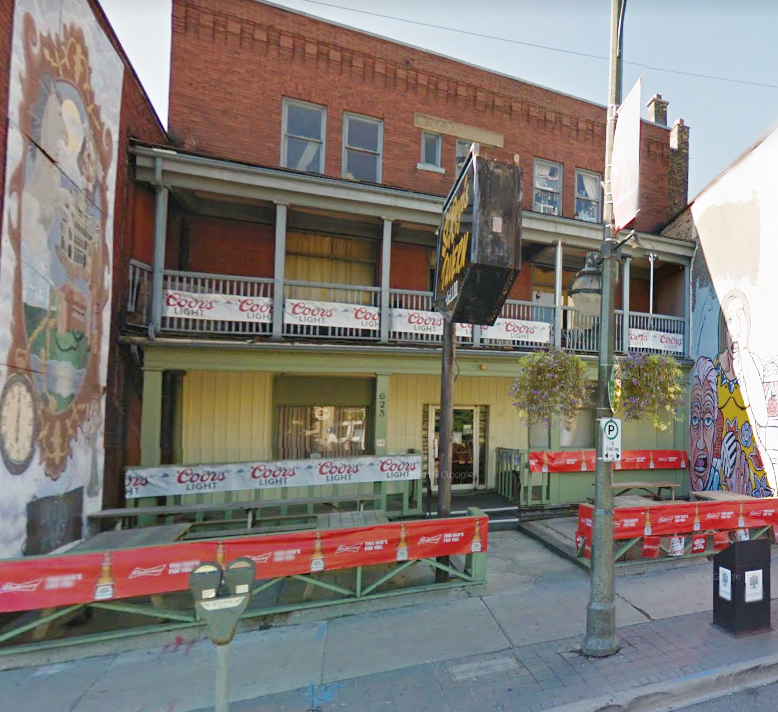 Old East Village, as many of us know, has a colourful history. The City had invested in a plan to revitalize the neighbourhood. The area is both eclectic and cultured and the invent of Musical Chairs just built upon the already existing creativity and collaboration in the area.
While she provided the overarching details surrounding Musical Chairs, Jen humbly suggested that each individual provide their own genuine perspectives - I felt the anticipation building!
Part II: How It All Came To Be
A week and a bit later, I met up with creator and organizer of Musical Chairs, Corinne Marshall, at St. Regis Tavern.
Working at Fanshawe College, Corinne has been a resident of Old East Village for almost six years. Having integrated into the area, she felt it lent a welcoming atmosphere with its diverse array of shops, eateries and culture not found anywhere else in the city. Nestled within the neighbourhood was St. Regis Tavern, which is still considered a major hub in the area.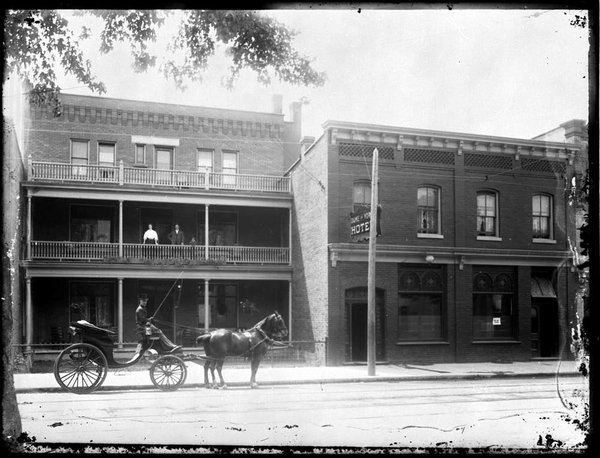 Having familiarized herself with the Old East Village way of life, Corinne saw the value of what St Regis represented in the community. For some, it was a place for the locals to gather. For others, it was almost a home away from home for long-time inhabitants of the area. No matter how one identified with it, Corinne felt it wasn't getting the recognition such a landmark deserves.
Inside the tavern was a stage. It lacked performers. It also lacked the hardware to host performances. That is, until one day in 2012, Corinne came up with an idea that would change not only the perception of St Regis, but Old East Village as a whole!
Part III - Musical Chairs Redefined!
Today, many venues in the Downtown core put a lot of emphasis on promoting commercial acts, making other Downtown venues hyper competitive for local/indie musicians to land gigs. With the absence of classic venues like The Embassy and Brunswick Hotel, many local/indie performers were left with very few locations to showcase themselves.
It's not hard to realize how much the spirit of live music cultivates an aura of togetherness and celebration for the medium. As new music is always emerging, there's always a cool, new way to introduce it to the community. Corinne had been mulling over reasons and relevant themes that convey consistent quality, while still being diverse. The idea landed in her lap when she came across a clipart image of a musical chair on her computer… SHAZAM - it all made sense!
Incorporating different styles of old fashioned chairs flying through the air and the use of That's Font Folks! font type, the elements of the logo accurately represented the event and the location which hosts it!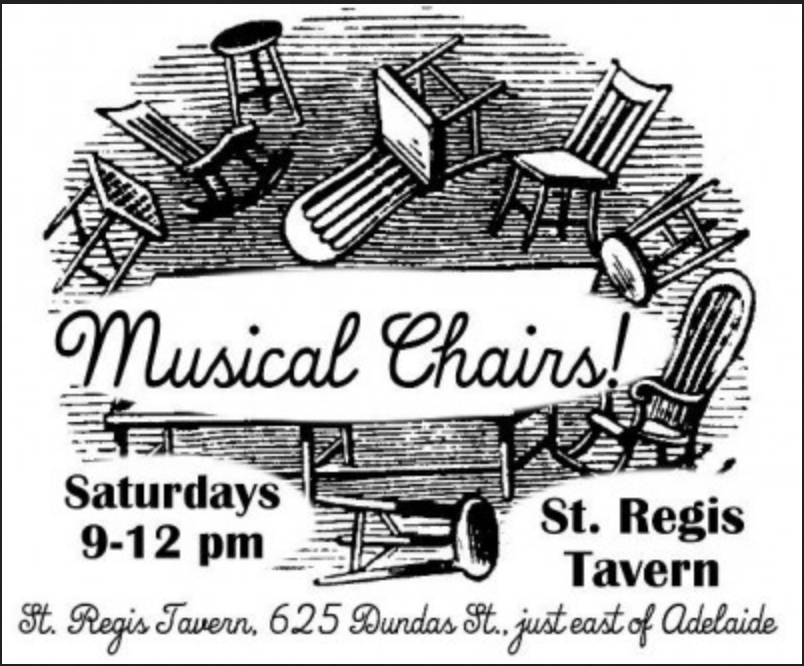 You could say a chair, much like music, offers a comfortable atmosphere to relax and be a part of the moment. Once again, like chairs, there are many different kinds, just as there is music. Now, imagine the stage represents the chair. Corinne's idea involved having a line-up of bands perform on-stage at St Regis. Those musicians would then spotlight other local musicians to play at the next event. Those musicians would go on to spotlight other local musicians, etc. THUS MUSICAL CHAIRS REDEFINED!
While not being able to monetize Musical Chairs, there has never been a cover charge. They've come up with other community-driven methods to help sustain the event. The 'Sweet Draw' came into play as an innovative method involving the auctioning of pastries and other delicious delights. Donated by bakeries in the area, the proceeds go towards subsidizing the musicians. You could say it's both sweet n' neat! Another method is 'passing the hat', where audience members contribute what they can.
With Musical Chairs in full swing, Shani Bell (The owner and operator of St Regis - the business, not the building) uncontestedly supported the idea and helped bring it to life!
Part IV - Musical Chairs Redesigned: Fire, Iron and What It Symbolizes
The OEVBIA understood the cultural and economic value of Musical Chairs to the community and provided promotional support for the weekly event. It was still missing something... Something to symbolize the values Musical Chairs represented. Keeping the roots of the project localized, the OEVBIA commissioned a nearby metalworks designer to construct the iconic centerpiece!
Ian Gordon, owner and operator of Fire & Iron Custom Metalworks, recalled being approached by OEVBIA's Sarah Merritt and Susan McElroy to craft a centerpiece for the event. "What better centerpiece", he thought, "than a musical chair?" What he had an idea, and took it above and beyond!
Who could disagree with a giant chair to represent such an event? It made sense - but it wasn't enough for Ian. He and hs colleagues at Fire & Iron had designed and laboured together a chair that played music! The legs were made of 4 steel rods that were fully-functioning flutes (when disassembled) and the snare drum seat was laden with copper wiring, giving it a whistle when air passes through!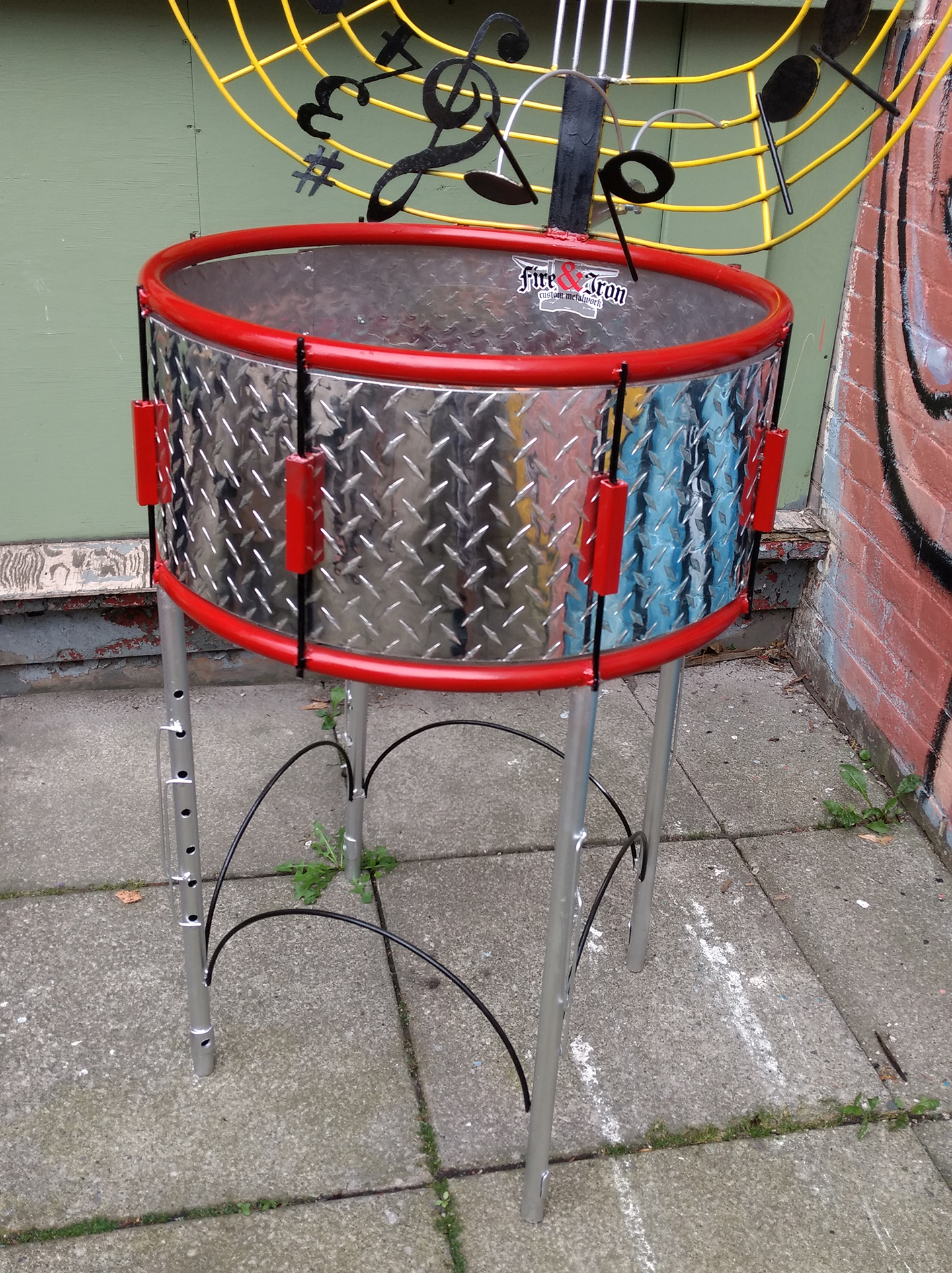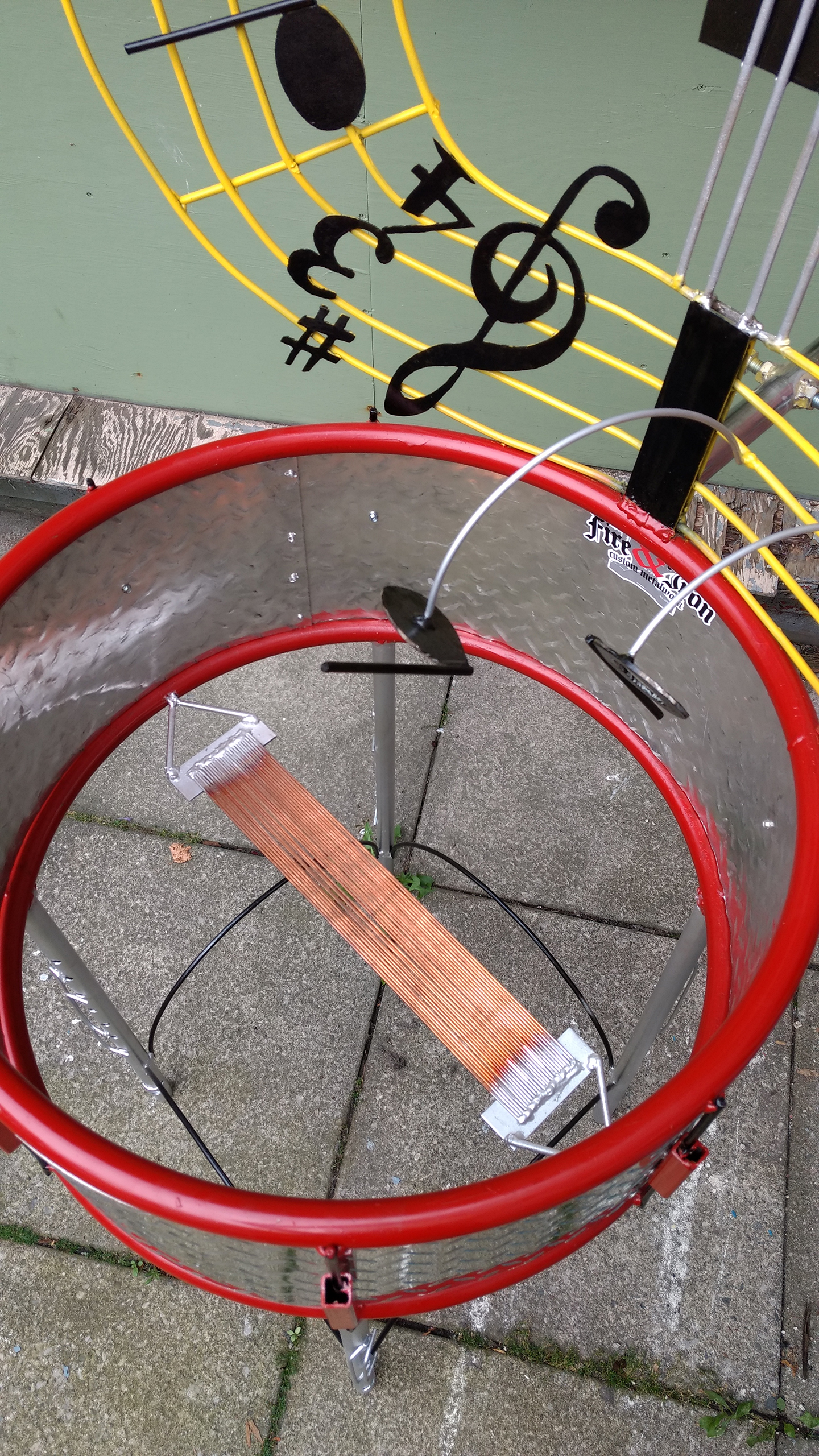 A common question began circulating: "What song comes to mind when thinking of Musical Chairs?" The common answer: "All Around the Mulberry Bush"! Ian and the folks at Fire & Iron adorned the backrest of the chair with the notes from the tune, with the final two notes literally jumping off with a 3D pop! Lastly, an OEVBIA marketing panel of children were asked about what colours the chair should have. All of this lent a unique, community-driven touch to the final product - the Musical Chair itself!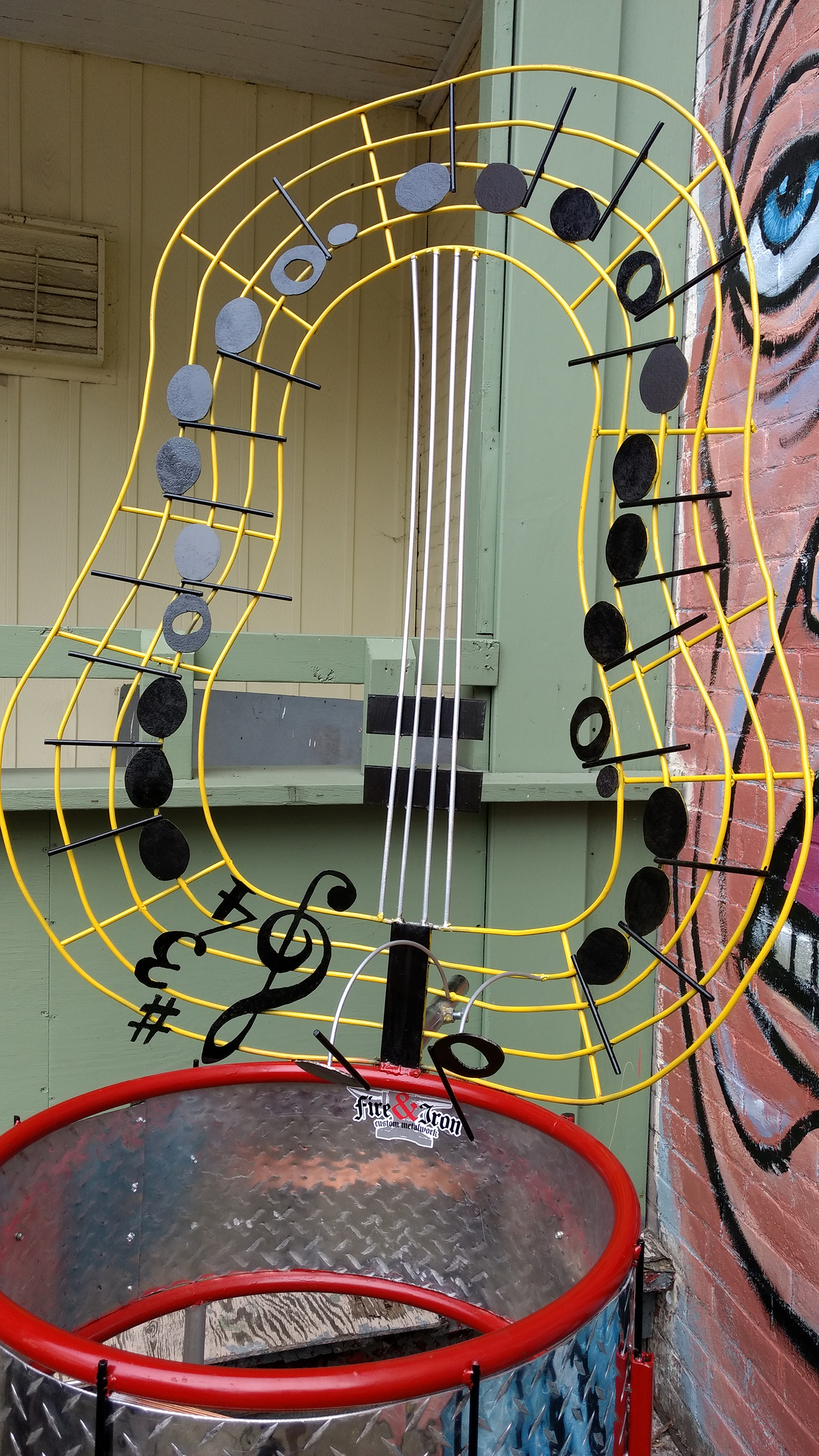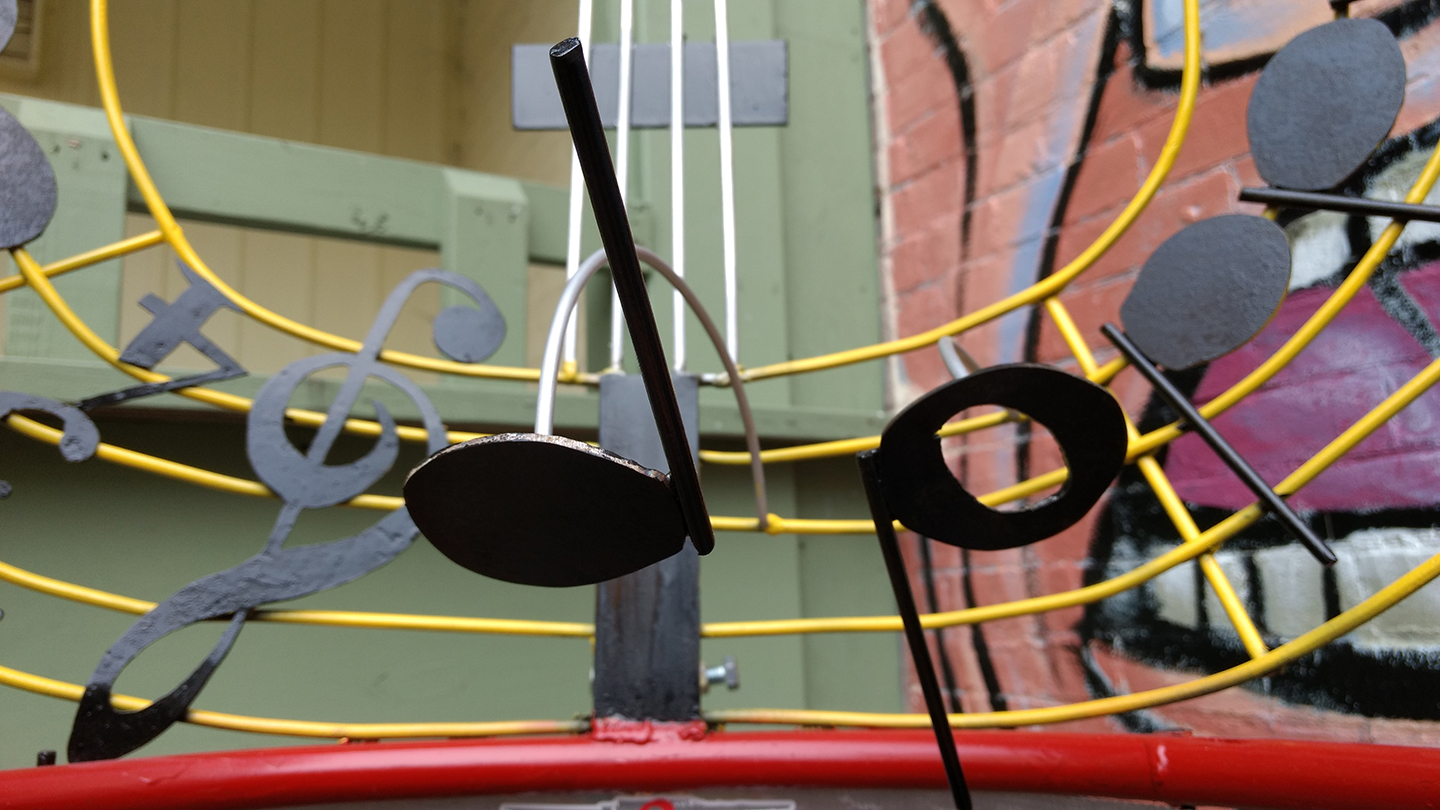 Part V - A New Home for Live Music
It wasn't easy to incorporate the chair into St Regis. Although it received huge support from Shani, the business owner, making St. Regis its permanent home came with some challenges.
Enter William Older to save the day! Having recently acquired St Regis Tavern but a few short months ago (the building, not the business), he fell in love with the chair and what it represented within the community. Just ask William and Shani, they'll tell you that Saturday nights (when Musical Chairs takes place) are busiest night of the week! The event has reached capacity multiple times!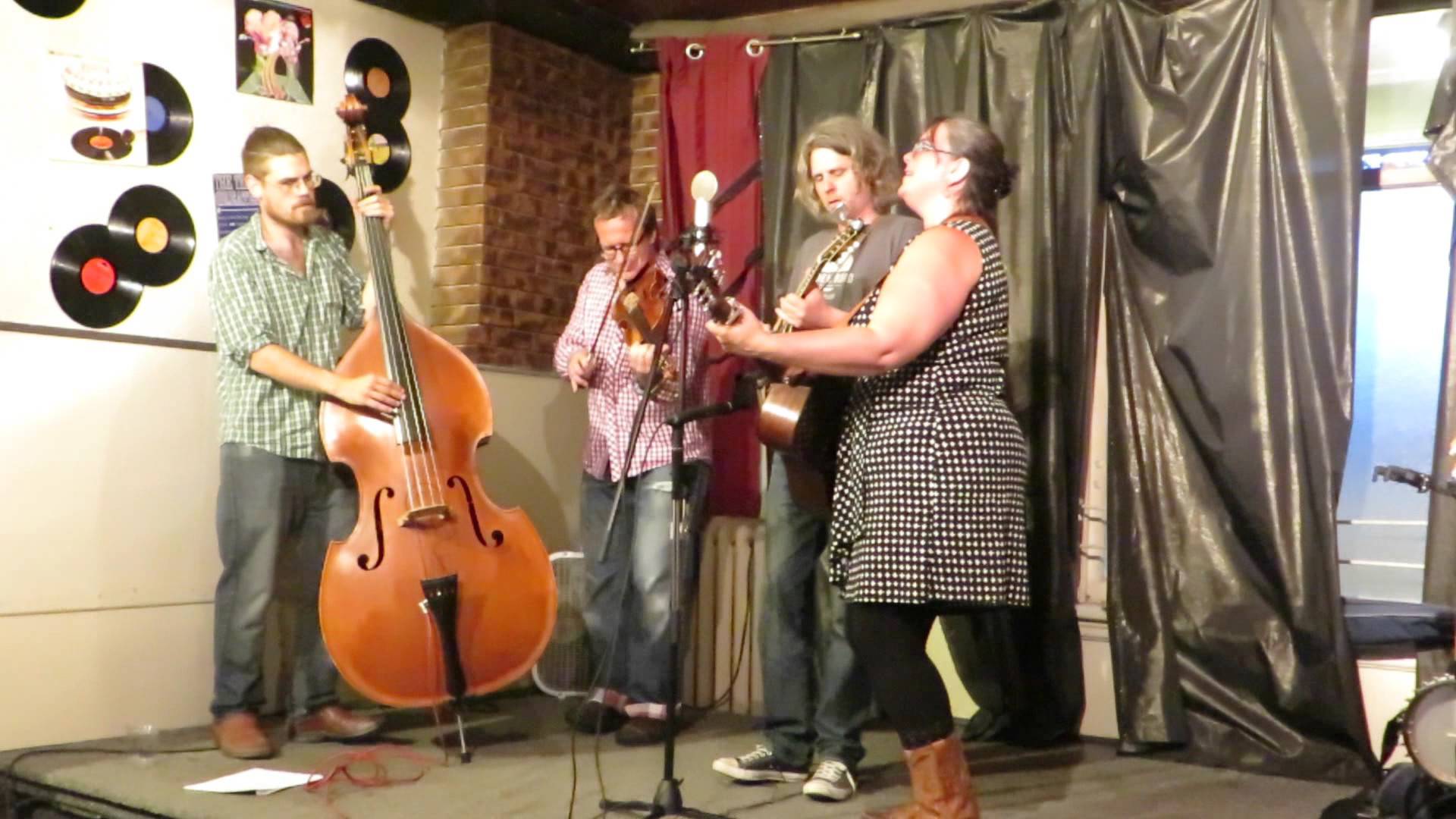 Musical Chairs has garnered a reputation that goes beyond Old East Village. People from across the city and surrounding areas have come to take part and contribute to this one-of-a-kind event.
Being a recognized part of the community, it will solidify itself as part of the St Regis Tavern brand. Plans to permanently fix the chair to St Regis are under way.
Part VI - Long Live Musical Chairs!
Created to honour the collaborative capacity and creativity of the Old East Village, the chair symbolizes community values, love and passion for live music, the creation and innovation of the music scene in the area.
Kevin's Bacon Train, Westminster Park and Broomsticks & Hammers are some of the past participants to play Musical Chairs. Becoming less of an event and more of a tradition in the Old East, there's no sign of it slowing down.
If you find yourself in the area on a Saturday, stop on in and see why Musical Chairs is taking the community by storm! It may just become your new home for live music.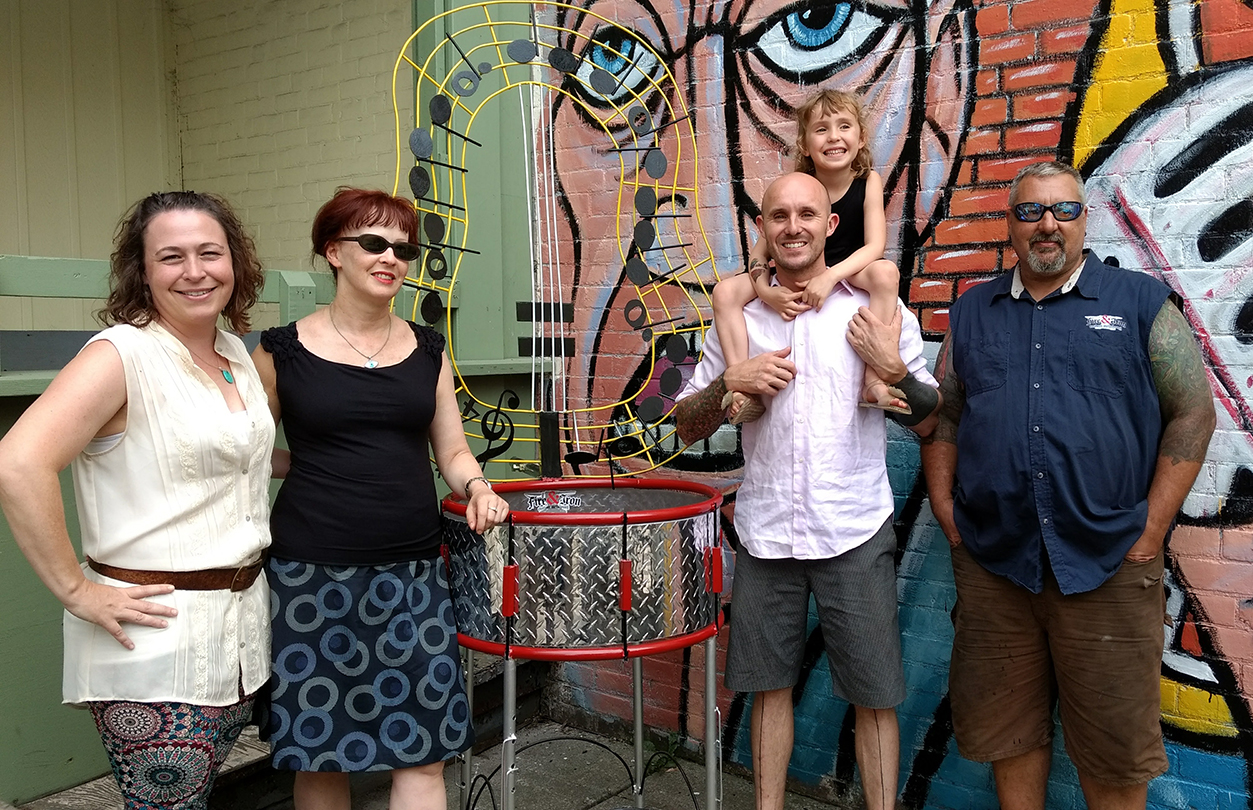 From left to right: Jen Pastorius, Corinne Marshall,
William Older (and his daughter) & Ian Gordon
---
---