All Articles
SesquiFest is Looking for the Best to Rock Canada/Ontario's 150!
---
---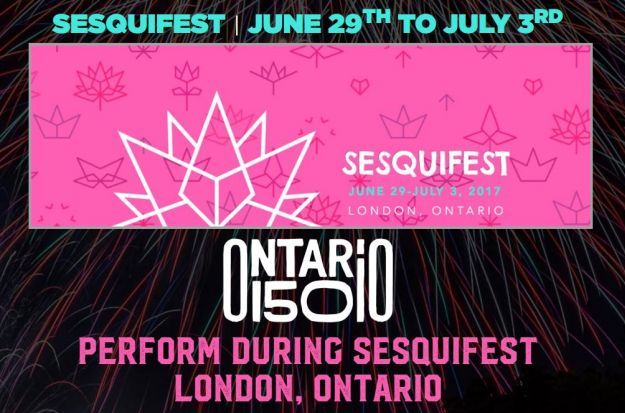 Hear ye, hear ye! This is a call to all local artists who are interested in performing at SesquiFest. London Music Office, along with its partners, are looking for London's best to perform paid gigs during the festival's five-day run.
What must you do to take advantage of this opportunity? Follow the submission requirements below:
Artist / band must be from London or surrounding area (within 20 kilometers)
Your submission must consist of: two audio tracks, option to link to video, 200 character biography, and links to social media (Facebook, Twitter, Instagram, YouTube)
Submissions will be accepted from May 8th until May 18th
Musicians must submit their applications through http://www.londonmusicoffice.com/sesquifest/contest/
A selection committee will then pick artists based on the needs and requirements for the event.
Speaking of the event...
Here's a quick rundown of what you can expect to see this year:
Thursday, June 29th – Talbot Street Takeover
It's time for the youthful talent of London's music scene to shine by kicking off the five-day event. The Takeover includes artists and bands within the 15 – 25 year old age range. What's more? A selection committee consisting of London youth in the same age group will choose the performers. This is a going to be a blast for all the young rockers (but not limited to) out there, so come on down!
Friday, June 30th – Best Of Ontario
Let's face it, Ontario's music scene rocks! The Best Of Ontario, in conjunction with London's Music Cities Exchange program, is actively working with other Ontario cities in an effort to grow their music community. Best Of Ontario gives artist and bands a glowing opportunity to reach and establish new audiences and markets outside of their hometowns. So, out-of-town artists, here's an awesome chance to showcase the goods and get London hopping!
Also, the event will close with a legendary not-to-be-missed performance (but, it's a secret)!
Saturday, July 1st – Canada Day
Canada will be turning a big 150 years this coming July (and my, hasn't she aged gracefully?). To celebrate, the event will gather a wide spectrum of cultural acts to create an experience that embodies the spirit of our nation.
Sunday, July 2nd – Centennial '67 Day
Let's do the Time Warp again! We're going back in time to look at the Expo '67 and Centennial celebrations that took place in Montreal, in the year… you guessed it… 1967! The event will host a mix of Francophone artists and diverse musical genres providing its viewers with a glimpse of Canada's musical culture. We've got some excellent headline performances to close off the event.
Monday, July 3rd – The Best Of London
Having covered Canada and Ontario's musical diversity, this event is focused on you, London! This will be the day to celebrate and showcase the best that London has to offer!
It's sure to be an awesome festival you won't want to miss, and we wouldn't want you to miss it either! So, if you're looking for more information and details, please check out the program guide in the links below and see ya there!
London Music Office Event Calendar @ http://www.londonmusicoffice.com/events/
Please be sure to check out our social media and be a part of the growth of London's music scene.
Facebook: www.facebook.com/LDNMusicOffice/
Twitter: @LDNMusicOffice
Instagram: @londonmusicoffice
Keep on rockin', London!
---
---