All Articles
Soundcheck For Success - Panelists Announced!
---
---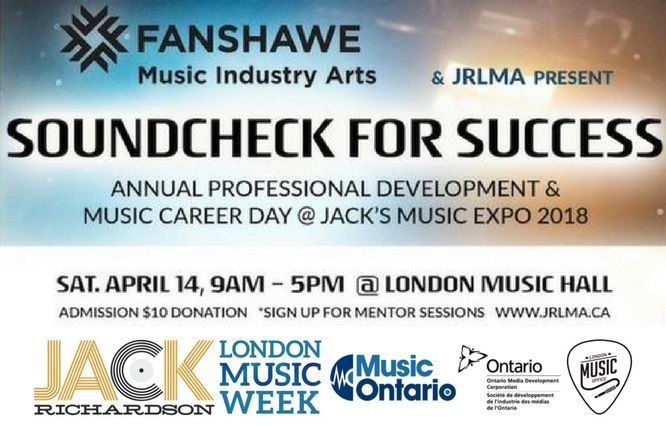 This Saturday will mark another highly anticipated event of Jack Richardson London Music Week: Soundcheck for Success! Learn what it takes to build a career in the music industry first-hand from industry pros at this exciting event at London Music Hall this Saturday! Covering everything from the Value Gap, to the life of a record, truths of success, and production, with one-on-one mentoring throughout the day, this is the event you do not want to miss!
Amongst discussions, live performances, and mentor lounges throughout the day, there will be panels covering a variety of topics! Read about the panels and panelists below!
The Value Gap Interview: 9:30 am – 10:15 am
The value of creative content used by consumers and the revenues returned to the creators are disproportionate! Amy Terrill and Miranda Mulholland are here to shed light on the 'Value Gap', discuss the opportunities and challenges facing Canadian music creators, and what can be done about it.
Amy Terrill:
As the Executive Vice President of Music Canada, Terrill is an expert in federal, provincial and municipal music policy. She is the lead author of The Mastering of a Music City, giving communities the steps they need to maximize their musical economy's potential.
Miranda Mulholland:
As an artist-entrepreneur, label owner, music festival founder, and a leading artist advocate for music creators, Mulholland speaks about what needs to be done to best support the music ecosystem. She teaches and speaks for musicians on issues that impact their ability to earn a living, and is actively spreading the word. She was the keynote at the Economic Club of Canada this past year, and continues to present her reality and ideas as an artist-entrepreneur to political decision-makers.
The Record Cycle: 11:15 AM – 12:00 PM
This panel explores the life of a record - from writing, recording, shopping, touring and everything in between, bringing artist managers, labels, and agents together as panelists, discussing the life of a record in today's electronic age.
Richard Fernandez:
Richard Fernandez is the president and owner of Tandem Management co. Tandem is an artist management company with a roster of artists including Protest the Hero, Silverstein, August Burns Red, and Seaway.
Paul Koehler:
Paul Koehler is a founding member and the drummer of Silverstein, having toured the world and played over 1800 shows. He works in all of the band's artist development, and has become integral in artist management.
Kathryn Hummel:
Kathryn Hummel is a music business entrepreneur, and an A & R person for Royalty Records, Canada's oldest country label.
Steven Himmelfarb:
Steven Himmelfarb is an agent at The Billions Corporation, a booking agency established in 1989, which currently represents over 200 artists.
Producers Panel: 2:00 PM – 2:45 PM
A staple of Soundcheck For Success is the Producers Panel, led by the legendary Garth Richardson.
Garth Richardson:
Garth Richardson, son of Jack Richardson, is a Canadian music producer and engineer. Garth engineered recordings for The Red Hot Chili Peppers, Nickelback and Mötley Crüe, and he produced for Kittie, Rage Against the Machine, Mudvayne, The Melvins and Shihad. He co-founded the Nimbus School of Recording Arts in Vancouver.
Karen Kosowski:
Producer and songwriter Karen Kosowski has landed a string of pop and country radio hits, including Tryon's "Somebody To Love Me", "Motel Flamingo" for Madeline Merlo, and Brett Kissel's "Anthem". Kosowski's radio successes as a producer have continued with Billboard AC hits. As a writer, Kosowski has written or co-written many other charting songs, and she's landed numerous tv/film placements both on television networks and in feature films. This garnered her a 2016 Canadian Screen Awards nomination, and received a nomination for Producer of the Year in the 2015 NOW Magazine.
Dan Brodbeck:
Dan Brodbeck is a Canadian record producer, recording engineer/mixer and the program coordinator of Music Industry Arts at Fanshawe College. Throughout the 1990s Brodbeck owned dB Recording Studios, working with various artists including Juno-nominated The Gandharvas and Garnet Rogers. He was a partner at EMAC Recording Studios where he worked with Headstrong, The Salads, Clockwise, Ana Lovelis, Landon Pigg, and Dolores O'Riordan of The Cranberries. In 2010, he won the Juno award for "Recording Engineer of the Year", and has recently done records for London's Ivory Hours and Texas King.
Rob Nation:
Rob Nation is a Canadian audio engineer and producer with extensive experience in music, film and broadcast. Rob has owned and managed EMAC Recording Studios in London for 35 years. Working as a recording engineer and producer with many diverse artists, he has recorded hundreds of musical projects. Rob has travelled the world as a "Production Sound Engineer" for television and film. He chairs the Canadian Juno Awards selection committee for the "Producer of the Year" award; has recorded for the Academy Award winning movie "UP", and with Michael Moore. Rob has been teaching in Fanshawe's Music Industry Arts program since 1999.
Lisa Patterson:
Lisa Patterson is an award-winning music creator, entrepreneur and humanitarian based in Toronto. Patterson operates imaginit music, specializing in Roots, World, Folk, Indigenous and Jazz artists and has a reputation for creating a harmonious studio environment. She has co-produced projects with Juno & Polaris prize award-winning producer Michael Phillip Wojewoda (Buffy Sainte-Marie, Bare Naked Ladies); Grammy & Juno award-winning producer Adam Messinger (Magic!, Iggy Azalea); and studio veteran Nick Blagona (Cat Stevens, Deep Purple). In 2016, she was inducted into Jack Richardson London Music Hall of Fame.
5 Startling Truths About Success In Music Today (Keynote): 3:00 PM – 3:45 PM
Michael McCarty, SOCAN's Chief Membership & Business Development Officer, is leading innovation in the membership department and services provided to SOCAN members. SOCAN remains vital among music rights organizations and Canada's music creators. McCarty will be talking about the 5 startling truths about success in the music industry.
Don't miss out on this great opportunity to get on the inside of the music industry! Be there at London Music Hall this Saturday, April 14, from 9 AM – 5 PM for these great panels, along with keynotes, discussions, live performances, and mentoring!