All Articles
The 2019 London Music Census Findings
---
---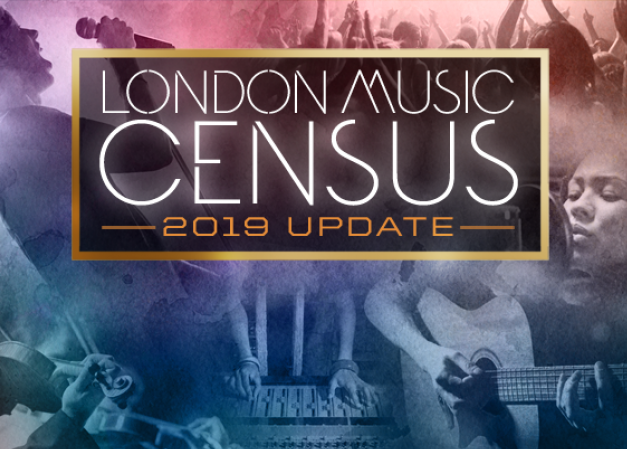 THE 2019 LONDON MUSIC CENSUS: AN UPDATE
Music is a powerful tool that creates exciting experiences, reduces stress, and builds memories of people, places and things. Numerous studies show the homeopathic attributes derived from music therapy. Beyond the social and wellbeing benefits, music is a catalyst that drives tourism, city building and economic growth. Music has a value in society and creates a unique ecology that requires adequate infrastructure and policy to support. Understanding the pulse of any sector is critical when developing and implementing a strategy. The London Music Census is conducted by identifying and quantifying the assets that make up London's music ecosystem. The more information gathered, the better we understand our current climate and plan for future pathways to success. Through data collection and analysis, the London Music Census assists with tracking, monitoring and building a snapshot of the current music ecosystem. At this point, it's important to review findings from 2019 London Music Census and compare them with the findings of the 2016 London Music Census to understand how the sector has changed and evolved.
Internal discussions with City of London policy and planning staff supported the methodology and the formation of questions. Music Canada's question bank from their 2014 survey 'Live Music Measures Up' served as an ideal base for both the 2016 & 2019 London Music Census. The 2019 Census repeated many of the same questions from 2016, allowing for an 'apples to apples' comparison.

Similarly to the 2016 census, the 2019 census was broken into different segments including music industry, music fans, musicians, venues, and events / festival organizers. This focused separation provides a deeper understanding of the various areas within the sector. An essential elements to London's development as a 'Music City' is our higher learning facilities and post-secondary students. Through the 2019 London Music Census, students actively studying music at London post-secondary institutions were engaged through their institutions.
Understanding the assets that make up a music community helps guide future objectives and concentration. Mapping out the musical assets presents a clear picture of the sector. Measuring against previous findings, we are able to track growth in the local community. There is an ability for artists to evolve from an open mic stage to an arena sized venue. The Music Census Venues survey results will be used as the starting point for understanding the needs of venues in London.
FAST FACTS
The 2019 London Music Census consisted of 112 questions.
2,003 total surveys were conducted under the London Music Census umbrella.

1,014 participants in full 2019 London Music Census.

2016 had 1,537 surveys conducted.

249 participants in post-secondary Student Survey (new to 2019).
740 participants on-site survey at Park Jam (tested fan Q's) (new approach in 2019).

Surveys we're conducted online through the platform SurveyMonkey. Census lived online at www.londonmusicoffice.com/survey.
KEY FINDINGS
London's music scene is growing!
More shows are taking place as importance of live performance increases
London's incubation base is expanding with increased music student enrollment
Live music venues have created 963 local jobs with millions paid to venue staff
We're moving towards a better gender balance but more work needs to be done to provide inclusive opportunities
A health balance of existing businesses is being met by new emerging music businesses
The following is our findings from the 2019 London Music Census

In 2016, through the initial London Music Census, data was collected establishing baseline measurement of London's music sector. Through a comprehensive gathering process, the London Music Office formed key measures and an understanding of how the music industry operates in London. The 2019 London Music Census shifted focus from industry management to allow for input from all levels of industry professionals. While this didn't produce an economic impact figure, it did provide more insight into the demographics of London's music industry professionals. Our findings are as follows:
As noted in other areas of the 2019 London Music Census results, the workforce is male dominated with over three-quarters of the industry identifying as males. Individuals identifying as females account for 24% of respondents. Work needs to be done to create a more gender balanced industry that is better representative of the community.
DEMOGRAPHICS
Looking at age demographics, Londoners are more evenly represented across the industry, however the age of workers skews younger. The largest segment of the population falls within the 30 – 34 years of age bracket accounting for 19% of music industry professionals. Slightly more than half of the respondents (51.5%) are below the age of 40. While this group may be younger, they are experienced in the industry, as 53% of participants stated they have been working in the music industry for over 10 years. This group is highly educated with 88.23% of musicians identifying as having received postsecondary education.

Management reflected the largest segment of music industry professionals working in London with 54% of participants defining their role as managers. Contract, temporary and casual workers accounted for 31% of the workforce, while entry level staff made up 15% the remainder.

Music is an exciting industry to work in but can be difficult to transition into full-time employment. This was noted in that 55% of respondents work full-time in music with 45% seeking additional job opportunities outside of their music sector work. Through the musician's component of the census, we learned that many individuals work additional jobs on top of their music work. Many of these jobs are in the creative industries and support the larger music sector. A wide variety of jobs such as graphic designers, teachers and tech/gaming were each noted. Further proving this, in 2018, 47% of the respondents had over half of their revenue generated from music-related business. This shows that many of the local businesses diversify and take on work or clients outside of the music sector. One example of this is recording studios that take on work for television commercials.
A vast majority, 91% respondents, reported the businesses they work for focuses on the popular music genre (e.g. R&B, roots, rock, country, pop, alternative, jazz, folk, EDM, indie, punk, metal, etc Results also show that 30% of respondents reported the businesses also touched on traditional folk music (e.g. traditional Aboriginal, traditional multi-ethnic, world, etc.), 26% are related to classical music (e.g. chamber, orchestras, choir, etc.). A further 9% said they work on multiple genres without a specific focus.
BUSINESS MAKE UP
London has a number of established music businesses that have assisted in growing the music sector. Of the surveyed businesses, 27% have been in operation for more than 20 years. It was also identified that an additional 27% of businesses have been operating for 3-6 years. These two brackets represent the largest segment of the industry and are followed by a variety of timelines. They are followed by businesses that have been in service 1-3 years (15%), 12-20 years (11%), 7-11 years (10%) and less than 1 year (10%).

The leading area of employment in London's music sector is the media sector. 34% of respondents identified as working within media businesses including print, radio, TV and digital media. Other large employment segments reported within the industry include, Artist Support 28%, Music Creation 26%, Business Development 24% and 9% in music organizations (eg. association, union, education & training).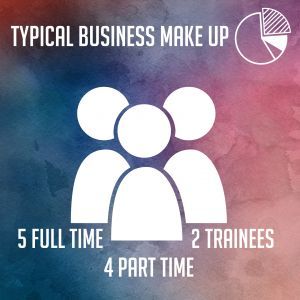 Leaving room for all areas of the industry, the option of 'Other', reflects areas of the industry not outlined above. 20% of respondents work in a variety of sections within the industry. Looking at the information gathered, a typical music industry business has on average, 5 full-time employees, 4 part-time employees and 2 trainee/interns.
FUNDING
For the most part, London's music businesses are not applying for funding provided by granting organizations. Funding is available through provincial and federal levels for all types of businesses including for-profit organizations. A large majority, 73% of respondents, did not apply for any grants in 2018. Those businesses that did apply for funding received support from a variety of programs and agencies. Looking at the breakdown of respective grants, Ontario Arts Council was the primary program businesses applied for, with 15% of surveyed business submitting an application. The Ontario Music Fund and FACTOR each saw 12% of businesses apply to their funding programs. Canada Council for the Arts and Canada Arts Presentation Fund each respectively received applications from 7% of local businesses. It should be noted that for-profit businesses, which largely comprise the Music Industry segment of the census, are ineligible for funding from local granting agencies due to provincial regulations.

Whether attending one of our small intimate club shows or taking in an internationally recognized A-List artist at one of our many festivals, London's music fans are a driving force in the success of the live music sector. Understanding how these individuals engage with our local music community is essential.
The fan findings offered great insight in 2016's initial census, the same can be said about the 2019 findings. Music is accessible to all walks of life, and our findings indicate just that. As noted in the 2019 census, the highest level of engagement came from within the 30 – 34 age group, with 14% of all surveyed fans within this age bracket. The 2016 census skewed towards a younger demographic too, with 48% of music fans identifying between the ages of 20 – 34.
Popular music is the most enjoyed form of music, since a large majority of fans (93%) indicated "popular music" as an interest point. Genres including classical (18%) and traditional folk (18%) music also attracted a notable number of respondents. 14% are interested in other genres, including celtic, gospel, new age, and musical theatre, among others.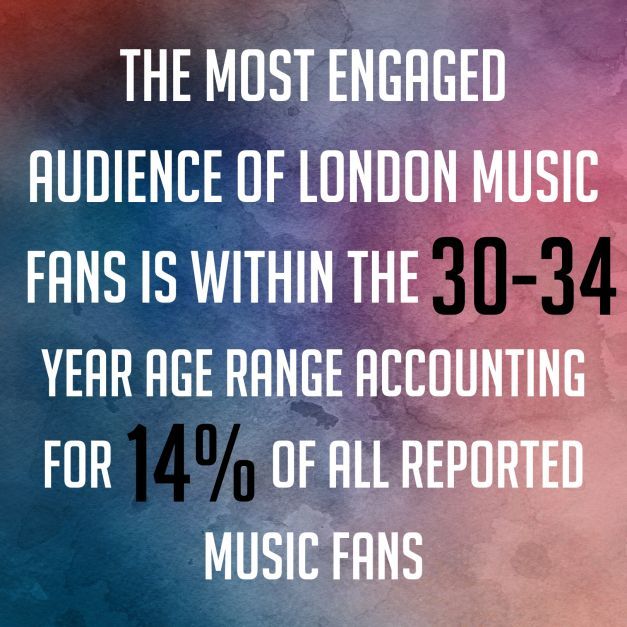 In 2018, the average surveyed music fans attended 8 music events in London and 3 outside of London. This is a strong indication that London hosts many great live music events that keep Londoners celebrating local entertainment. London has a strong pool of music fans who are willing to pay for local live music events. 44% of respondents reported paying admission or financially supporting all the live performances they attended at local London music venues in 2018. A small percentage (7%) only attended free-of-charge events. While live music is one way to support the local sector, not everyone surveyed attended live events in 2018. 7% of respondents did not attend any live music events in London in 2018 for a variety of reasons.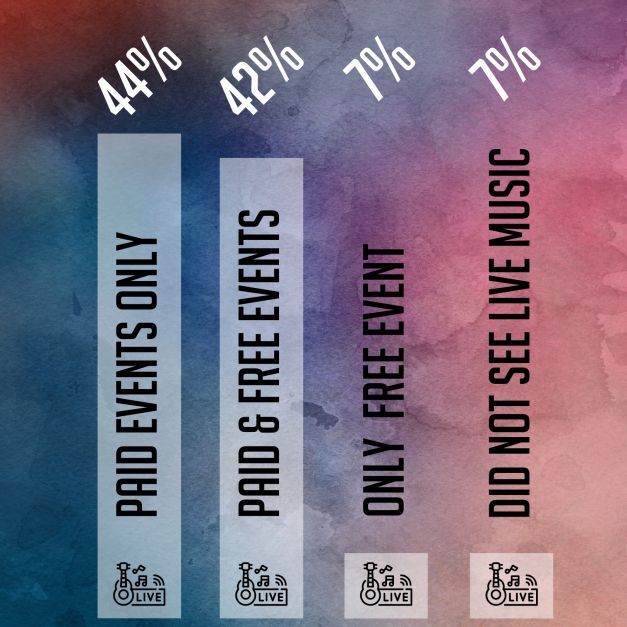 London is renowned for the diverse ecosystem of music festivals offered to local residents and tourists. In 2018, 52% of respondents attended 1-2 local music festivals, 13% went to 3-4 festivals and 3% had been to more than 5 music festivals. Regrettably, 32% of surveyed music fans did not go to any of London's music festivals last year. A majority of respondents (60%) did not attend festivals outside of London in 2018. 31% of respondents went to 1-2 festivals, 6% attended 3-4 festivals and 3% had been to more than 5 festivals. London festivals and events offer a wide variety and are keeping people entertained in London.
Surveyed music fans are very supportive of the local music sector, as 56% were interested in a monetary donation to help boost local musicians. 34% of respondents also indicated an interest in donating if they were provided more details and 10% stated they had no interest in making a donation.
A question was posed, asking respondents if they would be interested in donating $1 to support the local music sector with a future ticket purchase? This was followed by a question asking if they had made a donation in 2019 to support MusiCounts in anticipation of the 2019 JUNO Awards. The 2019 JUNOS London Host Committee raised over $205,000 through $1 donation being added to the price of admission at select 2019 JUNO venues in anticipation to the award show. Only 15% of ticket buyers were aware they had made a $1 donation with past ticket purchases.
London's music fans enjoy watching performances and shy away from volunteering. The majority of respondents (89%) did not volunteer at any music events or festivals in the past year, 9% volunteered at 1-2 events, 1% at 3-4 events and 1% at more than 5 events. From discussions with festivals, those who are volunteering continue to volunteer each year and there is also limited volunteer opportunities. Those two factors could contribute to the small percentage of volunteers.
In 2018, surveyed music fans preferred to purchase tickets to live music events through official platforms. 67% did not purchase a single ticket from a ticket reseller or resell a ticket on platforms such as StubHub, Vivid Seats or Facebook Events pages. Roughly one-third of Londoners used reselling platforms to purchase tickets.

Transportation can be a major factor in attending a live music event. With many events taking place in the late evening, a safe and reliable transportation method is essential. In 2018, 'private vehicle' stood out as the go-to method of transportation for London music fans, with 69% of respondents travelling by car, alone or with others. 14% relied on public transit, 7% travelled by taxi, 7% used ride for hire platforms and 3% cycled or walked to events. Anecdotally, it was stated that private vehicle was many peoples only form of transportation due to existing transit routes and cost of taxi or ride for hire services such as Uber.
LISTENING AND SPENDING HABITS
London's music fans play a big role in supporting the sector. In 2018, when given the choice, live performance was the preferred medium of music engagement, accounting for 87% of all music consumption. Accessing music digitally is trending, as 66% of respondent's streamed music for free in 2018, compared to 81% in 2015. This number may still be high due to video services like YouTube providing free access to their platform. Significant growth is seen in paid subscription streaming services. 55% of those surveyed are subscribing to a premium paid streaming service, up from the 2015's figure of 39%. These numbers make sense when looking at average time spent listening to music on Spotify from 2015 – 2019. Figures show the average listener consuming 19 hours of music in 2015. Today, the average user now listens to 25 hours a month. Paid Spotify subscriptions are skyrocketing. 2018 saw Spotify grow to 87 million paid subscriptions. As of November 8, 2019, there were 113 million paid Spotify subscribers. That's just one streaming platform. Consider the full impact streaming is having with dozens of other platforms in the market. While streaming pays proportionately lower rates then terrestrial radio plays, negotiations are currently taking place seeking increased compensation levels.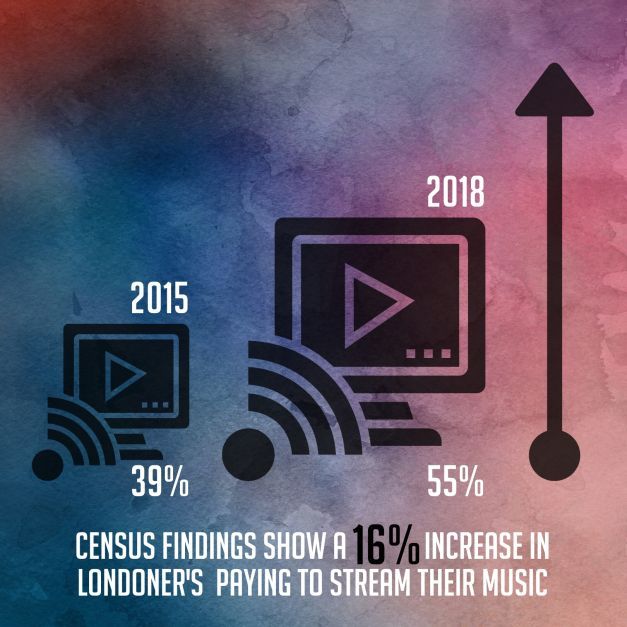 A strong sign that fans are moving towards streaming is the significant decrease in piracy. While 20% of surveyors continue to download music from various illegal torrent sites, this number was cut down from the previous London Music Census findings, where 43% of respondents admitted to taking music from online services. Traditional mediums like CD and Vinyl, DVD are still popular with 59% of surveyed music fans acquiring music in physical form. Terrestrial radio and digital radio accounted for 11% of music listening.
Looking at monthly music listening expenditures, 54% of Londoners spend $25 or less a month. This accounts for subscription services, memberships, recorded music sales and admission to concerts. The largest segments of Londoner's (25%) are spending $26-$50 on music content monthly. A notable portion at 14% are spending $51-$100 on a monthly basis. A dedicated group of music fans are spending considerable money each month as 3% of the survey base spend $101-$150 monthly, 1% spend $150 - $200 monthly and 3% are spending in excess of $200 each month. These figures are an average monthly spend, considering many concert tickets are in excess of $75 per ticket.

As a follow up to the 2016 London Music Census, the 2019 London Music Census looked into the demographics of local musicians. The 2019 census builds on initial findings from 2016 and measures against those findings to track growth and trends moving forward.
WHO ARE LONDON'S MUSICIANS?
As was observed in our first census, the largest age segment of the musicians in London, 36%, identified as being between the ages of 20 – 34 years. This is an increase from the 13% that identified as being between 20-24 years old in 2016. In 2016, 45% of musicians reported they were between the ages of 20 – 34. Three years later we are seeing an increase in musicians ages 35 – 39. The 'working age' population is defined as those between the ages of 15 – 65. London's working population accounts for 67% of all Londoners while musicians in that same 'working age' bracket (15 – 65 years old) make up 93% of musicians.
With an incredibly diverse collection of genres being performed in London, the 2016 census showed a significant gender divide within the community, with 83% of musicians identifying as male and 17% as female. 2019 is slightly more encouraging, since the gender gap is slowly shifting with 78% of musicians identifying as male, 21% identifying as female and 1% identifying as non-binary. London is home to a population that identifies 52% as female and for the last two decades, females have outnumbered males in the city.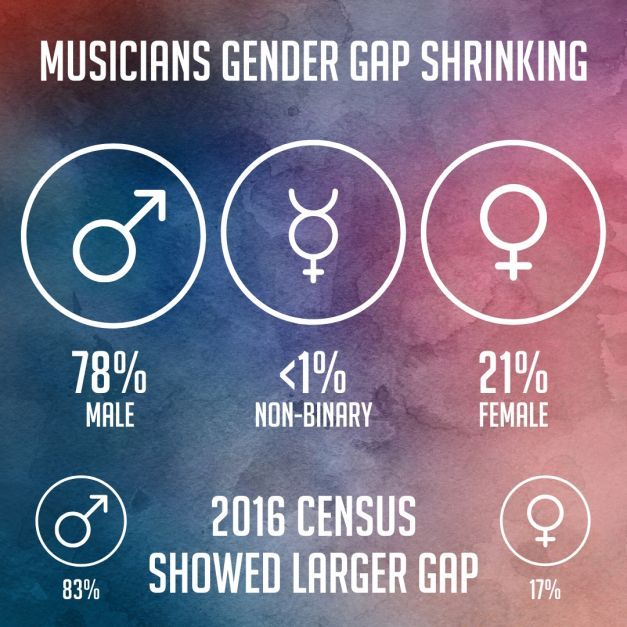 Creating an opportunity for inclusive programming will be important moving forward. Programs like London Girls Rock Camp (LGRC) are breaking new ground providing a safe inclusive experience for female-identifying individuals to perform music in London. LGRC aligns with the Safe Cities initiative aimed at creating safer conditions for girls and women. Music can be a platform to create inclusive opportunities that better reflect our community and its citizens.
WHAT ARE THEY PLAYING
While acknowledging musicians play more than a single music genre, our findings from the 2019 census show that, similar with findings in other steams of the Census, 'popular music' is the most commonly performed genre by respondents, accounting for 89% of total surveyed musicians. 15% of respondents play traditional folk music, 12% perform classical music. This question was first introduced in Music Canada's Live Music Measures Up study and was asked in the 2016 London Music Census. Similar results were shown in the 2016 study as 89.5% identified as playing within the genres of 'Popular Music' (R&B, roots, hip-hop, country, rock, pop, alternative, jazz, folk, EDM, indie, punk and metal).
Musicians are performing in a variety of groups. 12% of respondents reported to be members of multiple bands or groupings. A majority of respondents, 34%, perform as solo or freelance musicians. This number increased in percentage from the 2016 findings, where 25.6% of those surveyed performed as a solo or freelance musicians. This group of musicians work in both live performance spaces and studio settings. 27% of musicians stage a three-to-four member band or group, with 15% of musicians in five member bands and 6% playing in ensembles (six members or larger). The smallest collection of artists are performing as duos, accounting for only 5% of those surveyed.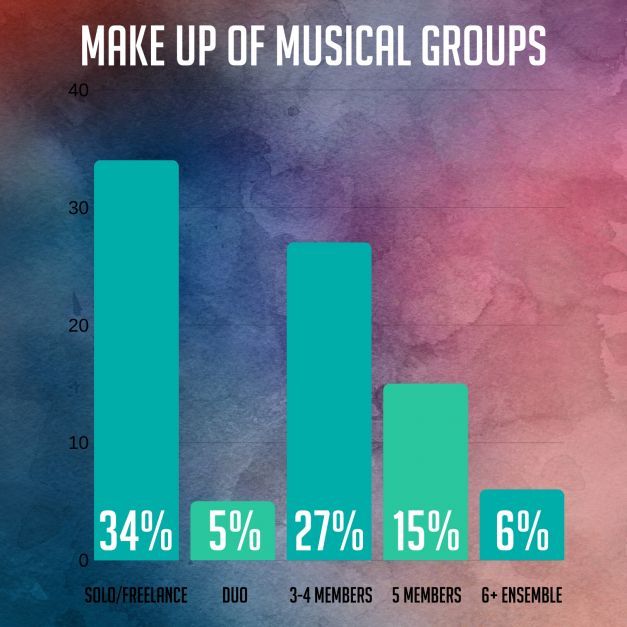 More than half of those surveyed in 2019 (57%) create original material or compositions. This number was up significantly from 2016, where 44.7% focused on original content. Artists strictly playing covers made up 27% of the musician base in 2019 while it made 33.5% of that base up in 2016. The evidence points to more artists writing and performing original music.
Recognizing that not all artists can be defined as simply cover or original musicians, it was important to provide an opportunity to hear from the larger community. With that being stated, the option for classical musician and DJ were offered as these artists have been previously identified as working in a mixed medium as re-creation artists. This also provided an opportunity for musicians to make a distinction between original works or recreation of existing musical works. Classical musicians accounted for 4% of those surveyed and DJ's for 3%. A segment of the population (9%) identified as multi-focused artists which perform, record, write a mixture of originals, covers and recreations.
There is a pool of experienced musicians in London, with over half of respondents noting that they have actively been playing for more than seven years. Among them, 25% of surveyed musicians have been performing for more than 20 years, and this trend was also noted in the 2016 census at 25.8%.
Slight changes to the duration of respondents' musical undertakings were noted, with 14% of musicians having been performing for 7 – 11 years, slightly less than the 2016 finding that captured 15% of the respondents. This change is noted with an increased percentage in musicians that have performed 12 – 20 years as it increased from 2016 (12.5) to 14% in the 2019 census.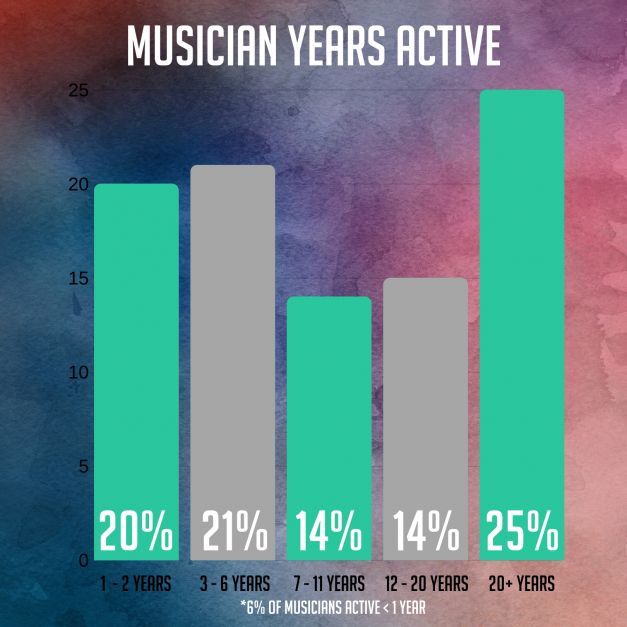 Encouragingly, we are seeing a continued interested in emerging musicians entering into the sector. In 2016, 40.3% of musicians reported to have been playing 1 – 6 years. Now, 2019 findings show 41% respondents have been active for 1 – 6 years (20% 1 – 2 years and 21% 3 – 6 years). Similarly to 2016, 6% of musicians have started in the last year.
WORK LOAD
Investing time and effort in honing one's craft is an important part of being a musician. The modern music industry demands much more from emerging and established musicians with the demand for continuous new content from a variety of platforms. A release and performance are much more involved and all-encompassing in the modern music industry.
That being said, only 22% of surveyed musicians spent 30 hours or more per week focusing on their music. This is a 1% increase from 2016 where 21% of those survey devoted 30 or more hours to their music. The number of musicians playing music 10 hours or less a week decreased from 42% in 2016 to 36%, meaning those musicians are playing more music in 2019.
When asked about their overall satisfaction for the time they commit to their career, surveyed musicians gave an average satisfaction rating of 57 out of a possible 100. Local musicians aren't spending as much time playing and performing as they would like. This could be for a variety of reasons including the expanded role musicians now take on to continue a career in music.
WHERE ARE THEY BEING HEARD
Understanding how often musicians perform and where they perform provides valuable insight into the number of opportunities within the music sector. More than half of surveyed musicians performed fewer than 20 shows in 2018, with "less than 10 shows" and "10-19 shows" accounting for 32% and 24% respectively. For other respondents, 17% performed 20-39 shows, 13% played 40-59 shows, 8% staged more than 80 shows and 6% took part it 60-80 live events.
In 2018, 65% respondents did not perform at local emerging musician events, while 35% performed at jam nights, open mics, coffee house or open stage events. While this may suggest that London's emerging musicians are not having sufficient platforms to develop their career, drilling down the data, for those who did not take part in any of these events, approximately 62% of musicians have been playing actively for more than 7 years.

A vast majority (81%) of surveyed musicians and music groups operate independently without artist representation. Of the 19% that do have professional representation, 10% are booked through booking agents, 6% are represented by tracker (radio or streaming), 5% have management, 4% have a publicists, 4% have a label or publishing deal and 2% have an entertainment lawyer handling business. Anecdotally, many artists sighted an inability to work local representation as a major barrier. There isn't a strong pool of industry people in these roles at the present time.
When asked what markets London musicians are performing in, it becomes clear that many are not leaving the community. Over the past year, 63% of respondents had only performed in London, 37% across Ontario, 8.5% in other locations across Canada, 8% in the US and only 4% took their performances internationally overseas.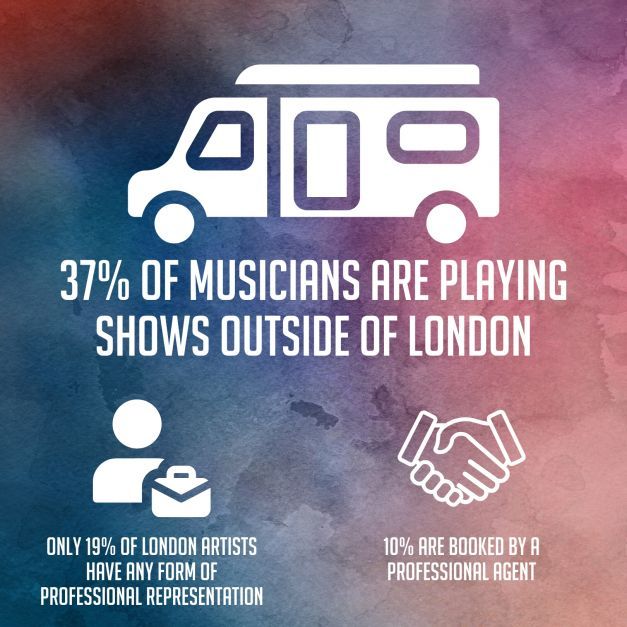 An artist's fan base grows by playing live and developing a digital presence. A strong online profile expands an artist's brand to social media channels increasing audience awareness and engagement. 94% of respondents promoted their music using free of charge social media platforms, while 34% of musicians boosted their posts with paid adverts on digital platforms. While online marketing led all other media forms, many still dedicated a portion of their promotions toward traditional media. Artists were asked to select all promotional platforms they used in 2018 including Promotional Swag (26%), Print Media (11%), Public Relations Firms (5%) and Community Papers (11%)
Performing and recording are both integral parts of a musician's career. By writing and recording original content, musicians create an important revenue stream that opens up additional sales opportunities.
38% of those surveyed did not record new music in 2018. A vibrant music community has a wide variety of artists and content creators. As stated earlier, 34% of London artists are cover, tribute, classical, DJ, or re-creation artists that are likely not recording music. It is important to note that many artists also do not record every single year. Dependent on record cycles and touring schedules, many artists record every other year. The 62% of artists that recorded in 2018 saw a wide variety of platforms where they could share their music. With multiple options to choose from, many acts used many mediums to amplify their music including Streaming Services (52%) Digital Sales (50%) and Physical Sales (41%).

HOW ARE THEY MAKING MONEY
Among all revenue streams, live performance constitutes the primary income source, since 95% of surveyed musicians earn money by performing live. Meanwhile, 39% of respondents earned income via recorded sales, closely followed by merchandise sales (37%), session player (24%), songwriting/ royalties (23%), publishing/ sync placements (15%) and commercial sponsorship (13%). 19% of respondents indicated they had other sources which regrettably, we were not able to collect those exact details.

While the vast majority or London musicians are earning their incomes performing live, it is troublesome to note that many are earning low wages for their performances. 42% of respondents are earning less than $100 per musician, per performance.
19% of London musicians are working in other cultural industries outside of music, with the largest percentage of this group in education. 11.69% of respondents stated they are also working as educators or instructors for their primary job.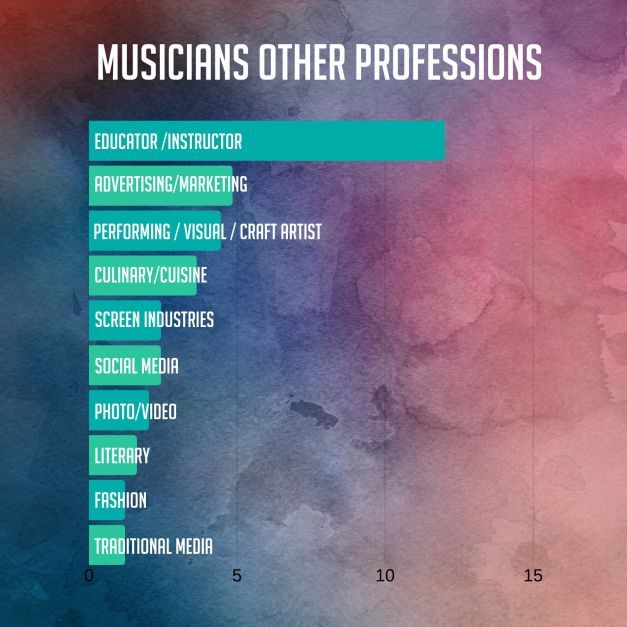 The results of the musician portion of the census shows that London artists would like to spend more time building their career, but they are limited to the hours they are able to contribute based on financial constraints and obligations. Those musicians that are dedicating more hours to their craft, whether full-time or part-time, are happier with their music careers. Income levels did not impact their level of satisfaction. Musicians that have taken steps to commit more time to playing music are happier with their careers.
Granting is an option that helps offset costs for artists but many musicians are not taking this opportunity to apply for funds. Surprisingly, approximately 87% of surveyed musicians did not apply for any grants in 2018. Looking at the breakdown of respective grants, FACTOR was the primary grant that our respondents applied to (8%), followed by City of London's CAIP administered by London Arts Council (6%), Ontario Arts Council (5%) and Canada Council for the Arts (3%). Of surveyed musicians, 3%applied for other funding opportunities provided by other organizations not mentioned above. It should be noted that not a single London musician applied to the Ontario Music Fund. The Music Futures Stream is aimed at helping artist entrepreneurs which have the potential to grow professionally if provided with business mentoring, skills development and working capital to expand their recording or touring capacity. A major barrier of entry for this program is the minimum $30,000 of eligible revenues that artists must earn performing music.

Venues are an essential element to the lifeblood of the live music sector. These brick and mortar businesses support live music 365 days a year and serve as community gathering places. They employ numerous specialists within the music ecosystem that are vital to the operation of a performance space. Music venues provide a platform for the art of music to flourish. London's 53 live music venues provide opportunities for hundreds of artists to perform weekly. Each venue operates as a mini-incubator, helping to launch artists' and music industry professionals' careers.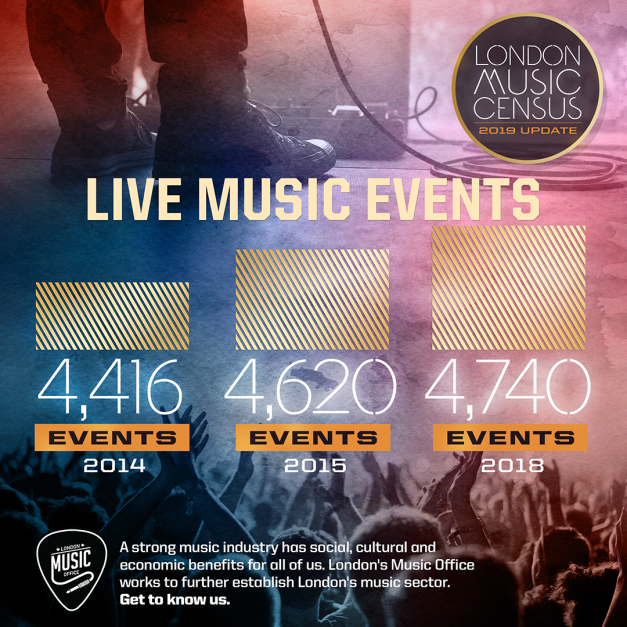 London's live music sector continues to grow, with more events taking place each year. The graph below highlights this increase over the past several years. These figures are produced by collecting the total number of live music events submitted by London venues. Through these submissions, we know that a total of 4,740 live music events took place in London over 2018, with an average of 13 live music events daily. Since the first census took place in 2015, London continues to offer more live music programming as outlined in the graph below.
Of the senior management staff, including managers, directors and owners, who filled out the survey on behalf of their venues, 67% identified as male and 33% as female. A wide variety of age demographics are categorized within management staff, but the largest age group is between 40 – 49, with 32% of respondents in this segment (40-44 at 15% and 45 – 49 at 17%). 15% or respondents identified between the 25 – 29 age group, while the smallest is the 20 – 24 age group (2%).
WHAT DO OUR VENUES LOOK LIKE
Live music takes place in a variety of spaces and places across London. Venues have a variety of primary focuses on top of programming music; 33% of venues identified their primary business operation as a bar and 11% identified as restaurants. These numbers have changed slightly since the 2015 Census, at that time over 55% of London venues operated as bars or restaurants. Those solely devoted to music accounted for 14%, with 7% of venues operating as concerts halls and 7% as nightclubs. 42% of surveyed venues consider themselves multi-purpose businesses that cannot be categorized by the above categories. These venues also range in size, with 17 different businesses having a capacity of 200 or less. Smaller spaces continue to prove to be fundamental to the development of artists and the DIY music community.

Performances are now occurring indoors and outdoors after a change to a by-law that prohibited amplified entertainment on commercial patios. In 2018, 63% of surveyed businesses had patios. With new opportunities to feature live music outdoors on commercial patios, 36% of London venues are now programming on their patio. Live events in leading 'Music Cities', including Austin and Nashville often alternate between indoor and outdoor performances. Additionally, London's brewery boom is not only contributing to economic growth but is also providing new concert opportunities for local artist to take the stage. London breweries are big supporters of the local music sector with regular programming and dedicated live music nights. These new performance spaces contribute to a higher number of live events taking place in 2018. A 'Music City' removes barriers and introduces music friendly policies allowing the sector to thrive and grow. When these conditions are created, we see positive results such as new performances spaces and more live event opportunities.
WHO'S ATTENDING
Similar to past census results and other areas of the 2019 London Music Census, 'popular music' is most commonly featured across London venues, with 78% of respondents presenting popular music (rock, roots, R&B, country, pop, alternative, jazz, pop, folk, EDM, indie, punk, metal, hip-hop) at their businesses. In comparison, traditional folk music (25%) and classical music (16%) do not have as much demand in London. Music was categorized into three areas: popular music, traditional folk music and classical music, as first characterised within Music Canada's 'Live Music Measures Up' report.

Exposure to live music is important in nurturing London's next generation of music fans. 44% of surveyed venues marketed towards audiences of all ages, while 36% targeted only those aged 19 and over. 20% of respondents marketed their events towards both age groups. These figures are similar to the 2015 findings, where 45% of venues catered towards all age audiences, meaning those under the legal drinking age.
WHO'S PERFORMING
Understanding who is performing on stage provides an understanding of the programming opportunities that exist for local artists and offers insight into the ecosystem of venues in a city commonly referred to as the 'Venue Ladder'. Diverse formats of music were offered across London venues in 2018. Among all, 88% of bands consisted of three to five members. Also ranking high are performers that are paired in duos (79%), while solo performers or DJs are booked at 74% of London's music venues. Ensembles of six or more aren't as frequently seen. Only 33% of venues responded stating that they feature these larger groups. More so, orchestral performances, maybe due to their large nature, are only featured at 7% of London venues.
Of the musicians that the surveyed venues hired to perform in 2018, 81% performed a combination of both original and cover songs, 14% played solely cover songs and only 5% of musicians report performing strictly original music. Similar results were found in 2015, with 89% of venues hiring a combination of original and cover artists. While many musicians noted they are original artists, it was noted that they add cover songs to their repertoire occasionally.

London is becoming known as an incubator city that helps develop musical talent. Knowing this, it is necessary to ensure that there are sufficient platforms and opportunities made available for our musicians to hone their skills. In 2018, live music businesses in London were equally supportive of emerging musicians. 67% of surveyed venues featured emerging musicians in 2018. Encouragingly for locals, on average, respondents reported that 76% of musicians they worked with in 2018 were local residents, 17% from Ontario, 4% from the rest of Canada, 2% from the United States and 1% from elsewhere. While this may be good for the local musicians, it can water the live scene down with repeat performers. Venues working with both out of town artists and local acts will have greater sustainability as their venue attracts a wider audiences and is less reliant on a core group of returning customers.
THE BUSINESS OF LIVE MUSIC
Most venues are operating as for-profit businesses but are not capitalizing on grant programs offered at the municipal, provincial or federal levels. 90% of live music venues indicating they did not apply for any grants in 2018. This is discouraging, since many opportunities exist to apply for stimulus grants that serve to enhance music businesses.
Meanwhile, the findings showed that a small group of surveyed venues are applying for grants offered by Canada Council for the Arts, Canada Arts Presentation Fund, Ontario Music Fund and Ontario Arts Council in 2018. One respondent had two rewarding grant applications while three reported none of their applications to be successful. As some skipped the question, the data collected was not representative enough to give us a proper understanding of the situation.
In 2020, more work needs to be done to eliminate barriers faced by live music venues looking to grow their business through granting programs. While venues spent a combined total of $3.6 million increasing and upgrading their facilities, some of these upgrade may have been supported by a granting or stimulus program. If you are reading this and unaware of the programs that exist, please contact the London Music Office to learn more.
With approximately 20,000 full-time equivalent jobs in Ontario's live music sector (as reported by Music Canada), we know that live music creates jobs. We are seeing local businesses staff more employees on nights that live music is featured. On average, a venue had a team of eight staff on nights when live music was featured, while this number reduced to six staff on nights with no live music events featured. These figures do not account for the musicians that have been hired to perform as well. This is further evidence that live music has a direct economic impact on our community. Increasing the number of live performances gives a direct boost to the local economy. Looking at information provided by our respondents, London's live music venues contributed 963 jobs to the local economy in 2018. These staff held employment in a variety of positions at live music businesses. This total does not include the number of musicians that were hired to perform. A safe assessment of the economic impact contributed to London's GDP is in excess of $11 million at a base rate of minimum wage payment.

Accurately understanding the total number of ticket sales at London venues in 2018 is difficult as 21% of respondents either did not charge an admission fee at any point in the year or track their attendance numbers. Further, 62% of venues surveyed did not provide any ticketing figures or attendance levels through the census. Looking at event pricing, a small percentage of venues offered insight into their price point for concert tickets. Most venues admission fees differ on an event basis. Looking at the responses received, the average ticket price for a concert in London in 2018 was $28. This was determined with a small sample size due to limited responses to the question in the Census.

Festivals and marque events act as calling cards for communities and serve as tourism drivers attracting business and economic activity. Arts and Culture are a driving force in Ontario Tourism accounting for 36% of all overnight spending by tourists in a given year. Music festivals and events support multiple segments of London's workforce and diversifies the economy, showing that music means business in London!
The 2019 London Music Census captured data provided by 20 London festivals and event organizers. These organizations are an integral component of London's Music City Strategy. Tallying up the data, in 2018 London's primary festivals or events ran a combined total of 93 programing days. Durations of their programs ranged from as short as one day to multi-day events spanning weeks of programming. In 2018, London's festivals and events worked with a combined total of 819 musicians.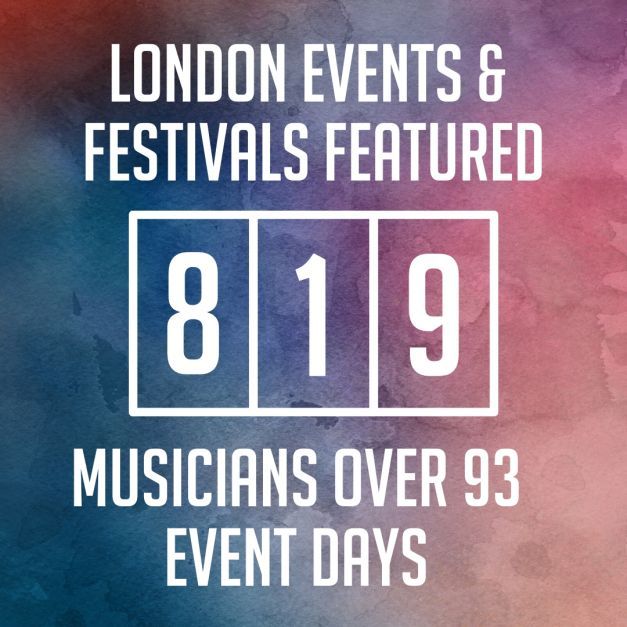 KNOWING THE AUDIENCE
As most of London's music festivals and events present multiple music genres, organizers were asked to identify the major genres they showcase based on three primary categories: classical, popular and traditional folk music as initially laid out in Music Canada's Live Music Measures Up report.
Popular music, including but not limited to R&B, roots, rock, country, pop, alternative, jazz, folk, EDM, indie, punk, and metal, was the most commonly presented genre, accounting for 85% of the surveyed presenters. Popular music was also the most listened to genres by our music fans. Traditional folk music (33%) and classical music (13%) did not receive as much focus and the figures mirror the findings in the musicians' and music fans' surveys.
Festivals and event organizers were asked to identify specifically the demographics they targeted. The 31-40 age group drew the most attention as 73% of respondents identified this age group as their main demographic, followed by the 19-25 (67 %) and 26-30 age groups (67%). Approximately, half of our respondents see 41-50 (53%) and 51-60 (53%) age groups as their main demographics, with the 61+ age group attracting 40% of respondents. For audiences who are 18 and under, only 27% of local festivals and events identify them as target demographic.
As a city rich in music culture, London's live music events are integral to residents' cultural life. A large majority (73%) of local festivals and events are accessible to all age audiences with 27% focused solely on 19+ audiences.
ORGANIZATIONS LEADERSHIP
There was a significant gender divide in the senior leadership of local festivals and event organizers. 83% respondents who filled out the survey as manager, director or owner on behalf of their separate organizations, identified themselves as male, while only 17% of respondents identified as female. In other words, music events in London were largely programmed by male-dominated music festivals and event organizers to a fan base in which, according to our findings in music fans stream, 58% identified as female.

The leadership of London's festivals and event organizers were predominantly in their prime earning years. Over half of our respondents fall in the 30-34 and 35-39 age groups, accounting 33.33% and 22.22%, respectively. 27% of respondents are aged 65 or above, followed by the age groups of 20-24 (5.56%), 45-49 (5.56%) and 50-54 (5.56%). Family reasons, switching to other industries and relocation could be the underlying reasons for the fewer representation of 40 or above management staff.
UNDERSTANDING THE ORGANIZATIONS
London is recognized for its vibrant and diversified music scenes, and its music festivals and events also play an important role in our cultural tourism industry. Deeply rooted in the Forest City, 47% of the surveyed music festivals and event organizers have been programming live music to Londoners and visitors for more than 20 years. We also see other organizers establishing themselves in the city, as 20% are in operation for 7-11 years and 7% for 12- 20 years. Meanwhile, it is also encouraging to see the emergence of younger festivals, with 13% operating for 1-3 and 4-6 years respectively.

Roughly half (57%) of London's music festival and event organizers are not-for-profit businesses, while 43% of respondents reported to be for-profit in nature. Being non-profit-making in nature, half of London's festivals and event organizers would be eligible to apply for several major grants and funding to scale up their programming, strengthen their capacity to deliver quality live music events to Londoners and tourists.
There was an equal divide in responses with 39% of presenter primarily holding their events outdoors, and 39% mainly hosting their events indoor. 22% reported they held events both indoor and outdoor.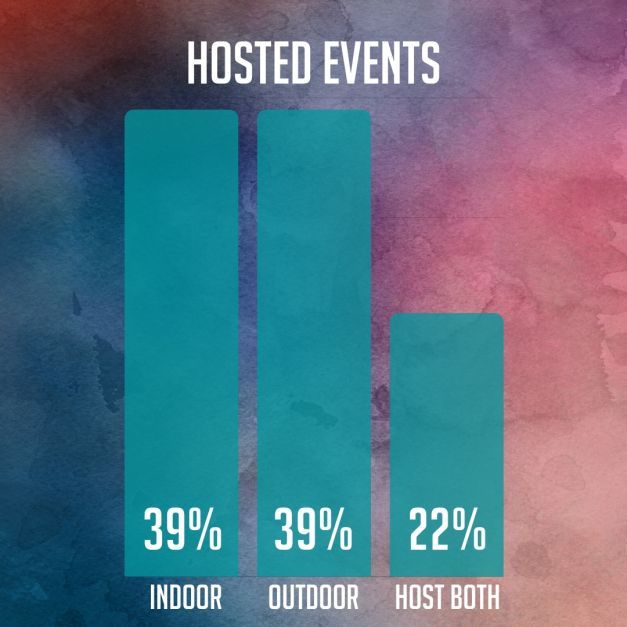 In 2018, 54% of the surveyed festivals and events were paid events and approximately 8% reported aspects of their events were ticketed. On the other hand, 38% reported having no admissions making live music more accessible to less privileged residents. Over half (58%) of respondents considered themselves as year-round music presenters, while 42% showcased music only within a fixed period. The slightly higher presence of year-round presenters helps strengthen London's cultural tourism portfolio beyond the traditional summer festival season.
Being not-for-profit in nature, approximately half of London's festivals and event organizers were eligible to apply for major non-profit grants. In 2018, among provincial and national grants, Canada Arts Presentation Fund was the most sought after funding by our respondents (40%), followed by Ontario Arts Council (30%), Canada Council for the Arts (20%), Ontario Music Fund (20%) and FACTOR (10%). 20% of respondents applied for local funding offered by London Arts Council and London Community Foundation Grants. Exactly half (50%) of respondents did not apply for any grants in 2018.
Trainees and volunteers provide a major source of staff for London's festivals and event presenters, totaling up to 894 people, followed by 381 part-time employees and 25 full-time staff.

London's reputation as a music production hub continues to grow, and so do the number of students moving to London to gain a music education in this area. The first London Music Census conducted in 2016 included Fanshawe College, OIART and Western University to understand the number of students studying music at London post-secondary institutions. Through the 2016 London Music Census, baseline metrics were gathered and are now compared to the 2019 London Music Census.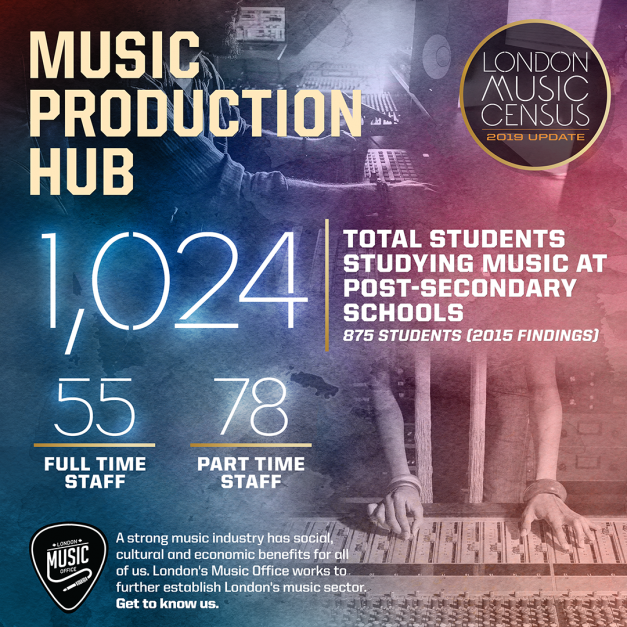 249 Post-Secondary students participated in the survey, representing 24.32% of the student population. The post-secondary survey was conducted as part of the London Music Census between the dates of September 26 and October 18, 2019. As part of the London Music Census, the London Music Industry Development Officer spoke with Fanshawe College students during a guest lecture and had them complete a survey.
Growth in the number of music students emerged as a major trend in the 2019 census. Total student enrollment per year was 1,024, marking a significant jump from the 2016 London Music Census, where 875 students were identified as enrolled in post-secondary music programs. A growth of 149 students accounts for a 17.3% increase in students studying music at post-secondary London schools. Furthermore, 319 students are projected to graduate from music programs in 2019 who will be seeking gainful employment in the music sector.
GENDER DISPARITY
Of these 1,024 music students, there was a clear gender gap of music students between Fanshawe College, OIART and Western University. While Fanshawe & OIART have many more male students, Western programs featured a significantly higher number of female students. The gender gap is more balanced once the enrollment populations of all the schools mentioned above are analyzed. After tallying up results from the students that filled out the census, 55% identified as male, 44% identified as female and just under 1% identified as non-binary individuals. Understanding the makeup of the next generation of music industry professionals is critical in creating conditions of inclusivity and equality as we continue to implement changes to further develop and grow our music sector.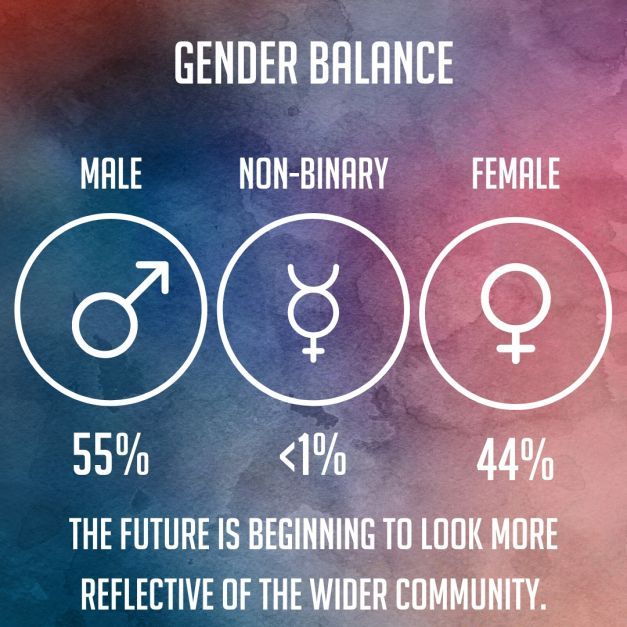 EMERGING TALENT
As London is quickly becoming a hub for music incubation, it's important to provide platforms for emerging talent to perform through accessible programming nights such as jam nights, open mics, coffee houses or open stage events. Most students (76.2%), stated that they had not performed at an emerging artist event, while 24.8% have had experience on the stage during these events.
Furthermore, of the students that have performed at accessible programming events, 73% identified as male and 27% identified as female. This could be due to a variety of reasons, including the nature of the programs being offered at each school. Fanshawe College's Music Industry Arts & Audio Post-Production tend to attract a much larger male demographic, while Western Music Programs have a larger female demographic. Fanshawe College's programs are much more geared towards bar, club and pub settings where these type of open jam nights traditionally take place.
A key finding shows that 14.5% of music students make it a habit of seeing live music at least once weekly. Live events act as an incubator where multiple businesses (musicians and emerging professionals) gather to work. Attending live events supports musicians and venues and is an integral part of building a career in music. The largest grouping of students (34.3%), noted that they attend live music events at least once monthly. These figures are important, as participating in live music events allows students to establish networks and connections to develop relationships they will rely on in future years. Live events act as the gathering place for the music community and will open doors for students to step into meaningful careers in London down the road.

Students need access to public transit to properly integrate themselves into the community. With 55.7% of surveyed students taking public transit to live music events, connectivity across the city remains an integral aspect of building a Music City. Due to the geographic proximity of post-secondary schools and the cluster of live venues in and around the core, public transit plays a pivotal role in the success of London's live music sector. Hours of transit service directly impacts the ability of London music students to support the local music community. If transit lines are not operating frequently enough or conclude before the music venues close for the evening this may provide a barrier to participation.
STUDENT RETENTION
Students largely view living in London as a competitive advantage over other urban centers. 80% of respondents perceive living in London as beneficial to their development in the music industry. As the number of students continues to grow (875 in 2016 to 1,024 in 2019), London further develops itself as a 'Music City' and music training centre for emerging talent. Students are able to hone their skills and develop a support system while in London.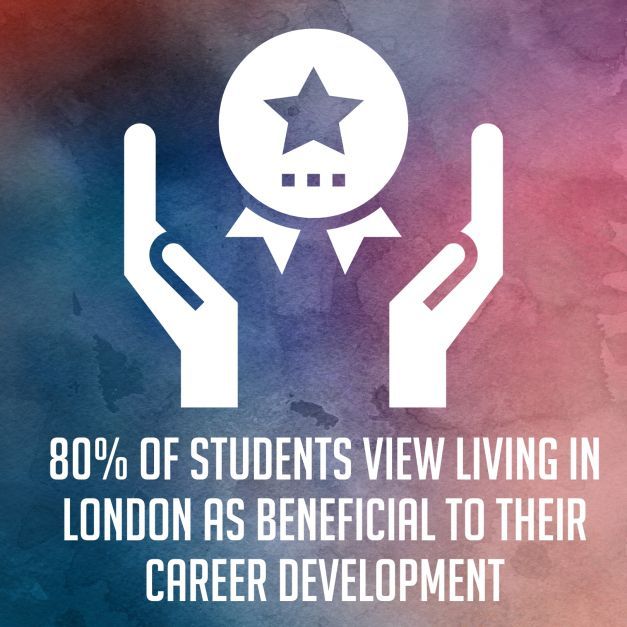 Ease and accessibility to major markets such as Toronto, Detroit and upstate New York were evident throughout the survey. While being an ideal location for students to learn their trade and incubate, London's developing music scene lacks consistent employment opportunities. London's reputation as a music training ground is largely positive, but it is clear that more steps need to be taken to develop meaningful career options.
Retention of students after graduation is proving to be difficult. 64.5% of students surveyed plan to leave London to seek career opportunities post-graduation. While many locations have been mentioned, 40% of respondents stated Toronto is where they will relocate in the future. While other major Canadian cities account for 13% of anticipated departures, international destinations attract 8% of London music graduates. The uncertainty of where students will end up accounts for 28% of all expected departures. It appears as though a smaller group of graduates (11%) plan to return home or to smaller communities throughout Canada to being their professional careers.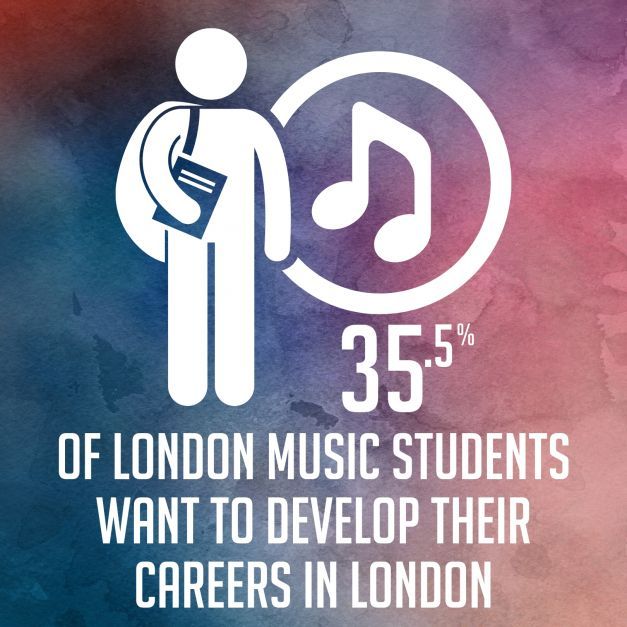 Embracing this knowledge and understanding London's role as a music incubation centre separates London from other markets across Canada. Students come to London to learn, sharpen their skills and build a network.
It is important to understand some of the key numbers outlined above. 35.5% of students plan to stay in London and develop a career for themselves knowing there are gaps within the local music sector. This portion of students is instrumental in building London's music ecosystem. These students will be the individuals that launch new innovate businesses and further develop the growing sector. Access to the larger market, affordability and connectivity to an educated talent pool separate London from other markets.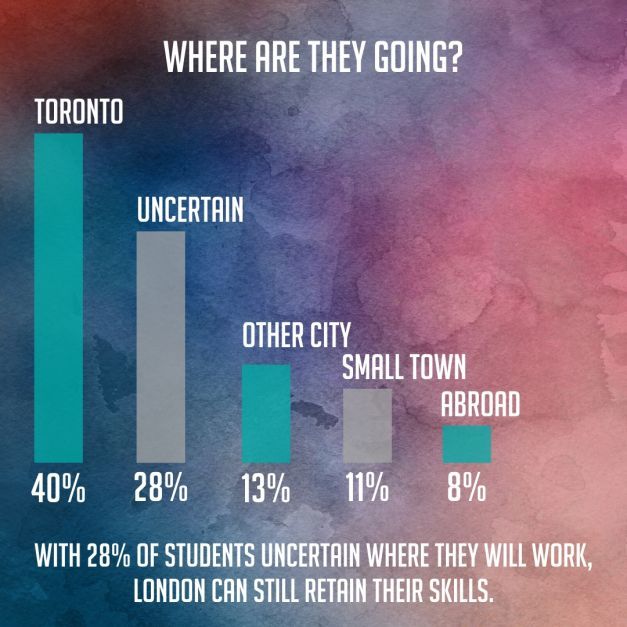 Noting that 28% are undecided if they'll stay in London; this group is showing a devotion to London as they may understand the unique advantages our community in London presents. At this time, it remains a priority to continue introducing music students to London's music community through unique programming, networking and educational opportunities. With more workplaces operating remotely, new possibilities are emerging for urban centres like London to participate on the world stage.
---
---