Contests
Applications Open for Allan Slaight Juno Master Class
---
---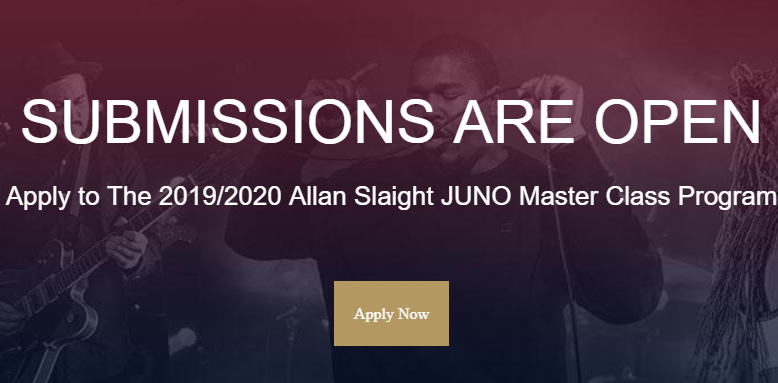 Submissions for the 2019/2020 Allan Slaight JUNO Master Class are now open! The Canadian Academy of Recording Arts and Sciences (CARAS) and Slaight Music announced today that emerging musicians can now submit their applications for the fifth year of Canada's leading artist development program! The program is renowned for offering upcoming musicians with opportunities to hone their craft and develop their music careers.
The deadline for all applications is June 28th. Following the deadline, all submissions will be assessed by Canadian music industry professionals and narrowed to ten finalists. A Super Jury made up of key industry leaders will then select three applicants to win. The final three artists will be announced on September 17, 2019.
The three winners will receive an all-inclusive trip to Toronto for an intensive week of mentorship, hosted by Canada's Music Incubator at Coalition Music with Canadian industry artists and leaders, finishing with a music industry showcase night. This year, the three artists will be joined by 2019 CBC Music Searchlight winner, Shopé! Furthermore, they will receive a trip to Saskatoon, SK, where they will perform at JUNOfest; a mini-documentary on them which will run on JUNOTv.ca; a chance for one of the three to perform at the JUNO Gala Dinner & Awards; a full day of studio time at Slaight Music Recording Studios; and a $5,000 cash prize. Everything combined is valued at over $100,000!
The 2018/2019 Allan Slaight JUNO Master Class artists included rapper and singer Haviah Mighty (Fanshawe MIA Grad), folk-pop band Port Cities, hip hop artist smrtdeath, and the 2018 CBC Music Searchlight winner, aquakultre. London's Ivory Hours were also included in the 2017/2018 Allan Slaight JUNO Master Class.
Interested artists can apply at junomasterclass.ca until June 28, 2019. There are no fees associated with submissions and all eligibility requirements can be found here.
Click here to watch highlights from last year's program and why the Allan Slaight JUNO Master Class could be right for you!
---
---