Industry News
Call for Members - MusiCounts Education Advisory Committee
---
---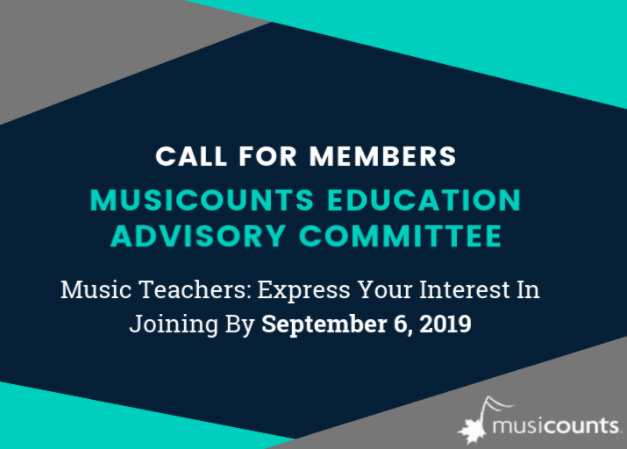 MusiCounts has announced their new Education Advisory Committee. They're calling for music teachers to express their interests in joining by September 6th, 2019. They welcome music educators of all professional backgrounds and experience levels, including non-specialist, part-time, and itinerant music teachers. Music teachers with any amount of teaching experience in Canadian public schools are encouraged to apply if interested!
As part of the committee, members will play a key role in the strategic growth of MusiCount's current and future programs. Help ensure that their programs align with and reflect the needs, priorities, and values of music educators in Canada.
The primary roles of the committee members are:
1. Help identify how MusiCounts' existing programs might be more accessible, equitable, and consistent with the needs of music educators in Canada.
2. Provide expert advice on the development and implementation of MusiCounts' new Learning Resource Program. This program will equip teachers with resources to engage their students with Canadian popular music in their classrooms.
3. Keep MusiCounts up to date on the political climate in your region/province as it relates to funding and policy surrounding music education.
4. Advise MusiCounts on matters related to provincial curriculum and advocacy initiatives.
5. Help connect MusiCounts to stakeholders related to music education policy in your district, province, and region.
6. Serve as an ambassador for MusiCounts in the educator community.
Appointment to the committee is for one two-year term starting in Sept. 2019 and concluding on Sept. 2021. Meetings will typically be held virtually two or three times per year, in addition to email correspondence with MusiCounts staff members as needed. The committee will consist of 5-7 enthusiastic music educators that reflect Canada's regional diversity as well as the diversity of the current landscape of music education in Canada.
For more information and to submit an expression of interest form, click here.
---
---