Industry News
London Music Census An Overview: Tip of the Iceberg
---
---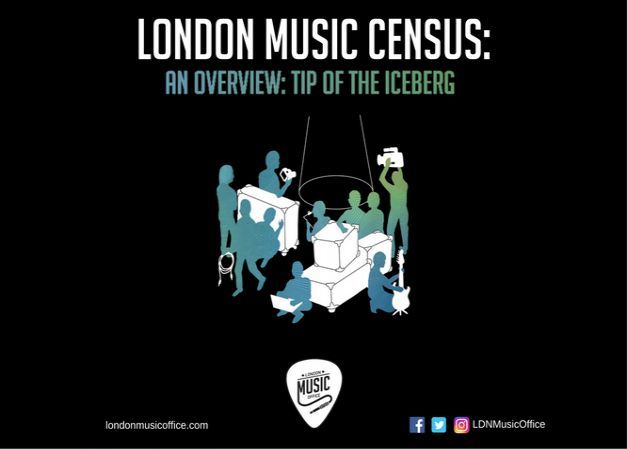 THE LONDON MUSIC CENSUS
The London Music Census, a first of its kind! Never before has London's music industry been the subject of a detailed study. The goal was to capture metrics that will help establish a baseline allowing for comparative measure to be made.
The London Music Office embarked on its initial journey to understand the assets that make up London's music sector. By conducting the London Music Census, a clear picture can be painted on the state of the music community. Determining where we stand and identifying areas of potential growth serve as the purpose of this census. A major focus of this census was to determine barriers that exist, so that we can look to potential solutions.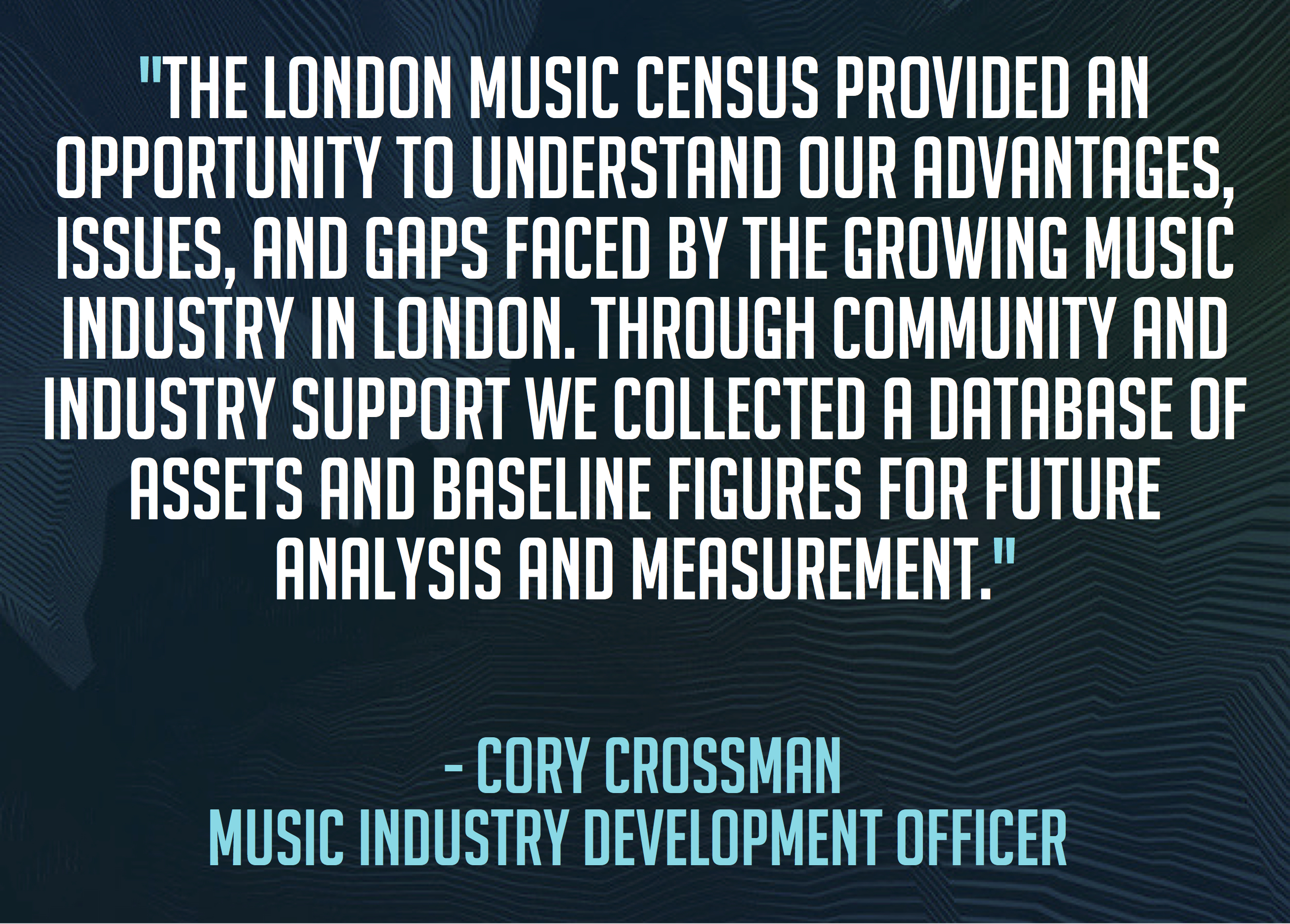 The London Music Census took place throughout the summer of 2016 capturing figures from the calendar year of 2015. A total 1,536 surveys were filled out over the six week timeframe. During this time, the community was encouraged to engage in the study by completing a series of surveys available at londonmusicoffice.com/census. Information was collected primarily through a branching style survey powered by SurveyMonkey.com. Participants were encouraged to fill out the anonymous survey in an effort for the Music Office to develop a further understanding of London's music sector. Surveys were broken up into five categories; Musicians, Venues, Festival / Event Organizations, Music Industry and Music Fans. Additional phone interviews with music industry professionals were later conducted. This information remains confidential. The information being released does not share any personally identifying information.
The London Music Census is one tactic within the London Music Strategy which aims to promote culture as a key part of economic growth and quality of life as identified in Council's 2015 -2019 Strategic Plan and the Cultural Prosperity Plan for the City of London.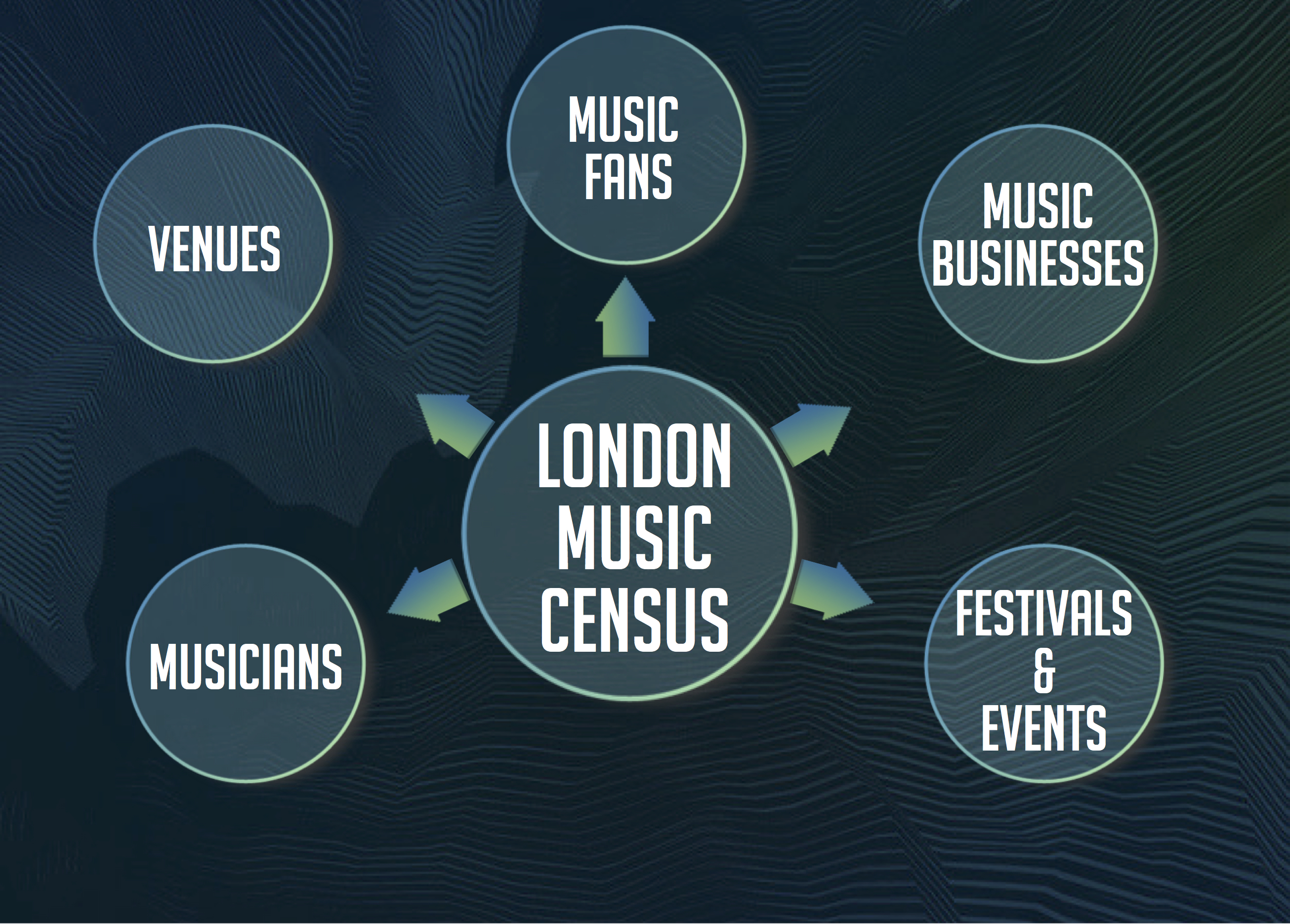 OVERVIEW
The London Music Census was a preliminary study conducted through the London Music Office by the London Music Officer with assistance and support from a summer student over the summer of 2016. This study offers a preliminary examination of the local industry and was conducted on a voluntary basis. This exploratory research was the first of its kind conducted in London and holds true to being very unique across the globe. A vast amount of information was collected and disseminated through this white paper style document. Some of the information collected was, and is, intended for internal use to measure moving forward.
What you will find from this census are the results of feedback and input from the community at large. This study would not have been possible without the commitment and engagement of Londoners!
THE SKINNY…
Three of the fives surveys proved very fruitful in their results and sharable information. Two of the surveys were great starting points for further analysis, but sample size was not large enough to draw concrete conclusions. The three shared surveys were critical starting points and a wealth of insight. Music Fans, Musicians and Venues all helped shape a deeper understanding on the state of London's music scene. At large, London's music industry is concentrated in the realm of 'Popular Music' (as classified by Music Canada). A variety of original and cover music is enjoyed but original content proves to be the most popular. Music appeals to people of all ages, gender identity, creed and social status. Through data collected a common theme emerged showing Londoners aged 19 – 34 were the most active across all surveys and regular participants in the local music community.
WHAT DID WE LEARN FROM THE MUSIC BIZ?
The Music Industry branch of the London Music Census provided some incredible baseline statistics. Due to the sample size of respondents, we feel this information is not at a point that fully reflects London's music industry. We heard from a wide variety of businesses that vary in scope and size ranging from recording studios to production companies to manufacturers. Some of this information collected has been shared through the directory found online at londonmusicoffice.com/resources/directory. This directory will continue to expand but the data collected through the London Music Census helped develop this directory.
Some key findings show that London's music industry businesses are not applying for funding grants. Although the reasons vary, a common theme emerged; London businesses largely don't have the ability to submit for granting opportunities, citing the lack of time and low past success rates as major contributing factors. Another major trend that emerged from the survey, which complements other studies within the music industry, was the concentration of businesses working primarily within the 'Popular Music' genre.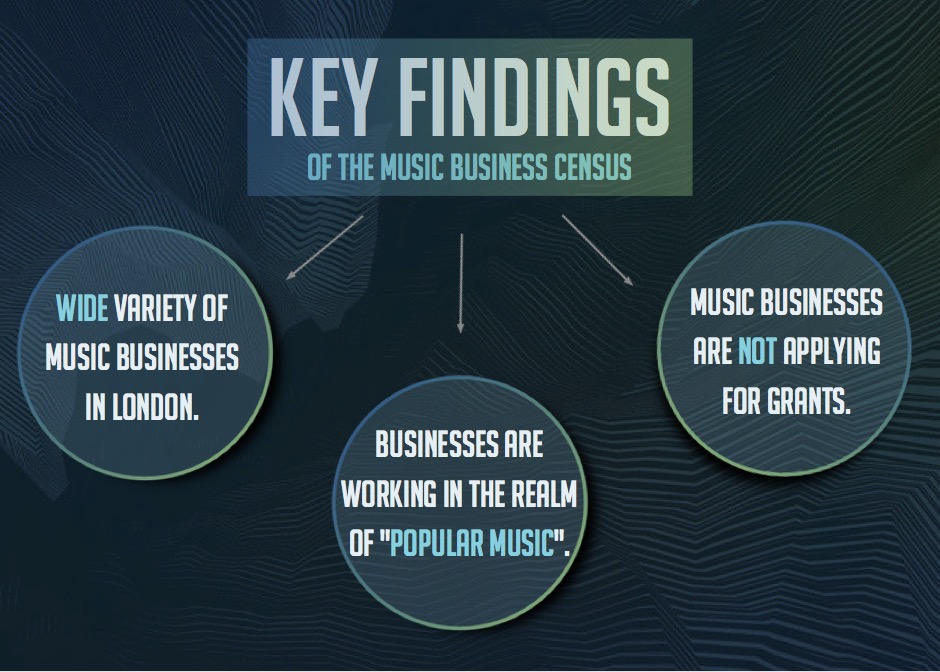 WHAT DID THE FESTIVALS & EVENTS HAVE TO SAY?
Festival and Event Organizers filling out the London Music Census offered great starting point for future discussions, however, the information collected from this group is of a smaller sample size and needs further analysis and development. Key findings do show that festivals and events are doing well in London and continue to grow. Over the past number of years festivals have found their niche and starting to truly excel! Festivals are primarily catering to 'Popular' music genres with exceptions being noted at some of the city's largest festivals. London festival serve a wide audience and primarily take place during the popular summer months.
A large segment of festival attendees in 2015 fell within the 19 – 30 age bracket. These numbers could adjust as a number of new festivals took place through the calendar year of 2016. Positive stories surfaced throughout the census noting that many Londoners are visiting music festivals in their own community rather than leaving to enjoy festivals. This proves London's festival scene is providing high calibre content for patrons with many folks claiming to visit multiple London festivals in a year.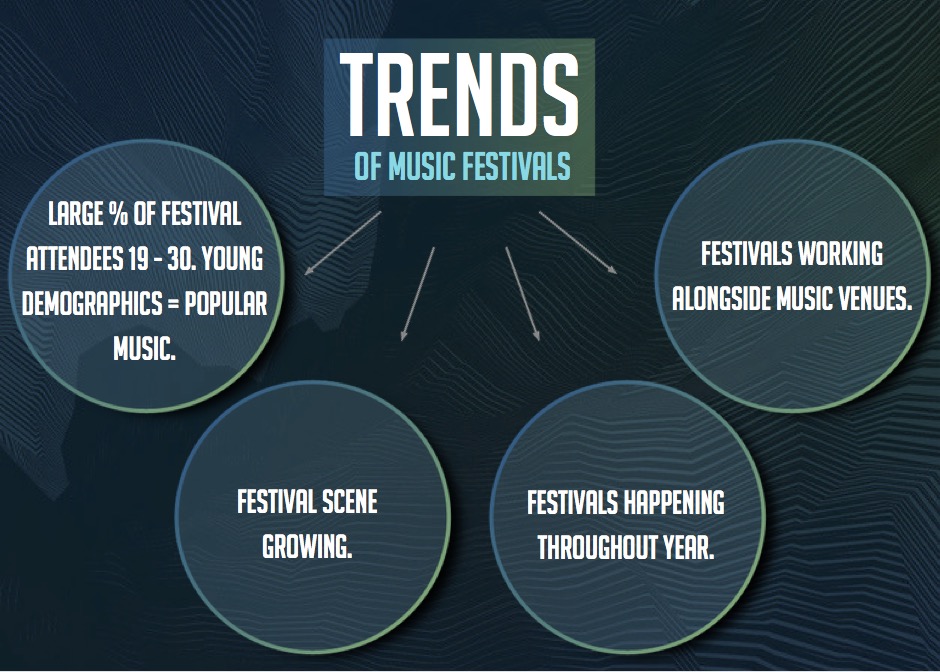 Festival organizations are increasing the number of events they present. This is a positive adjustment that sees these businesses building their capacity by hosting events throughout the year. This also helps establish year round branding and exposure. Some festivals have also noted they are working with brick and mortar indoor venue spaces. Most festivals seems to be renting from London and area businesses for their production needs. Outsourcing gear appears to be limited to instances of specific needs and special requests. As London festivals grow, their production businesses and teams are also seeing a growth in their business. With locally educated engineers and technicans emerging yearly from our post-secondary institutions, production companies have a direct pipeline to a highly educated and young workforce.
Read specific details about the Musicians, Venues and Fans surveys.
---
---