Performance Opportunities
East Cost Kitchen Party: Call for Musicians
---
---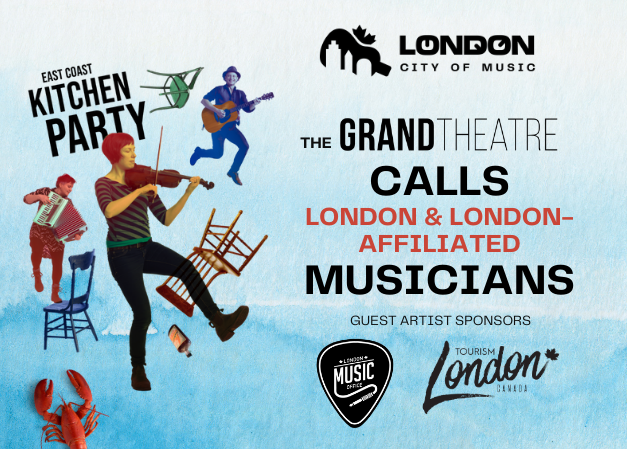 In celebration of London's UNESCO City of Music designation, and in an effort to showcase emerging and established musical talent in London, Ontario, the Grand Theatre is proud to invite London-based and affiliated musicians to apply to perform in its maritime-flavoured season closer, Neptune Theatre's East Coast Kitchen Party – playing April 18th through May 6th, 2023 on the Spriet Stage. This is a paid opportunity made possible by the support of the London Music Office and Tourism London.
For this significant opportunity, a lineup of musicians – both solo performers and small groups – will individually join the cast of East Coast Kitchen Party for one performance day to play a 15-minute set on stage, and another 30-minute set immediately following the show in the Drewlo Lounge.
Applicants are asked to create a London Music Office Artist Profile followed by a Grand Theatre East Coast Kitchen Party Musician Application form to be considered. A review panel will evaluate the applications before selecting 18 musicians/groups from a variety of musical genres.
This multi-step application requires:
Creating a London Music Office Artist Profile at www.londonmusicoffice.com/artists-profile

If you already have an Artist Profile move to the next step


Complete the Grand Theatre 'East Coast Kitchen Party Musician Application' form

You will need to copy your artist profile link into the Grand Theatre Application
For those already holding a London Music Office Artist Profile, the quickest way to find your unique artist page is a google search "your artist name + London Music Office"
Please be aware: For those creating a new London Music Office profile, please allow 48 hours for your profile to be activated and an e-mail sent to you. To expedite the process, please ensure all information including photo, music, video, and appropriate working links are submitted with your Artist Profile submission.
Applications will only be accepted through the online two-step application process until Friday, January 6, 2023 at 5:00 p.m.
Click here for all project details.
---
---