TD Music Mondays featuring Jey
---
---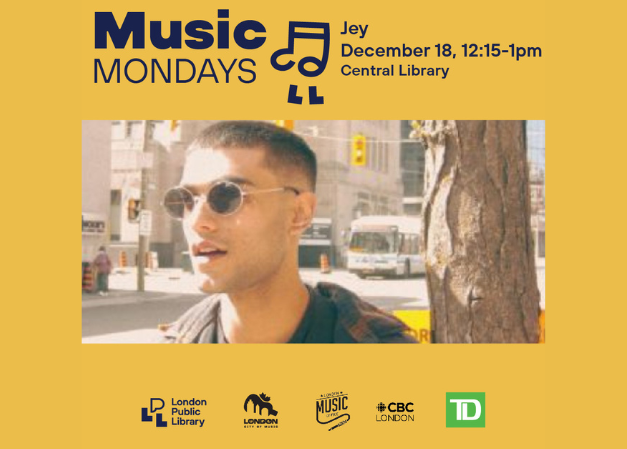 Event Date:

Show Time:

12:15 PM

Event Description
Get in the holiday spirit with TD Music Mondays! This December, join great local musicians as they take over the Central Library once again! Shows take place from 12:15 to 1 PM.
December 18th will bring ⭐Jey⭐ to the stage!
Jey's Bio:
Jey started playing guitar when he was 8 years old. He learned a bunch of songs back home in India and started singing and playing at the same time. His music tastes range from Pop, RnB to Hip Hop. Jey draws inspiration from artists like Jeremy Zucker, Lumineers, Taylor Swift, Ed Sheehan, Daniel Caesar and H.E.R. Jey got into songwriting at the age of 12 and completely fell in love with an art that tells people your stories and makes them relate to it in the best way!
TD Music Mondays is in partnership with the London Public Library, the London Music Office and CBC London.
---
Address:

251 Dundas St.
London, ON. N6A 6H9