GAWII WIIKAA GA-NENDIMISII Music & Artisan Festival
---
Western Fair District Agriplex
---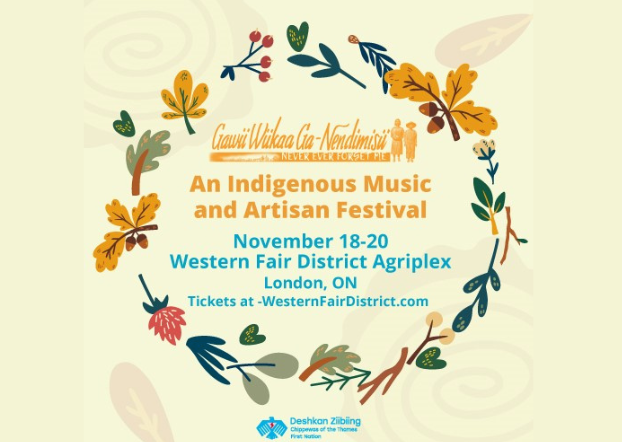 Doors Open:

5:00 PM

Event Date:

Show Time:

6:00 PM

Event Description
Muncey, ON - Deshkan Ziibiing (Chippewas of the Thames First Nation), in collaboration with Music Tourism and the Western Fair District, is proud to welcome a slate of incredible Indigenous artists and makers to the Western Fair District for the Gawii Wiikaa Ga-Nendimisii (Never Ever Forget Me) Music and Artisan Festival, November 18 through 20, 2022.
Gawii Wiikaa Ga-Nendimisii (Never Ever Forget Me) is about addressing the cultural genocide which diminished our traditional and cultural ways of living, with a promise to never forget what happened in the residential school system.
Proceeds from the concert and market will go toward saving the remaining structure of the Mount Elgin Indian Industrial School barn, where children inscribed messages on the walls and foundation, to create a Mount Elgin Museum and Interpretive Center.
"Gawii Wiikaa Ga-Nendimisii will be a celebration of Indigenous music, art, and culture in honour of our residential school Survivors and those who never made it home. It is our hope that attendees will learn more about the important cause for this festival, and in doing so, never ever forget that Every Child Matters. All proceeds from this event will be going toward the Save the Barn initiative at Deshkan Ziibiing, which will culminate in the creation of a Museum and Cultural Learning Centre." – Chief Jacqueline French
Concerts will be accompanied by an Indigenous-led market, showcasing traditional skills and art forms. The market will include Indigenous artisans, vendors and programming on Friday, November 18 from 5pm-11pm; Saturday, November 19 from 1pm-11pm; and Sunday, November 20 from 1pm-11pm.
In this current time, there is a revitalization of making that is informed by an Indigenous worldview that has been maintained here for thousands of years. Historically, Indigenous makers used skill and story to create their work that was based on traditional conventions which had been passed down from generation to generation.
A disruption has taken place in the past number of centuries, yet our creativity has never stopped. Traditional conventions and contemporary stories are taking on new and exciting forms within materials and technologies of today. Experience, learn and become informed; our knowledge is meant for all of us to live and thrive within.

The music programming for the weekend continues in the theme of celebrating the diversity of genre and style of Indigenous creativity in music of this era.
Considered to be the Godfather of PowWowStep, DJ Shub has undoubtedly pioneered a growing genre of electronic music. Born Dan General, he is a Mohawk, turtle clan of the Six Nations of the Grand River located in Ontario, Canada. His latest album War Club (2020) was released to critical acclaim during the pandemic, featuring collaborations with other indigenous and BIPOC artists like Snotty Nose Rez Kids, Boogát, Fawn Wood, and Phoenix Pagliacci to name a few.
The Halluci Nation is real. As they enter a new cycle, Bear Witness and Tim "2oolman" Hill of A Tribe Called Red are reintroducing themselves as The Halluci Nation, to reflect the evolution of their music and mission. The Halluci Nation, takes its name from a phrase coined by John Trudell, to describe the vast global community of people who remember at their core what it means to be human. As a visionary artist and activist, Trudell recognized the connection between his accomplishments and what ATCR did intuitively through music and art.
Tom Wilson is a Canadian music legend, famed storyteller and visual artist. Wilson's memoir, Beautiful Scars published by Penguin/Random House has become a national bestseller. In his memoir, Wilson reveals the impact of discovering his indigenous heritage. In 1989, Wilson became the founder of the popular rock band Junkhouse. The band quickly grew in popularity and in 1993 signed a recording contract with Sony Music Canada. Led by Wilson, Junkhouse skyrocketed in the 90's, producing three albums - Strays, Birthday Boy and Fuzz. The style and success of Junkhouse has been an inspiration to many young Hamilton artists.
This project is a partnership between Deshkan Ziibiing (Chippewas of the Thames First Nation), Music Tourism and the Western Fair District. It is being made possible through the generous support of the Federal Economic Development Agency of Southwestern Ontario's Tourism Relief Fund.
---
Address:

845 Florence Street
London, ON. N5W 6G6